[big][big][big]Thursday Night REVOLT
August 16, 2018
Las Vegas, Nevada
T-Mobile Arena[/big][/big][/big]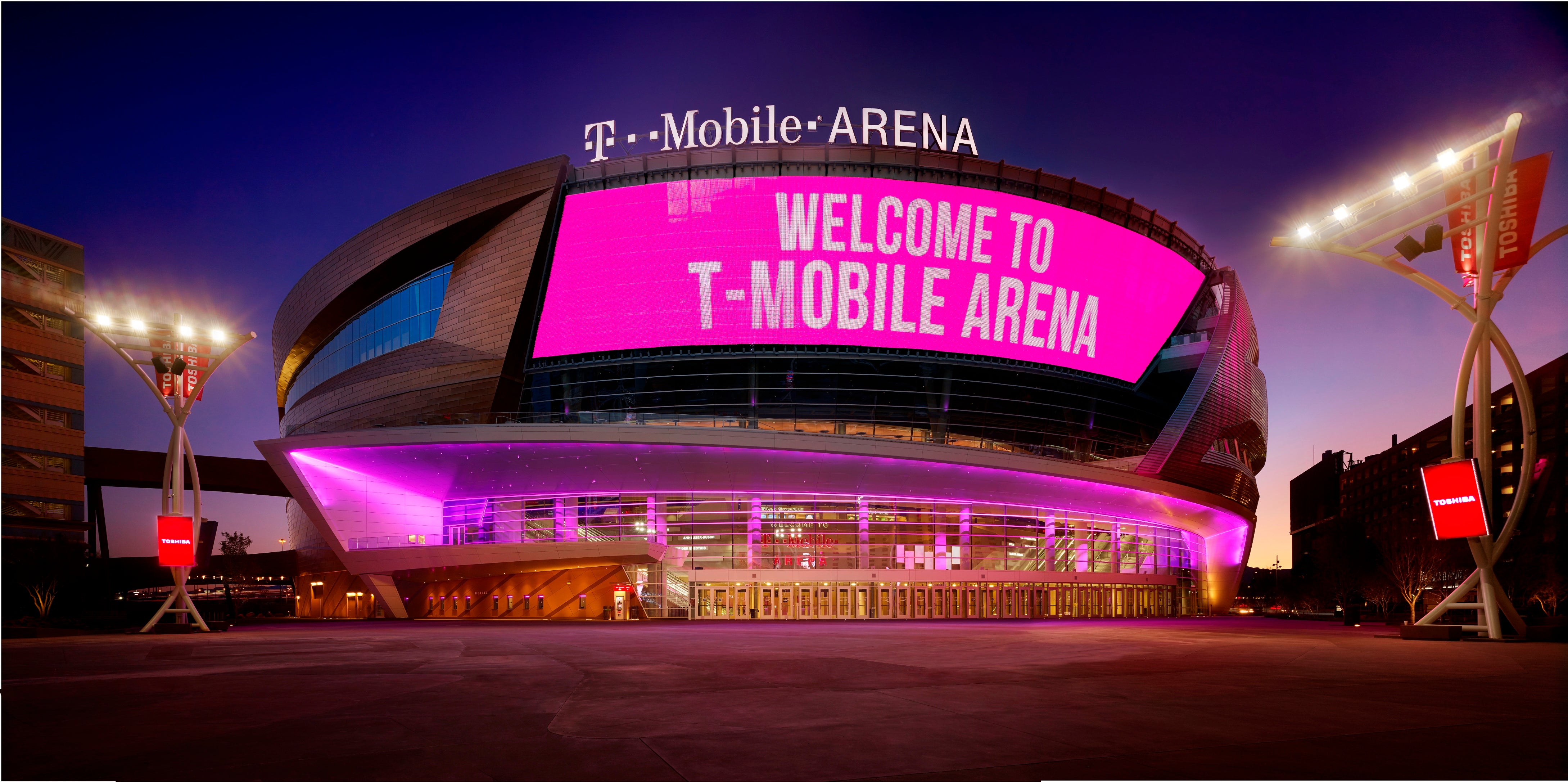 [big][big]Show Name: Where Dreams Come To Die[/big][/big]
After the REVOLT show intro plays, fireworks shoot off the air signaling to the fans that we are now LIVE in Las Vegas, Nevada as the commentary team takes it away!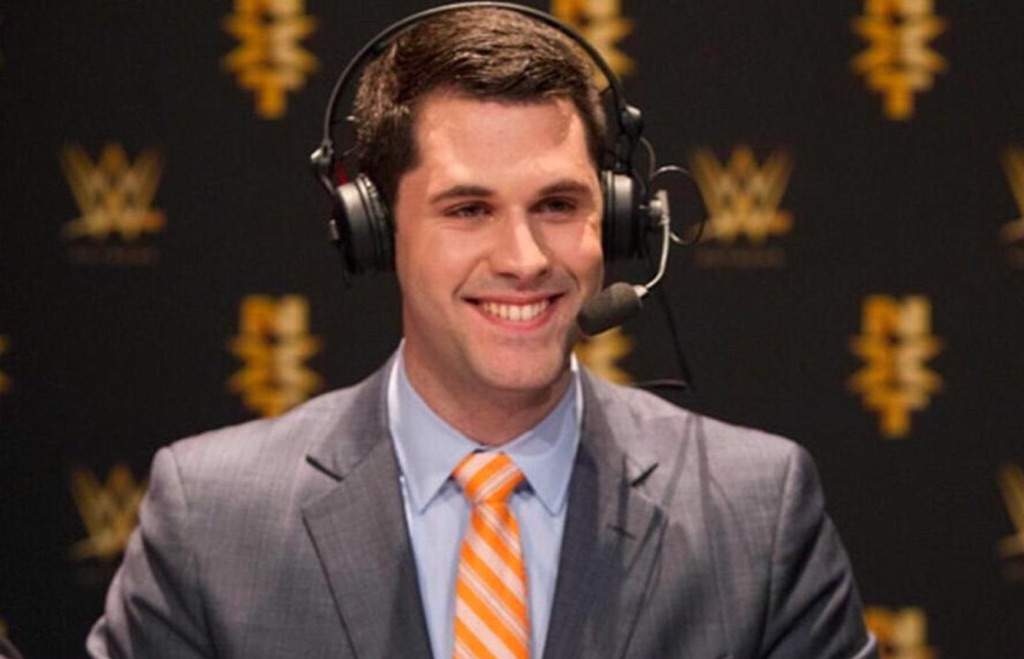 RANALLO
WELCOME TO THURSDAY NIGHT REVOLT AND WE ARE IN THE PREMIER LINE TO THE BIGGEST EVENT OF THE SUMMER!
PHILLIPS
Tonight is the go-home show to BlockBuster! Which means all of our locker room are pulling out all the stops with their last chance to build momentum!
SAXTON
Oh, ahah, I thought go-home meant we didn't have to come to work today! Glad I decided to show up!
Mauro and Tom look over at Saxton while remaining deadpan.
PHILLIPS
We're not...
PHILLIPS
But am I glad to see these two. The amazing, effervescent, vivacious IICONIC!
To a chorus of boos do the IIconic pair of Peyton Royce and Billie Kay make their entrance. The PWG Womens Championship drapped across her shoulder, Peyton makes her way down to the ring in a confident manner, while pointing and laughing at a series of fans near the ramp barriers. Meanwhile, her ever loyal companion Billie Kay holds the Womens Fortune Briefcase securely in her left hand. The pair hit their signature pose on the apron before Kay fetches two microphones from ringside staff.
PEYTON
We warned Bayley.
BILLIE
She didn't listen.
PEYTON
We warned Emma.
BILLIE
She didn't listen.
PEYTON
We warned Riot Squad.
BILLIE
They didn't listen!
PEYTON
N' now tha Women in tha back are choosin' sides. IIconic...
BILLIE
Or not!
Royce moves her arm from left to right across herself and Kay as she says her next words.
PEYTON
Tha WINNING side!
BILLIE
Or tha LOSING side!
PEYTON
N' make no mistake about it, dearies, IIconic are tha winners!
BILLIE
WE have tha original, tha best, Womens Championship in PWG! In tha world! WE have tha Women's Fortune Briefcase! WE have a stranglehold on tha entire Division!
PEYTON
Hmm. Since I don't even have a worthy contender tah defend my title against at tha PPV - I mean I've beaten them all - Maybe at BlockBuster I'll just cash in my contract on tha mute Nikki Cross! I've already taken out one silent Champ hahahaha!
Royce & Kay share a laugh at Bayley's and Cross' expense while the crowd continues to boo their arrogance.
PEYTON
Then our dominance of Women's wrestlin' will not only be IIconic... but Undisputed!
IIconic hits another one of their signature poses in the ring to egg on the crowd's boos. Royce then lifts up her microphone to speak once more but is cut off by...
(As Charlotte Flair's theme hits as she walks onto the stage with a microphone in hand. As she says)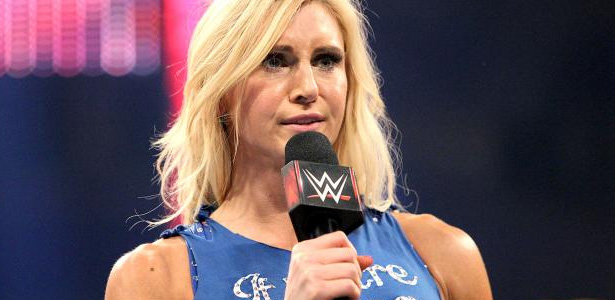 Charlotte Flair: As much as I could care less about what you IIconic losers have to say you are right about one thing the Revolt women's division, is in a civil war of sorts happening right now.
(Charlotte continues talking as she walks down the ramp into the ring)
Charlotte Flair: The faction I helped create, the team I helped, the girls I called friends turned their back on me. And that doesn't sit well with the Queen of PWG. So by default I'm on the IIconic side of this battle. But don't be confused Miss Royce after I help you to destroy the Riot Squad and that Staten Island Trash heap know as Carmella.....
(Charlotte steps forward and looks Peyton Royce in the eyes)
Charlotte Flair: I'm coming after you and that women's championship, and the only thing you'll be holding when you come down to the ring Peyton is Billie's hand and your stupid little flower.
(As the two are locked eye to eye Billie Kay separates the two women as a familiar theme hits)
Mauro: AND IT SEEMS THE RIOT SQUAD HAVE HEARD ENOUGH OF THIS POW WOW BETWEEN THE IICONICS PEYTON ROYCE, BILLIE KAY AND THE QUEEN CHARLOTTE FLAIR.
TOM: But where are they there not coming out onto the stage.
Byron: Well Guys if I saw a star as big as Peyton Royce I'd be intimidated too.
(As the three women look towards the stage and start yelling the theme ends as no one comes out but the tron flicks on as laughing can be heard as Ruby Riot walks into frame)
Ruby Riot: We listened to what you have to say and to be honest we think your all delusional, and the Riot Squad and Carmella are going to give the three of you what you deserve. Then we will be coming after the women's championship and not some make believe queen. Listen Charlotte you crossed me once already and suffered the consequences, we were generous last time now....there is no mercy and there's no REMORSE FOR YOU PEYTON OR BILLIE. And after we are done with the you we will take what is ours the Women's championship from Peyton Royce. But that's for the future....but for now the three of you should turn around. (As Ruby Riot has a sickly smile go across her face)
(As the three women in the ring turn around and the Riot Squad and Carmella are in the ring as Ruby and Peyton start to Brawl in the center of the ring, Alexa and Billie Kay trading blows in the corner, and Carmella and Charlotte trade chops. As a familiar theme plays as the women keep brawling)
*The Co-GM of Revolt struts her way out with Drew McIntyre in tow the harsh voice of the Billion Dollar Princess cuts through the arena*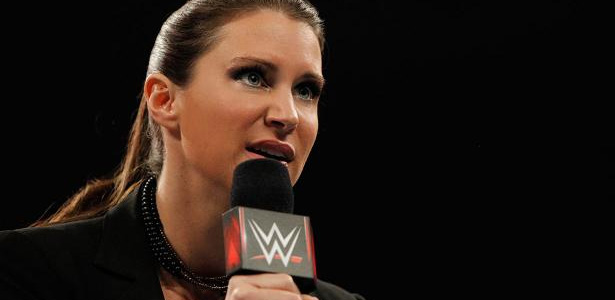 McMahon:
ENOUGH! THAT'S ENOUGH!
*The six women halt the brawl, however the bickering amongst the "Factions" still continues, Drew politely grabs the mic from Steph*
McIntyre:
QUIIIIIIIEEEEET!
*The six women look up to the ring*
McIntyre:
The boss is speaking.
*Drew hands the mic to Steph*
McMahon:
Thank You Drew.
The six of you have caused quite enough trouble and chaos in MY ring... unsanctioned
*a grin forms on her face*
Being a McMahon I know money when I see it... Do I get what ever the hell Ruby is?... No.
Do I know why Carmella helped the Riot Squad?... No.
Do I think Charlotte is going to fully support the IIconics... No.
Do I think Peyton got lucky at Fortune and is in way over her head? I don't know...
Let's find out.
So tonight three matches leading into one BLOCKBUSTER opener.
Billie Kay will take on Ruby Riot.
Charlotte will take on Carmella in a submission match
and to round it out
Peyton Royce will take on Lexi Bliss!
*The six women pair off with their respective opponents as Steph contiunes*
Then... This Sunday... it will be the Riot Squad and Carmella versus The IIconics and Charlotte!
...
IN AN ELIMINATION TAG MATCH!
*The crowd pops for the match, as the six women look at each other, Ruby and Bliss smirk, Charlotte and Carmella talk shit to each other, but Peyton and Billie begin to laugh*
Royce:
Really! HAHAHAHA... That's it boss?! Sa, you're tellan me dat... I fight this screws half loose gal.
Kay:
and I have ta battle with the ring leada of crazy?!
Royce:
Then we have ta fight at Blockbuster against these lose-a's!? and on top of dat, we team with this make believe queen? You usually make good choices boss, but this... this is laughable!
*The IIconics share a laugh together as the other four look at them, Steph looks visibly upset for a breif moment then an evil smile forms on her face*
McMahon:
Oh... not good enough for you Peyton?
*Peyton hears the tonal change and begs for Steph to stop... but it's too late*
McMahon:
I've got a match for you then Peyton! Whoever the surviving, winning members are in that tag tea match... WILL BE THE NUMBER ONE CONTENDERS FOR PEYTONS PWG WOMENS CHAMPIONSHIP!
Royce:
Oh you gotta be kiddin me!
McMahon:
Oh that's not all Miss Royce... That title match? will take place THAT VERY NIGHT! Live at Blockbuster!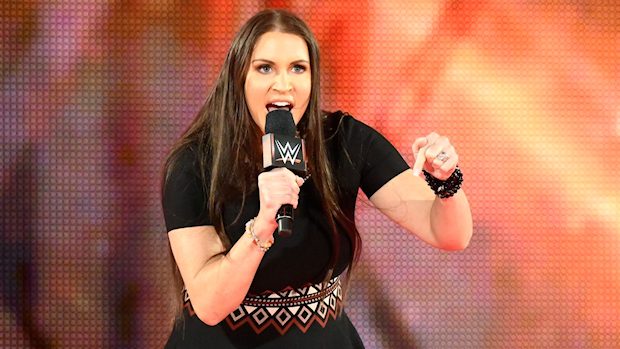 *The IIconics share a hissyfit as the crowd pops for the marquee match-up, the other four looking at each other*
McMahon:
Good Luck.
*Steph and Drew walk backstage as Ruby leads Carmella and Lexi out of the ring, The IIconics looks at Charlotte with a look of desperation. Charlotte just shrugs, lets out a 'WOOOOO' and leaves the ring. Peyton and Billie now alone in the ring look at each other... letting the situation sink in as we go to our first commercial break*
---
The Modern Day Maharaja vs The Viper - 2x Points Match
Jinder Mahal vs Randy Orton II
Match Result wrote:




winner via SIM:
---
As the next segment proceeds what is visualized on the screen is a very dark gloomy room. Footsteps can be heard as the sound of each foot meeting ground grows louder. The man revealed is none other than the sadistic uncanny Paul Ellering. A man of vast intelligence and a diverse mind looks on into the souls of us all. He begins to speak.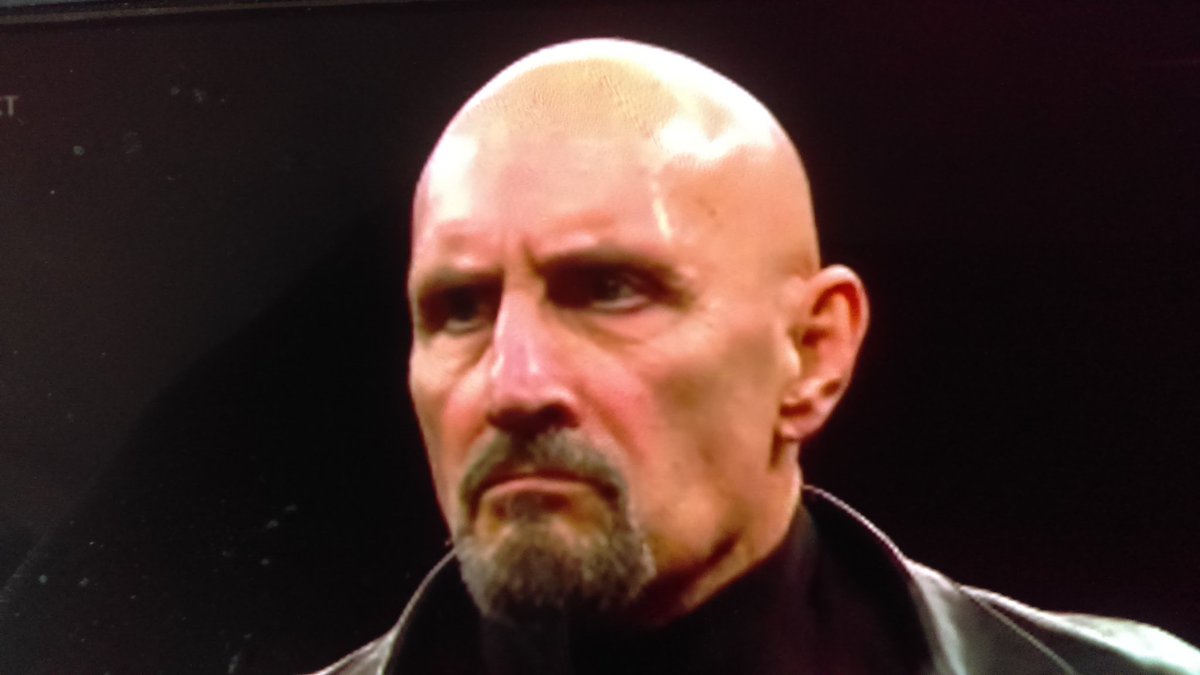 ::Paul Ellering::
I once had a vision, two Authors who have a reputation to designate pain on victims. This encapsulated vision foretold the devastation that my Authors of Pain would unleash. This vision is now finally becoming a reality, the first victims were a group decapitated a few longing days ago. By each passing day the coveted book will unveil its darkest secrets and the prophecy of violence and domination will douse this land. In the wake of broken bones two Authors will remain prominent. There is no preparing for the apocalypse, bend the knee and abide or perish and suffer the severe consequences.
Tonight the list of fatalities undoubtedly increases and its only a matter of time before you will be looking up trying to reach for help but no one will be there to suffice your calling. Reforged carnage is imminent and Akam, Rezar, The Authors of Pain are the ones to make you suffer.
---
Is Third Times The Charm?
The Revival vs Authors Of Pain III
Match Result wrote:





click to reveal winner:
---
Both Woman Look To Rep Their Squads
Billie Kay vs Ruby Riot
Match Result wrote:

Ruby Riot enters the ring Billie Kay looks on in disgust, as the referee asks Billie Kay if she's ready.

Kay:
I'm Iconic!

The referee shakes his head and looks back at Ruby and asks if she's ready and Ruby nods her head as a sickly smile comes across her face. As Billie looks at Ruby she laughs and steps forward. Billie Kay looks around flustered and lost without Peyton by her side and runs at Ruby going for her patented big boot as Ruby rolls out of the way and dodges. Billie stops herself in the corner. Ruby slams her head into the top turnbuckle a few times then sets up and hits her with the deadly night shade and follows it up with a pin. The referee counts
one....
two.....
...as Billie kicks out.
Ruby laughs a bit and mounts Billie and starts giving her a fury of elbows then gets up and starts yelling for Billie to get up as Billie staggers to her feet, Ruby goes for a super kick to the gut as Billie catches it. Then she spins Ruby around and catches her with a huge elbow, and she yells at the referee

Kay:
COUNT IT!

Billie covers Ruby as the referee counts
one......as Ruby kicks out.
Billie gets up and yells towards the referee, as a 'let's go Ruby' chant is started up.

Kay:
SHUT UP!

She angrily picks up Ruby Riot in a suplex position. Ruby slips out and lands behind Billie confused she turns around into a Riot Kick. Ruby falls into the pin the referee counts
one.....
two......
three!
Ruby Riot gets up and holds her stomach as the Referee raises her hand high.

Ranallo:
The Punk Rock Princess Ruby Riot just put the Femme fatale in her place here tonight on Revolt.
---
Thursday Night Revolt deviates from its previously aired match to casts it's attention towards the backstage area. It is here that the camera's capture the charismatic Charly Caruso in front of a locker-room door with the inscription 'Roman Reigns' on it. Unlike her previous interviews, her countenance depicts an expression of frustration as she knocks on the door frivolously but no one answers. It seems she's been here for a while and  just as she's about to amble off screen, the door pries open to reveal a dimly lit room.
The cameras evidently zoom in and out comes Roman Reigns with an emotionless expression upon his visage which garners a mixed reaction from the crowd. With bags beneath his eyes and an unkempt beard, he merely stares down the robotic interviewer who eventually parts her lips to speak.
Charly Caruso: R-Roman…. A moment of your time?
Roman Reigns: ….
Charly Caruso: Alright then… Many of us are still curious about your return from a long hiatus. The last time we saw you, you vacated the title and haven't been seen since. We assumed you quit and were gone for good but that doesn't seem to be the case anymore. Why did you go? Where did you go? What was the real reason you left?
A long pause ensues and an answer doesn't arrive.
Charly Caruso: I…. Are you at all excited to be in the title picture again? Do you even want the title back? And what of the allegations that you were on dru-
Roman Reigns: That's enough for now.
Speaking his first sentence since disappearing a month ago, the former champion slams the door leaving a confused Charly to her own devices. 
---
EVO Revolt Finalists Face Off
Kevin Owens vs Y2J
Match Result wrote:





winner via SIM:
---
The crowd are buzzing with excitement as they await the next match to begin Tom Phillips
Here comes the Animal! Coming off of a huge win over the Rock last week, he hopes to do the same this week, only this time its in tag action!
Mauro Ranallo
Lets not forget about Shane Thorne! I'm sure he's happy to get his hands on the Animal after Batista rudely interrupted his interview!
Tom Phillips
Batista was just being a nice guy! For once People were watching Thorne!
The animal walks down the ramp, his face is emotionless as he it to the ring, grabbing a microphone off of the stairs as he does so
Batista
Let me start off by saying, I love this business. I love being in this ring. I love hitting people. I love holding a microphone and saying whatever the hell I wanna say. But what I don't love, is the fact that it has become overrun by petty, entitled, egotistical morons. Morons like Shane Thorne! Last week, there were things that I wanted to say but Thorne insisted on staying, trying to take MY spotlight.
Batista leans against the ropes, looking down at the crowd as he continuesBatista
Thorne wrestled in Japan, right? I thought they taught respect over there? I thought that the young boys like him had to carry bags and take orders from stars like me. That's why I was surprised at his attitude, the nerve on him to even suggest that I was comic Relief pisses me off. I'm gonna teach him the lessons in respect that the Japanese clearly couldn't drill into him. I'm gonna embarrass Shane, I'm gonna expose him for the rookie that he is and the potential that he lacks!
But Thorne ain't the only thing I'm dealin' with tonight, I've also gotta be in the same ring with the Rock yet again. The Hollywood guy who, deep down, knows that I've eclipsed EVERYTHING he's ever done in Hollywood! And Then I came back and kicked his ass here too! I am Better then the Rock! Better then the Aussie enhancement Talent! I'm gonna take this place on my shoulders and bring this business back to the glory days! The times when this business was dominated by True stars! True MEN! When Guys like Thorne wouldn't have even been able to cut it in a dark match!
The crowd boos furiously at The animals cockiness. They start to chant "ASS-HOLE! ASS-HOLE!" repeatedly as the Animal soaks in the hatred!Batista
And as for my Partner? Drew McIntyre? well...
The Chosen One's theme hits and he appears on stage with microphone in hand. He begins to speak on his way down the ramp.
McIntyre: I would strongly advise against finishing that sentence Dave that is unless you want to find yourself in a three on one situation tonight.
The Scotsman climbs into the ring and stands toe to toe with the Animal.
McIntyre: Make no mistake, I don't appreciate all of you"part-timers"  showing up and stealing MY spotlight! There is nothing I hate to see more than the failure of Hollywood slump back to The squared circle in a desperate bid to regain their fame.
Batista looks ready to fight his own tag team partner as he is quickly angered by Drew's comments.
McIntyre: Batista you are nothing like these others I seen. You are nothing like The Miz or The Rock. I can feel the passion you have for this business in every action you take. Dwayne on the other hand is nothing more than a B-movie actor who stole the intercontinental title. He doesn't respect it, he doesn't respect this company, and he sure as hell does NOT respect these people!
Drew averts his gaze from Batista as he looks directly into the camera.
McIntyre: Stephanie, I'm not doing this for the authority, I'm doing this for every single person who is watching this broadcast. The FANS are best for business not you.
Mauro Ranallo: Oh Wow!! Drew McIntyre just dissed Stephanie McMahon! I doubt our general manager will be none to pleased with The Chosen One's words.
Tom Phillips: You're overreacting Mauro. Triple H values McIntyre as a key player on Revolt and as an integral member of the authority.
Mauro Ranallo: You have a point there Phillips, but it looks like The Chosen One wants to prove that he's more than just "security" for Stephanie.
Drew walks back over to Batista and stares him right in the eyes.
McIntyre: I've got your back tonight.....just don't get in my way or I will beat you down as well.
Drew McIntyre drops the mic and arrogantly smirks as he waits on a response.
Batista looks Drew dead in the eye, hearing his last words. Batista
Funny... That almost sounded like a threat. I'd watch your tone very carefully. But you know what Drew? if you take away that last part, then I'd agree that some of what you said was true. I do indeed care for this business, I will do anything for its betterment, even if it means teaming with a backwards suck up like yourself who don't feel comfortable unless his head is planted firmly up someone's ass.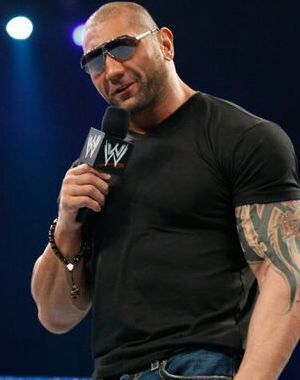 Batista
but let's get something straight before this all goes down, You Drew, you ain't my first, second or even my tenth choice for partners. But if you keep your mouth shut and jump when I tell you, then we'll win tonight. we'll beat the rock and that little Aussie twerp within an inch of their lives.
Drew looks pissed at Batista's comments but he does not attack despite being so tempted Batista
But if you wanna keep disrespecting me, then I guess that's fine too.
The animal drops his microphone, stares down with his partner, meanwhile the crowd look on anticipating the first shot.
Mauro: Well, let's not forget we have a tag team match coming up here and here comes the first competitor of the opposition team! The Australian All-star, Shane Thorne!
Byron: Shane hasn't had the best run of late, last week he got beaten by his own finisher! How humiliating!
Tom: Shut up Byron! Shane may have come up short, but I am sure that being in the ring with the World champ was a great learning experience for him!
Byron:
(mutters) You can learn without losing, sheesh.
Shane Thorne: Whoa there big boys! You weren't about to start this party without me were ya?
There are some faint Shane chants from the crowd
Shane Thorne: Drew, I'd appreciate it if you didn't rough up my Blockbuster opponent too much, I don't want him to have any excuses for when he loses to..
Shane does air quotes
Shane Thorne: ... "The Aussie Enhancement talent" Damn Dave!
Ya know it's actually rather fitting that we should be having this match at Blockbuster Dave.
Shane hops up onto the apron
Shane Thorne: Because unlike my partner tonight, that's the only Blockbuster that you will ever be a part of!
Shane laughs along with members of the Revolt audienceDrew smirks at Shane's comments about his partner for the evening

Batista is angered further by these remarks and shakes his head
---
Bad Blood Boils Over Opposing Stables - Submission Match
Carmella vs Charlotte
Match Result wrote:





click to reveal winner: