The PWG Universe bursts into cheers at the sound of Seth Rollins theme song playing through the speakers! The crowd roars "burn it down" in unison as Seth Rollins makes his way out into the sold-out arena. The Revolt Champion comes out with a huge smirk planted across his face and the championship resting on his shoulder. Rollins slowly makes his way down the ramp and into the ring whilst gives a few fans high fives on the way. As he enters the ring he taunts one more time raising the championship above his head before wrapping it around his waist.
Seth Rollins - Well, Hello, Hello, Hello how are you guys feeling tonight!?! Because I know i'm doing fantastic.. after all I'm the world champion and I've been setting the standard for what a real champion looks like not just in Revolt but in PWG period! You see, Now that I'm champion this show has become THE show and nothing is going to change that as long as I'm here. Not a beast, not a B classed movie star, not a Samoan lunatic and definitely not a glorious douche bag.  I am the man of Thursday night revolt. I am Seth FREAKING Rollins and this is a show for the people! So with that said I've decided after my big win over both Batista and Brock Lesnar last night that I would switch things up a little bit. Tonight I want to give someone new a chance. Tonight I want to give someone new a chance to make a name for themselves. Because we've already seen enough of Brock Lesnar and Bobby Roode hog up the spotlight so now I think it's time for something new and something fresh. So, tonight I'm issuing an open challenge. Maybe not for this championship - but to definitely for someone to prove themselves. Not necessarily to me but to themselves and to these people that they have what it takes to play in the big leagues. I'm looking for someone to show the world they have what it takes to be a world title contender here outside of the four same faces we see week-in and week-out. I'm looking for someone to show the world that they have what it takes to go from just coasting the mid and low card to being another face of Thursday night Revolt.  
Seth Rollins - So how about it!? This is an open door for someone to come out here and try to make an impact because I'm all about spontaneity and all about switching things up I'm all about growing and bringing this entire show with me to the next level. So c'mon let's see someone who's brave enough to come out here and face the champ.
The crowd begins roaring with cheers chanting "YES, YES, YES!" Awaiting who would come out to confront the current champion.
*A few seconds pass, the crowd continues their chant, they are anxiously awaiting Seth's opponent. Some fans begin banging on the barricade in anticipation for this match*
*Suddenly a familiar yet new theme starts to play...*
Mauro: MAMMA MIA!! It's the Australian Sensation, Shane Thorne! I can't wait to see how his style clashes with that of our World Heavyweight Champion Seth FREAKIN Rollins!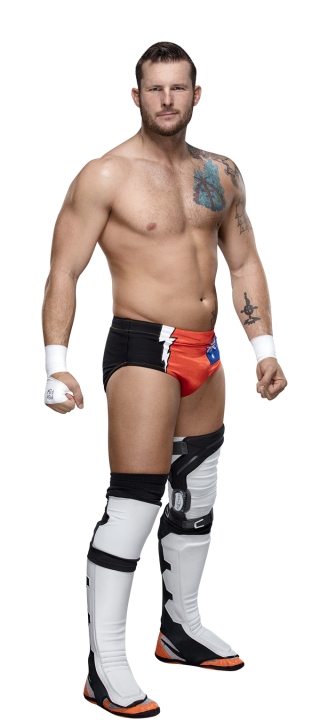 Byron: Who would've expected this? This young man just debuted about a month ago and here he is in a match against our World Heavyweight Champion!
Todd: I've seen this young man Shane Thorne compete around the world, he's athletic, he's fast, he's strong, he's smart he has all the things you need to be a champion! I'm not saying that's gonna happen anytime soon, but I'll be keeping my eyes on this Aussie athlete for a long time, as I believe everyone will.
*Shane appears pumped and ready to go but he also has a mic in hand.*
Shane: Seth, as you can probably guess, I would like to accept your open challenge! I know I haven't exactly done a lot just yet here in PWG but you did say this was open to anyone...
*Shane continues down the ramp*
Shane: So firstly I should say, "Thank you" Seth, Thank you for this opportunity, because my stock has been rising since I've joined PWG... and right now it could get a whole lot better!
*The Two Competitors shake hands in respect and go to opposite corners before the referee calls for the bell to be rung*
The Champion vs The Underdog
Seth Rollins vs Shane Thorne
Match Result wrote:





winner via SIM:
---
We are backstage. Standing in front of the camera is Renee Young. She introduces Nia Jax as she walks into the scene.
Renee: So Nia tell all of the fans watching what is on your mind!
Nia smiles and makes a face, then begins to speak.
Nia: Well first of all...I'm not happy with my current booking. It has been quite a few weeks since my last match and that is a waste of talent. There is no one that is as fierce and dedicated as me and I draw plenty of viewers. I saw the laziness the other women display in that ring and they are all getting booked every week. All I want is consistent booking.
Renee: I see your point. So If you were to get a match next week is there anyone specific that you would want to face?
Nia: No, i will face anyone on revolt. All I want is to have a good match and to woo the crowd. I know they want to see me!
Nia Smiles and walks off
Renee: There you have it! It's clear that Nia really wants to show everyone what she is capable of.
---
Modern Day Maharaja Special Guest ENFORCER
Drew McIntyre vs The Miz II
Match Result wrote:

The match begins with both men standing across from one another, but before the match can get started Mahal orders his henchmen to attack. The Singh brothers slide into the ring and blindside the A-Lister by cutting him at the knees with a Chop Block. They each take turns stomping away at the Miz until Drew has seen enough. He walks over, pulls Sunill off of his opponent, and takes him out with a head-butt! Samir looks frozen as McIntyre grabs him by his shirt collar. A smirk forms across the Scotsman's face as Miz can be seen stirring.

McIntyre: I'm going to let you go!

Drew shoves Samir into the waiting grasp of the Miz who delivers a skull crushing Finale!!

Jinder Mahal is furious at ringside and climbs into the ring to deal with these two superstars himself. The Modern-Day Maharaja finds himself in a two on one situation that is until Drew takes Miz out with a devastating clothesline.
Jinder looks at the destruction and quickly sees his chance. He lifts a dazed Miz to his feet and hit the Khallas.

Drew climbs out the ring and grabs a mic.



McIntyre: All you Americans live in this fantasy world where you tend to believe anything is possible. You position your stars of the silver screen high on a pedestal. So high that they themselves start to believe their own hype and what does that accomplish? Nothing because all you people are doing is feeding and overinflating their egos. I am a professional wrestler and I will prove to the authority that I am far superior to these part-time "superstars". Miz was just an example so I hope you're watching Dwayne! I'm coming for that title!

Drew McIntyre and Jinder Mahal both leave the ringside area as paramedics rush to check on the Miz.
---
Renee Young is seen standing backstage in the parking lot area. She is accompanied by none other than the dastardly Paul Heyman. He stands beside Renee looking smug despite his client's recent loss.
Renee Young: You seem to be all smiles even though Bobby Roode has gotten the better of both you and Brock in two consective weeks. Clearly you know something we don't. Can you give us some insight on whats going on?
Renee turns the microphone towards Heyman as he begins to speak.
Paul Heyman: Well if you must know, I have something up my sleeve. An ace in the hole if you will. Something  that'll guarantee my client's victory tonight. I'd be an imbecile to tell you my plan here on live television. Besides it's far too complicated for someone like you to comprehend. I'll sum it up and dumb it down so even the simplest of minds can understand. Brock Lesnar will be headlining Blockbuster by the end of tonight. Nothing more needs to be said.
Renee Young: Bobby Roode has been rather unpredictable as of late. Aren't you or Brock Lesnar concerned at least a little?  
Paul Heyman: My client, BROCKKK LESNAR fears no man. Certainly not the "Glorious" Bobby Roode. If anything, Brock can't wait to get his hands on Roode. First Roode hits Brock with a low blow two weeks ago that would level anyone, then just last week he had to hide behind the World Heavyweight Champion, Seth Rollins. Tonight there aren't any champions to carry Robert. There certainty won't be any sneak attacks. Brock is ready to go. He'll be like a rabid dog the second he gets a whiff of Roode. My beast is going to tear that man to shreds and eat him alive. Roode doesn't stand a chance.  
Renee Young: Those are some strong words, Mr. Heyman. I'd like to think the message was sent. Thanks for your time.
Paul Heyman nods and rudely declines the interviewer's handshake as he waddles away. He is seen walking up to a car and opening the trunk. Heyman smiles wide as he pulls out some handcuffs, mace, and other assorted items putting them into a suitcase. He closes the trunk and begins to walk away with the suitcase. He stops for a moment as he hears a sound he can't quite make out. It becomes clear as the sound gets louder that it's the sound of a car engine. Heyman drops the suitcase and waddles as fast as he can once he sees a speeding car headed right for him!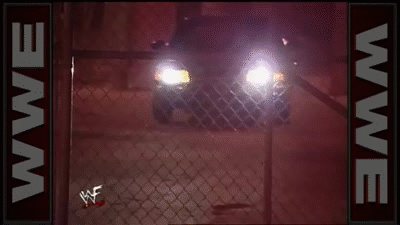 Heyman goes flying over the windshield and crashing hard into the ground. He lays on the floor moaning in pain unable to move. A man opens the driver's seat and it's revealed to be Bobby Roode! He then kneels by Heyman talking somewhat clam despite nearly ending a man' life.
Bobby Roode: I was sitting home on Monday flipping through channels when I came across my old brand, Monday Night Fury. I seen little poor Johnny Gargano get ran down and it's been on my mind all week. I thought about hitting you and Brock with this car over and over and over again. Each time I thought about it, the better it sound. It was better than I had fantasied! The only regret I have was not hitting Brock too. He'll get his tonight when I finally get my one on one match with him. I'm going to hurt that man a lot worse than I did you. I told you bad things would happen, Paul. Maybe you should've listened.  
The sound of footsteps from wrestler, referees, and security are heard approaching. Roode quickly stands up as the others approach.
Bobby Roode: Help! This man needs medical attention asap! Somebody call an ambulance. Some madman hit this helpless rotund old man and left the scene.
The medical staff that are within the crowd thank Roode before he walks off.
---
1/2 of the Usos take on 1/3 of the New Day
Jimmy Uso vs Big E
Match Result wrote:

Video will be added later [small](difficutlies uploading)[/small]



click to reveal winner:
---
*After commercial break we are brought to the backstage area, with Ruby and Lexi stopping at a door labelled 'Carmella's Locker Room' they both look at each other as Bliss cuts in*
Bliss:
Thous Bratty lil' Aussie twat's gonna get it Red! Queeny gets lucky one time! Then they stick they big noses in OUR fun in OUR Bidness!
Riot:
Listen Bliss... the way we see it. They have three we have two.
Bliss:
Yea? Why does the madda? Give me a bat and I'll bludgeon them till Kay wishes she wouldn't has came back!
Riot:
*A sickly smile forming on her visage* True... but you know what they say...
The enemy of my enemy...
*They both look back at the door as Ruby opens it, with Carmella siting on the other side. She stands with a panic on her face, calms herself and speaks*
Carmella:
Umm... OK so Crazy One and Crazy Two... what are you doing in my locker room?
Bliss:
HAHAHA... Nice to meet you too Princess, dats how you gonna thank me and Red?
Carmella:
Thank who?! The way I see it I saved your half-baked ass and your punked out leader too!
Bliss:
Listen here little miss perfect... no one tells me whadda do! Not Red... Not You... Not Steph... No baddy!
Riot:
ENOUGH!... We came here to thank you.
Camella/Bliss:
What?
Riot:
*puts out a hand to reassure Bliss* There are plenty of options in this universe... you chose the path to help us. For that we thank you.
*Both Carmella and Bliss still look confused as Ruby continues*
Listen Mella... We want to punish Ivy and her henchmen just as much as you do. They ripped our golden ticket from our hands...
*Riot looks distracted at her empty hands then snaps back into it*
...They cost us everything... they corrupted our Queen...
Bliss:
AND THEY RUIN OUR FUN!
*Mella jumps at the sudden yell from Lexi then regains composure*
Carmella:
Looooook, okay I somewhat get it... I still don't understand what you're doing in my locker room.
Riot:
To ask for your help... The enemy of my enemy...
Carmella:
...is my friend?
Riot:
*smiles* Exactly. Look... Miss Ivy has a match later tonight... and we have one before it *pointing to herself* just sit down and watch... decide who's side you're on. Our-self and Bliss will be starting a war tonight.
Bliss:
HAHAHA... You in Princess?!
*Both Ruby and Bliss extend a hand out for Carmella, she looks down at the two outstretched hands, and before she makes a decision to camera fades to black*
---
Riot Squad Prepares for War
Ruby Riot vs Mickie James
[small](Bliss at ringside)[/small]
Match Result wrote:





click to reveal winner:
---
*The match between Owens, Balor, Sheamus, and Christian is about to start. Owens entrance theme hits but it stops soon after as Owens is on his way to the ring with a microphone in hand. He begins to speak.*
Kevin Owens:
My question to everyone is whats with the secrets? I'm coming out here to fight for an opportunity that I don't know what it will be for. I could be earning a shot at the intergender title for all I know!
*The crowd start to laugh and chant "In-ter-gender!"*
Kevin Owens:
That wasn't a joke for you to laugh at! You know what, I don't even care anyways as I am The Prizefighter and I am ready for anything thrown at me. My opponents are a bunch of no good losers. If the management knows what's right, they will give me the shot that I deserve automatically! The champions here are all bums too far as I'm concerned. Last month at Fortune, if it had been a 1v1 I would be Intercontinental Champion right now!
*The crowd all chant "Rocky!"*
Kevin Owens:
Yeah, I know that he pinned me, but that's beside the point cause stupid Bobby boy got in the way! Now I don't know what I'll get for winning this match, but the champion that I'll fight better be ready or I'll TAKE that title away with a quickness!
*Owens throws his mic down and awaits his opponent*
Secret Qualifying Fatal 4Way Match #1
Kevin Owens vs Christian
Match Result wrote:

*The match picks back up after a commercial break and the ref gets knocked down*

Phillips: Oh my the ref was knocked down by the Prizefighter!

*KO quickly reaches into his short's pocket and takes out some pepper spray; he quickly sprays it at Christian!*

Mauro Ranallo: Mama Mia! That's illegal, if only the ref was up.

*Owens then Pop-Up Powerbombs the blinded Christian as the ref gets up to count the pin

.....1!

.....2!

.....3!*


Phillips: Owens with the sneaky win! Atta boy!

*Owens celebrates before grabbing a mic*



Kevin Owens:

Ugh. I told you all. I told you ALL! I won, I beat Christian and now I have won a shot at this new Championship. You may say I cheated, but that my friends, is strategy. Christian had no chance anyways! I'm the only one who deserves Gold in this company! I come out here and perform for all of you, even though you do not, and I repeat, DO NOT deserve it. All you idiots do is buy a ticket, buy over priced food, and sit on your asses while I put my body on the line. With that being said, I proved here tonight why I deserve the shot, and this time I'M NOT GOING TO MISS!

*KO throws the mic down and walks away*