"Must See" Maharaja TV - Guest The Miz
[big]
[bgcolor=#000]
The screen show's the static logo upon the Revolt entrance stage viewing panels accompanied by the blinking illuminations, produced by bulbs upon the surrounds, emitting generous amounts of color.
Garnering the visual entertainment package at this time is on display within the ring, which is decorated with a few chairs and a side table which has a Maharajah TV placard that replicates the former show sign of the miz and it has Incense vases on each side of it.
All in front of that furniture at the center of the ring, Is the smartly dressed singh brothers on either side of the even better dressed modern day maharajah in a fine suit and Turban combo, he adjusts himself while slowly panning his glare as he smiles slightly.
:: Jinder ::
"Welcome toooooo must seeeee maharajah T V !!!!"
The crowd is a mixture of reaction some caring while others do not care for the PWG's resident Indian Nobleman. Some may admire the tenacity showcased by the maharajah, possibly seen as an artist plying his craft week after week, within the confines of the PWG canvas, the obvious true connoisseurs of the proverbial martial art of wrestling.
While others simply see him as just unjustifiably arrogant enhancement talent, the obvious close-minded bigots.
:: Jinder ::
Yesss The maharajah Jinder Mahal is hosting this talk show live tonight here in.....
Jinder leans toward Sunil who whispers to him.
:: Jinder ::
Detroit.....
The crowd can't help but cheer out to their city's name being called out.
:: Jinder ::
Yeah I wouldn't cheer if I lived here but go ahead...
Crowd boos.
: Jinder ::
Are you done?
Because I have a special guest tonight who caused a bit of a scene last we were together this man had to be shown that the Maharajah don't take bad manners and disrespect lightly.
As I will show you a flashback to that very event.
The trio motion there arms upward pointing toward the big viewing panels.
Jinder urges him to let the Miz try.
Miz eats it he munches it about then his eyes widen.
He spits it at Jinder messing up his shirt with food splatter.
:: Miz ::
That's so super spicy, whoo, I need some milk or something.
The Miz is handed some milk from Sunil.
He spits that at Jinder too.
:: Miz ::
What the heck is this?
:: Sunil ::
Freshly squeezed goats milk the best goat milk.
:: Miz ::
ewww goat?
:: Jinder ::
Uh yes, its spice up your life Miz... It's obviously going to be spicy.
:: Miz ::
I'm a good actor but sorry, I can't act like that's any good at all.
was that peanut sauce I don't like peanuts.
Can we make some lasagna or maybe a beef wellington?
:: Jinder ::
No, we won't make a lasagna....or a beef wellington.
:: Miz ::
Yeah well, I don't see this getting many episodes if this is the standard, it's not a list standard that's for sure.
:: Jinder ::
You messed up my shirt and disrespect the cuisine of my people?
The Modern-Day Maharaja will not be disrespected on his own show, by anyone.
Jinder takes Miz's hand and puts it in the toaster, miz screams out as it heats upon his skin.
After a couple of agonizing seconds, Miz tries to retaliate by grabbing a pan and swinging it.
Jinder is knocked back a couple of steps, where he turns to grab a handful of pepper spice which he throws into the Miz's face.
Jinder then hits a Khalass on Miz on the corner of the kitchen table, severely injuring Miz's back.
Jinder takes the blinded Miz by the shirt and heaves him out of shot.
He adjusts his turban as he looks at the camera.
The clip on the big screen ends.
Jinder shakes his head.
:: Jinder ::
"See what I mean? Disgraceful...
He caused my Pilot cooking show the simply delicious Spice up your life to be put on the back burner.
The network wants to review episode ideas with some focus groups... but for all those who like good food and especially yours truly, I'm sure you'll be treated to more episodes in the future.
Maybe after this time healing from those injuries, he's learnt from his mistakes and I'm willing to give him a chance to do the gracious thing, I'll give him a chance to apologize and maybe there'll be time left to tell you some enthralling side piece on a B grade movie he's working on or the like.
Any way sumir ...call him down."
Jinder takes a seat, Sunil makes preparation for a bottle of water to be ready for the Maharajah.
:: Sumir ::
" PWG universe please move your attention to the entrance way for the miz...!"
Almost a minute passes and there is still no sign of The Miz. Jinder loses it.
:: Jinder ::
"Damn you Miz! Nobody stands up The Modern Day Maharaja! You want to try to embarass me on National Television!? After I give you a chance to make peace!?
Is it cause I do talk-shows better than you ever could!?
...Just wait until I get my hands on you later tonight you embecile!!!"
Mahal and the Singh brothers storm out of the ring and up the ramp fuming.[/bgcolor]
[/big]
---
TTC Teams Look To Rebound
AOP vs Revival
Match Result wrote:

The bell rings as Dash and Akam lock up. The Author of Pain quickly gets the advantage over the smaller Dash Wilder tossing him across the ring. Dash quickly gets up and charges straight at Akam. Wilder is met with a quick lariat that sends him spiraling in the air and crashing hard into the canvas.

Akam decides he wants to end it early tagging in Rezar to Attempt The Last Chapter. Rezar goes to hit the ropes when the dastardly Scott Dawson pulls down the top rope causing Rezar crashing over and down onto Paul Ellering. This causes Akam to drop Dash Wilder and go to check on Ellering. An enraged Akam tosses Dawson into the ring. Scott Dawson begs and pleads as Akam walks towards him. This is when Dash catches him with a quick running chop block. Dawson then gets up and joins Dash in giving Akam a beat down. The referee shouts for Dawson to leave the ring, but it falls on deaf ears. Both Revival members waste no time hitting a quick shatter machine.

Dash then quickly covers Akam as the referee counts one..... Two..... and three! Their celebration is cut short as Rezar slides in the ring causing The Revival to retreat. Revival continues to celebrate up the entrance ramp as AOP is stuck licking their wounds in the ring.
---
Talk Show Hosts Team Up Against Rivals
The Miz & Chris Jericho vs Jinder Mahal & Randy Orton
Match Result wrote:




winner via SIM:
---
the camera comes to an area with a bunch of people standing behind a barricade cheering for someone and yelling and screaming then the camera shows who it is speaking to a interviewer
Trish Stratus: Hello everyone, I'm Trish Stratus, well, at least I hope you all know who I am by now. Let's see PWG management has asked me to come back and I gladly accepted the offer because what else better can I do then send a warning to the women of Revolt. I'll be back next week and I'll be throwing out an open challenge... so if you have what it takes and want to step into the ring with one of the women legends, then accept.
Trish Stratus motions the interview to be over as she grabs her luggage and leaves for the next show for Revolt.
---
IC #1 Contenders Match
Drew McIntyre vs Shinsuke Nakamura
Match Result wrote:




click to reveal winner:
---
PWG World Championship Celebration - SETH ROLLINS
The PWG Universe roars with cheers at the sound of Seth Rollins theme song blasting through the titantron. Seth Rollins comes out the curtain with a huge smirk planted across his face. Draping over his shoulder is the World Heavyweight Championship which he holds close to his shoulder with one arm. Seth Rollins quickly raises the championship over his head followed by strutting his way back down to the ring. The crowd continues to roar with cheers as Rollins makes his way into the ring.
Seth Rollins - Ladies and Gentleman YOUR CHAMP IS HERE!!! Yes, it's absolutely true that the World Heavyweight Championship is right where it belongs and that's in the hands of ONE Seth FREAKING Rollins!! Damn, does it feel good to be champion again and not just champion but the first superstar to have held the world championship's both on Fury and now Revolt! Albeit my title reign wasn't as long as I hoped - when one door closes another opens and what seemed like a huge loss at first only made room to make history here in Pro Wrestling Genesis. You see last week I did the unthinkable... I went one on one with the beast and I came out on top. I mean I'll admit Brock Lesnar is one scary guy, there's not a single superstar as fear inducing as that man. But when push came to shove.. I showed the entire world that I have no problem facing fear in the face and telling it to sit the hell down when the man of this damn company says so!  
The Revolt Crowd roars with cheers chanting "BURN IT DOWN, BURN IT DOWN, BURN IT DOWN."
Seth Rollins - Now it may have not been easy.. and some critics are saying that it was a conspiracy. I mean after all, the match wasn't about their being a clear winner by pin or submission.. it was more about survivability, cunning and speed which are three things I feel like I had the advantage on Brock in. But here the reality, it didn't matter what the match type was I made a damn promise to each and everyone person out here cheering my name and chanting Burn it Down! I promised that I was going to lead this show with integrity and show the world what a real champion looked like. I said that I would be an example that everyone could look up too and be proud of. A champion that the people could get behind! It doesn't matter what kind of adversity is placed in my way because I will continue to overcome each and every single trial put in my path. So now I'm at a place where I've taken out Revolt's biggest and baddest beast, so I guess that means that i'm officially the top guy around these parts. So with that said how about we turn up a little tonight and get this party started!?
Seth Rollins signals to the tech crew to begin a sequence! Party music starts playing as beach balls descend from the sky to the floor. The crowd seems to be whiling out at the sight of this. Now, some female dancers start coming through entering the crowd with minimal clothing and giving free lap dances/twerk on those who desire it. On top of that they also begin dispersing Seth Rollins Ice Cream bars. The crowd roars with cheers at the sight of what seems to be every fans wet dream.
Seth Rollins - THERE'S NO PARTY LIKE A SETH ROLLINS PARTY SO ENJOY...
Rollins celebration is cut off by the sound of a familiar theme...
The champ is startled a little as he see's the animal emerge on the stage to a loud and mixed reaction. he walks down the ramp slowly, not taking his eyes off Rollins for a single second. Tom Phillips:
Here comes the animal! he's back! he's back for the first time since leaving for a major movie deal!
The animal walks into the ring and comes face to face with the champion, he looks around at the balloons and the confetti with absolute disgust before finally lifting the mic to his mouth...Batista:
So these are the levels we're stooping to now, huh? throwing stupid little celebrations so that you can stand out here and hear these stupid people chant  "You deserve it, you deserve it"
That very same chant rings out through the arena as Rollins grins looking around at his supportersBatista:
You don't deserve nothing, far as I'm concerned, the fact you are a world champion diminishes and tarnishes the legacy of not only that belt, but this entire industry! You and your entire entitled generation need to be put back in line, and I'm gonna be the one to do it, you understand? one day, I'm gonna get my shot at that gold and when that day comes, you are gonna fade off the map, and be forgotten forever.
Rollins and Batista stare down as the crowd is getting louder and louder, hyped at the intense stare downBatista:
So enjoy your reign while it lasts, because when I've taken down the rest of you entitled vanilla midgets, when you're the last one left, that's when I take MY worlds heavyweight championship!
Before Batista can continue he is cut off by a potent, notorious noise that was projected by none other than the illustrious advocate Paul Heyman. "Ladies and Gentlemen" was the profound sound that pierced the eardrums of the attending believers. Heyman unveils himself from the curtain and saunters his way out onto the stage with a clean crisp smirk paraded on his mug. The crowd showers him with an onslaught of disrespect as Heyman shrugs it off. He starts to make his vocal chords motion as he waddles down the ramp.
::Heyman::
Well well well.... look who decided to show up tonight, Batista finally decides to return because his inadequate acting skills just couldn't cut it any longer. The man whose done literally nothing in this business, he walks in with a clean slate thinking he's the top dog. Batista let me give you a little advice, you don't belong here, and you definitely do not belong in the ring with Seth 'Freaking' Rollins.
Those comments seem to aggravate the Animal Batista as Heyman steps inside the ring. Batista surprisingly controls his emotions as he allows Heyman to proceed. Rollins looks at both men with disdain as Heyman continues his incessant rambling.  
::Heyman::
Seth, what I just said before don't take that as a compliment from me because why would a heel give the prominent crowd panderer any admiration. What you did at 'Fortune' was win a match that suits you and only you. So whoever in this little PWG creative team decided to make this a TLC match needs to be fired. My client was put in a match he wasn't meant to win, Brock Lesnar was screwed out of the World Heavyweight belt for the second time. Firstly it was a jacked up Samoan fueled with illegal substances and now we have the nimble Rollins leaping all over the place to grab a hanging title. Despite your apparent speed you just barely won that title by the skin of your damn teeth because my client was an inch away from grabbing you off that ladder and delivering an F5 and capturing what is truly his, but due to quickness, this is the scenario I have to deal with. If you thought you were gonna come out here tonight and celebrate with your hired harlots then you were sadly mistaken because my client is not even close to being finished with you because you have something of his and when the Beast Incarnate wants something he damn well gets it. Now you're probably wondering where is Brock Lesnar, why doesn't he come out here and give Seth Rollins a beating. Well, my client is not here tonight (crowd cheers) because he does not care for this show and he will take time off when he pleases. So now it seems that I have completed my mission which was to ruin your little party and now I must go...
Before Heyman attempts to leave the ring Rollins stops him while Batista seems to be relaxing on the opposite corner. Rollins backs Heyman into a corner with a fresh grin smeared across his countenance. Rollins then backs up with an even bigger smile on his face; he then mouths the words "No violence tonight". Heyman then rapidly scurries his way out of the ring in fear. Heyman makes his way back up the ramp while he starts to speak again.
::Heyman::
Seth, you're gonna regret that little stunt you just pulled because you can act cocky all you want, but when push comes to shove the outcome will always be the same. Suplex City, F5, victory and that's just way it is! So you better watch yourself, oh by the way I lied...
Suddenly from out of nowhere Lesnar emerges from the crowd at lighting pace and grabs Rollins and throws him across the ring with a vicious German Suplex! Rollins lies in the ring motionless after only one suplex. Meanwhile, Batista smirks at the sight of the 'little man' in his eyes being tossed around, as he exits the ring and begins heading up the ramp, as Lesner's path of destruction continues.
Lesnar picks up the dead weight of the champion and hauls him across the squared circle with another devastating suplex. "Suplex City Bitch" is audible from the mouth of the Beast. Lesnar then picks up Rollins who suddenly tries fight back with lefts and rights that slightly stuns Lesnar but then The Beast fights back and knocks Rollins silly with a few stiff forearms to the forehead. Seth crumbles to the mat as blood begins to trickle from his head. The Beast laughs as he picks up Rollins.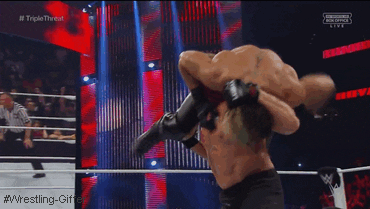 He then destroys the bloodied champion with a defeating F5. Lesnar then picks up Rollins once again and looks to deliver another F5 before he is cut off by a theme that provides a great reaction.
Glorious Domination by CFO$ blares from the PA system as the fans and scantily clad female dancers just to their feet in support of The Glorious One. Brock drops Seth Rollins and turns his undivided attention towards the entrance ramp. Paul Heyman scurries towards the ring in fear of Roode. A few moments pass as it appears just a mind game. Lesnar turns back around to do some more damage to the World Heavyweight Champion, Seth Rollins. A huge pop is heard from those in attendance when it's revealed an emotionally driven Bobby Roode is standing right across the ring from The Beast Incarnate. Lesnar is met with a quick low blow from Roode.
Mauro Ranallo: Bobby Roode has just hit The Beast Incarnate with one of the lowest blows we've ever seen here in Pro Wrestling Genesis!  
Tom Phillips: And it seems to have leveled Brock Lesnar.
Byron Saxton: I don't care who you are man or beast, a low blow like that will take you out.
This sends Lesnar toppling over into the canvas. Roode follows this up with rapid stomps before jumping on top of Brock with quick strikes to the head. Roode notices Paul Heyman trying to pull Brock's leg from outside the ring in an attempt to save his client from this beating. Bobby Roode then stares at Heyman with an almost demented grin. He quickly rolls out of the ring as Heyman attempts to escape through the crowd. However, the fans block his way after seeing him setup Seth Rollins just moments ago. Paul Heyman attempts to plead to Roode as he's approached. Roode grabs Heyman by his shirt and tosses him into the ring before sliding into the ring himself. The Glorious One picks up a microphone dropped earlier as he continues to back Heyman into a corner. The manager begins pleading for his life at this point as Roode steps closer. Once there's nowhere to go and the two are face to face, Roode stares Paul Heyman dead in the eyes as he begins to speak.
Bobby Roode: This is what you wanted isn't it? You wanted to see "the real Bobby Roode". Well I hope you like what you see. The Bobby Roode who walked into Fortune was an enlighten, woken, and overall nice guy. He could've never predicted the evil wickedness that awaited him. You see Heyman, when you and your beast attacked him, you made sure he wasn't walking out a winner. A fortune was the farthest thing from his fate. He left that pay per view a beaten and Broken man. You shaped me into the man I am now, Heyman. Brock and I could've had a match for the ages. Now, im not waiting for papers to be signed and matches to be made. I'm out for blood.
Roode knocks Paul Heyman over the head with the microphone before pulling out handcuffs from his pocket. He handcuffs Heyman to the middle rope. Making sure Heyman witnesses what he's caused, Roode gives Heyman a few slaps on the face to wake him up. Bobby Roode is then seen equipping brass knuckles. He tosses off his sports coat and begins unbuttoning and rolling up his sleeves. A teary eyed Heyman begins to yell "I'm sorry". After he realizes apologies aren't going to cut it, Heyman shouts for Brock. Bobby Roode begins to stalk Lesnar who is still holding his crotch in pain. The broken Bobby Roode grabs Lesnar by his hair and begins striking him in the head till there's blood. He then picks Brock up and tosses him outside the ring.
Byron Saxton: This has gotten wayyy too outta hand. Roode needs to be stopped or arrested.    
The fans aren't sure if they want to cheer or boo anymore. Some young fans can be seen crying in the stands. There are some who believe Roode has gone too far and others who believe he didn't go far enough. Roode notices the World Heavyweight Championship on the ground. He picks up the championship and stares at it for a few moments before raising it high in the air. Roode then tosses it back to the grounded Seth Rollins. Bobby Roode exits the ring as medical staff, security, and the higher ups all run down to the ring.
Mauro Ranallo: What was supposed to be a heart felt celebration has ended in chaos! Bobby Roode making a massive statement after taking out Lesnar and raising Seth Rollins championship!
Byron Saxton: I'm not sure, but I think Roode took this whole thing way too far. He has babies crying in the audience!
Tom Phillips: Some would say Bobby got his revenge here tonight, but how will Brock Lesnar and Seth Rollins respond to all this. Will there be any consequences for this new aggressive Bobby Roode?
Mauro Ranallo: I guess we're going to have to wait till next week. What will follow all this pandemonium!?

Thursday Night Revolt.
PWG Inc. 2018 ©
Team Revolt Productions.