Revolt comes back from a commercial break with The Princess of Staten Island standing inside the ring.
[bgcolor=#000]Carmella: First off I would like to congratulate Peyton Royce for qualifying last week. You really deserve it, sweetheart. Peyton ever since you arrived on revolt you and your bestie...umm what do you call yourselves again? (The fans chant  "IIconics") Oh that's right! How could I forget the IIconics? Peyton, you've uhhh... Well I guess there isn't a lot of accomplishments to list huh?[/bgcolor]
She laughs to herself as the crowd are confused with this new side of Carmella.
[bgcolor=#000]Carmella: Time after time we have been pushed to the side as the Baley's and Bella's of the world gain everything. While they're enjoying the high life those of us with real talent have to scratch and claw to stay relevant. And Peyton, now that Billie is out of action, where do you go from here? Don't answer that. I'll tell you exactly where you're going to go and that's to the top. All ya got to do is help the biggest underdog in PWG history finally earn an opportunity at the championship. Currently ya need a new bestie and I'm more than capable to fill that role. Hey, I'll even lie down for you at Fortune.[/bgcolor]
The Princess of Staten Island is cut off by Royce.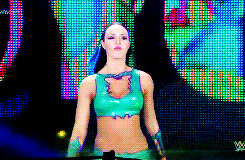 Peyton Royce makes here way down to the ring to a mixed reaction as the Oakland crowd wonders how the Aussie will respond to Carmella's surprising offer. Peyton enters the ring and receives a microphone from ringside staff.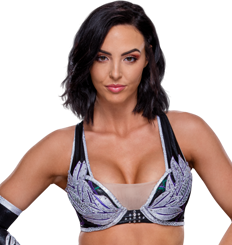 [big]
PEYTON
[/big]
Ya right about quite ah few things ya said the'ah Carmella. We do haft tah scratch n' crawl while othah's get spoon fed n' protectah'd. Me n' Billie wurr oppressed by ah Nationalist GM on Furray. But tha difference between us is since we came ovah tah Revolt, we've made a name for ourselves...
Some "ohhhs" are heard from the crowd as Peyton gives a backhanded compliment as Carmella did earlier.
[big]
PEYTON
[/big]
Billie finally got on ah winning streak and rode it to a Womens Championship match... And I, I've qualified for tha Fortune Laddah Match; and aftah tonite, secure a PWG Womens Championship Match whe'ah I'll finally right tha wrong of GrandStand against Bayley! I will not only go on tah become tha inaugural 'Miss Fortune', but also tha first woman to hold both the Fortune briefcase AND the PWG Womens Championship at tha same time!
Another loud, mixed reaction emits from the audience at Peyton's potential chance for history. The Aussie brushes off the reaction and continues.
[big]
PEYTON
[/big]
But...that
IS
quite ah off'ah the'ah dearie... and my IIconic lovah is out indefinitelee cuz of tha barbarian Rubee... So I'll tell ya wut... ya juss listen tah my instructions in our tag match late'ah tonite n' we'll be tha next #1 Contendah's, I mean, I am ah mastah of tags aftah all.
[big]
SAXTON
[/big]
Uh, have IIconics even won a tag match yet?
[big]
PHILLIPS
[/big]
Shut up Saxton! That's only because of Billie's slow start in PWG. But that's all behind them since coming to Revolt. Have you even been listening you idiot!?
[big]
PEYTON
[/big]
N' then, ya can prove ya self to be truly 'IICONIC' by ensurr'in I walk out of Fortune tha NEW Womens Champion! Juss, uh, don't get anything twisted sistah... I don't play for the
same team
as ya...
Some laughter is heard from Peyton's reference to Carmella's love life, but that doesn't seem to matter to the Princess of Staten Island who nods her head in agreement at this newly formed alliance.
[big]
RANALLO
[/big]
MAMMA MIIAAA IT APPEARS CARMELLA IS AN INTERN OF SORTS FOR THE IICONICS NOW!
[big]
SAXTON
[/big]
I can't believe this! So if these two win tonight Bayley will basically have to defend her Championship in a handicap match.
[big]
PHILLIPS
[/big]
Well at least the PWG Womens Championship has some potential juice on it for the first time in a long time. In fact, I hope these two win tonight and go on to end Bayley's title reign. THEY ARE SAVIORS IN MY EYES DAMMIT!
---
McIntyre Gets A Shot At Glory - Intercontinental Championship
Drew McIntyre vs Bobby Roode(c)
Match Result wrote:




click to reveal winner:
---
American Alpha Step Up To The Champs In A Tornado Tag!
Breezango vs American Alpha
Match Result wrote:




click to reveal winner:
---
*Promotional Video begins on titantron*
*The word "Aussie" appears and disappears 3 times in white text against a navy blue background*
Todd Phillips: We don't know much about this man, but I can't wait to see what he can do!
Mauro Ranallo: MAMA MIA TODD, THAT'S THE AUSTRALIAN ALL-STAR SHANE THORNE!!
Byron Saxton: Calm down Ranallo, we haven't even seen if he's any good yet.
Mauro Ranallo: ARE YOU GUYS EVEN WATCHING THE SAME VIDEO AS ME??
*Camera cuts to Shane heading towards the locker room in preparation for his debut*
*Renee Young comes into shot*
Renee Young: Shane! Excuse me, hi, could I get your thoughts about your impending debut here on Revolt?
Shane Thorne: Renee, I prefer to let my actions in that ring speak for me, but if you really want an answer... I can't wait to get out there and jump up the rankings faster than you've ever seen. Whoever my opponent is, I hope they're ready, because us Aussies? We are mighty... and the mighty. Don't. Kneel.
*Shane continues into the locker room, confident with a look of determination across his face*
---
Tag Team Contenders Match - Both winners get a shot  
Peyton Royce and Carmella vs Charlotte and Nia Jax
Match Result wrote:




click to reveal winner:
---
Brock Must Find A Tag Partner
Seth Rollins and Chris Jericho vs Brock Lesnar and ???
Match Result wrote:




click to reveal winner:




Thursday Night Revolt.
PWG Inc. 2018 ©
Team Revolt Productions.