[big][big][big]Thursday Night REVOLT
JUNE 21st, 2018
Fort Worth, TX
Dickies Arena[/big][/big][/big]
[big][big]Reaching for Fortune[/big][/big]
Thursday Night Revolt kicks off LIVE with an all too familiar theme.
Donned in his freshly tailored suit, Hunter makes his way down the ramp with a smile across his face and enters the ring to a loud, mixed reaction.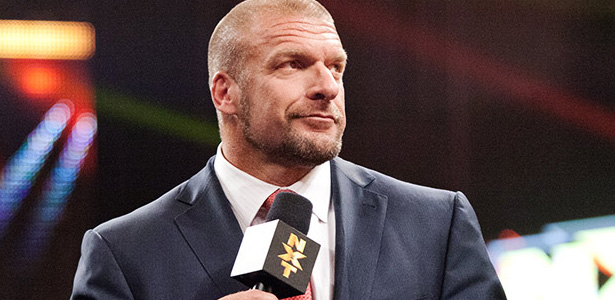 [big]
TRIPLE H
[/big]
Ah, it's good to be king. King of the best brand in sports entertainment ever conceived. And it's through my business savvy this is all possible. It's through BUYING IN that Superstars reach their full potential in PWG. See, why JBL is letting the inmates run the asylum over at Fury, I am elevating each and every one of my talents, if they know how to 'play the game' of cutting promos and showing up for their matches. Superstars who are already becoming legends in the making such as Brock Lesnar - the first dual-champion in PWG history! A man, no, a Beast, who comes out here every week to dominate the competition in the ring and on the microphone. A man whom I respect, and who respects me, and MY show...
Hunter is seen getting a bit agitated now as something is clearly on his mind.
[big]
TRIPLE H
[/big]
RESPECT... is what the current World Heavyweight Champion made perfectly clear he lacks when he no-showed his scheduled celebration last week... So I'll tell you this, Roman, you get your ass out here tonight or I'll have you drug tested and stripped of that god damn title before you can unscrew another pill bottle! Cause as far as I'm concerned that's the only reason you defeated The Beast at FallOut.
Hunter takes a handful of moments to calm himself down and changes subjects once he regains his composure.
[big]
TRIPLE H
[/big]
Now that's out of the way, it's time that our REVOLT leads to a great FORTUNE! Cause on July 15th 3 of Revolt's finest men and women superstars will battle Fury's in two Ladder Matches with the Fortune Briefcase suspended above the air. Inside holds a contract guaranteeing a World Championship match at any time, any place. And you better believe that Revolt is coming home with both briefcases because the 6 superstars entering the respective matches will be battle tested. Tonight, we will have 6 Qualifier matches all involving incredible talent, but 2, in particular, I have in my mind. Last week Seth Rollins and Drew McIntyre put on a match for the ages with Seth pulling out the victory... but I want to see if he has what it takes to do it TWICE when the stakes are even higher. And I want to see if my investment, my Chosen One, will rise up to the occasion and show me he is truly worthy of my backing. Either way, I will get my answers as Seth Rollins takes on Drew McIntyre in an Extreme Rules Match to qualify for Fortune! (the crowd pops for the huge matchup) But my other grand qualifier, has hit a snare... see The Beast was supposed to fight the leader of the Balor Club, but Finn Balor suffered an untimely injury and will be out for multiple weeks (the crowd boos as one of their fan favorites will be out of action for some time) But one superstar's woes is another Superstar's opportunity, and I want a Superstar who has the BALLS to take on one of the most dominant Superstars not just on Revolt but in PWG!!! So who's it going to be!?
The crowd cheer in anticipation as Hunter looks towards the stage for a daring Superstar to fill the vacant Fortune Qualifier spot...
[bgcolor=#000]
The melodic chimes of a certain theme, breaks the anticipation like a knife, in this case, a jambiya, as it looks to be the Maharaja Jinder Mahal, who heeds a response to the call, of Revolt GM Hunter Hearst Helmsley.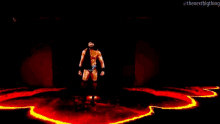 :: Byron ::
Can you believe it.
We don't see the maharaja give the fan's the time of day, but as soon as there's a hint of a free opportunity to be handed out, seem's as if this guy comes out of the woodwork faster, than a squirrel grabbing the last nut.
:: Mauro ::
Working smarter not harder seems to be the mantra of the Maharaja.
being on the wrong side of the win-loss column doesn't hinder Jinder from expecting to have himself treated like royalty around here. That self-confidence continues to have Jinder see himself as a contender regardless of match outcomes.
:: Tom ::
Well whatever we may think about how the Modern day maharaja operates, he's heading down to stake a claim on his chance at fortune being offered tonight by our GM Triple H.
I don't know how smart it is to rush into getting a match with the beast is in my opinion.
Upon the apron now at this juncture, Sunil holds open the ropes so that Jinder may enter. the ring.
HHH awaits to shake hands with the modern-day Maharaja.
The two clasp hands.
:: HHH ::
I take it your our here for a shot at fortune?
HHH hands Jinder the mic.
:: Jinder ::
Without a doubt. I know I can beat Brock Lesnar.
The so-called dominant, first ever double champion of PWG.
I know with such certainty, because last time we meet I had him down and out for the count.
If it wasn't for that ref slow counting me causing me to lose my focus and be attacked from behind by Booby Roode I'd be the Intercontinental Champ right now.
If I could be so bold, I might even think out loud, that there was conspiracy about having a person of my heritage holding that championship in favor of my opponents.
The crowd boo's as HHH takes back the mic from Jinder.
:: HHH ::
Whoa whoa I'd be careful about those sort of accusations, or you'll be having to short order cook butter chicken at the jewel of bombay to make ends meet permanently.
Jinder seems to be apologetic and urges to speak again.
HHH slowly gives it back.
:: Jinder ::
Hunter hunter Not a dis barraging mark against you no no.
Just I don't trust that bias incompetent ref and request a referee of a more how may I say diverse ethnic background.
To leave all doubt in my mind and those of those of my people whom have been outraged on social media by the possibilities of bias towards certain types of people, gone and laid to rest by the mindful management of PWG, of societies current climate.
Is that too much to ask?
HHH just stares at Jinder for a moment.[/bgcolor]
Every fan in attendance jump to their feet and cheer on The Glorious One. Bobby Roode steps through the curtain and onto the entrance ramp equipped with a microphone in hand and his Intercontinental championship draped over his shoulder. He waves at his fans in before turning his attention to those in the ring. Roode raises the microphone to speak as he begins walking down towards the ring.
Bobby Roode: Jinder, good to see you again! I'd be lying if I said I didn't expect to see you out here. If anyone is giving out handouts, you're bound to come out nowhere. I'd give you another shot at this title, but I want you to earn something for once in your life. Now I've the ramblings about my win over Brock Lesnar. Some even calling it controversial. My twitter has been blowing up with messages saying I didn't have what it takes to beat Brock one on one. That I need help to take out "The Beast" when that couldn't be further from the truth. You see, the thing is i'm not scared of Brock Lesnar. When everyone else runs scared with their tail between their legs, I step up! Brock is a big bully and I wouldn't mind knocking him right on his ass again!    
That last line receives a huge pop from the PWG faithful. All the support brings a smile upon the face of Roode. He steps between the ropes and enters the ring joining Jinder Mahal and Triple H. Bobby Roode walks past Jinder without even acknowledging him and shakes Triple H's hand.
Bobby Roode: What i'm trying to say is, give me the match against Brock Lesnar. Not only will I prove all my doubters wrong, but I'll walk out of Fortune with that briefcase and a victory for Revolt. Jinder is a selfish individual. The only he fights for is himself. I'm willing to march into Fortune and live and die for my brand. If i have to get through Jinder, so be it.  
Roode gets in the face of Mahal. They begins trash talking one another before being separated by Triple H.
Triple H: EASY EASY BOTH OF YOU STAND DOWN NOW! You'll both get a piece of Lesnar because it will be a triple threat match! The last time you three went head to head to head, the ratings were through the roof. I'd be an idiot to not capitalize on that. After all, I always do was best for business.
Roode begins to nod his head smile while getting grilled by Jinder. Triple H shakes both men's hands before exiting the ring.
---
Returned Stars Fortune Qualifier #1
Shinsuke Nakamura vs Tommy End
Match Result wrote:




click to reveal winner:
---
[bgcolor=#000]
:: Big E ::
Thursday night revolt! Put those hands together for the team with three times the charm... Xavier Woods, Kofi Kingston and your's truly Big E.
The new day.
The crowd cheers to see the team of The New Day on Revolt.
:: Big E ::
Those crooked cop's are probably going to be looking to put their silly fashion law's and restrictions on the like's of us.
But uh uh we ain't having no part of that.
The only fine we are getting is fined for being so fine and oddly I'm fine with that.
We are set to face them Breezango's here tonight, but we are undecided on who will face them.
The three begin to question the idea with repeated sayings of who, who, who, who?
While pointing at each other, the crowd can be heard saying it along with them.
:: Big E ::
I know...
How about we have an eating competition with these scrumdiddilyumptious booty o cereals, to decide .
Yeah? Me first...
Big E urges Kofi and Xavier to begin pouring them down upon his awaiting wide open mouth.
To which they do.
Quickly emptying box after box
while doing so a short ad break ensues.
A while later...
It returns to the scene, it can be noticed there are many, many, many boxes of empty booty o's
They continue to pour upon big e's face.
Big E gives in motioning he's had enough.
:: Big E ::
I can't do no more. guy's I'm filled to my eyeballs with O's. I can't fight or I'll bust of these here seams of my tights, in fact, these tights feeling too tight.
Big E undoes his straps.
He is stopped before he takes off too much.
Xavier checks on his buddy E while reassuring him about the match new day has tonight against the current tag champions of revolt, Breezango.
:: Wood ::
Don't worry about a thing E , Doctor woods and the Boom drop Kofi Kingston, can take on those night court nit wit's .
Kofi agrees with his buddy Xavier.
:: Kofi ::
Yeah the little boss men are going to find themselves with more than a little bit of trouble in paradise.
:: Big E ::
Beacause!!!!
:: All Three ::
New day rocks! new day rocks! New day rocks!
They clap while dancing about chanting the slogan about for 20 seconds.
All the motion don't make Big E feel so good after eating like two dozen boxes of Booty o's
Big E end's up barfing a full rainbow of colored cereal towards the camera.[/bgcolor]
---
Jey Uso Challenges The Alpha
Chris Jericho vs Jey Uso
Match Result wrote:




click to reveal winner:
---
(As Revolt rolls on we are taken backstage to Charlotte Flair psyching herself up for her match for the PWG Women's Championship.)
Charlotte Flair: Alright Charlotte you got this it's just Bayley, she's nothing special, she's not a Flair. This is in your blood to be a winner, a champion, and the best. You've worked your ass off for months for this opportunity, you've earned this. What the hell is a hugger anyway...what why am I talking to myself?
(The door flings open as Lexi Bliss is maniacally laughing and a stern-faced Ruby Riot walks into frame.)
Ruby Riot: Well well well, Queen, tonight is your night. The night you bring the PWG Women's Championship to the Riot Squad. And do something you couldn't do a few weeks ago - defeat Bayley. Hopefully you won't lose again... or at least not so quickly this time
(Lexi Bliss goes to chime in)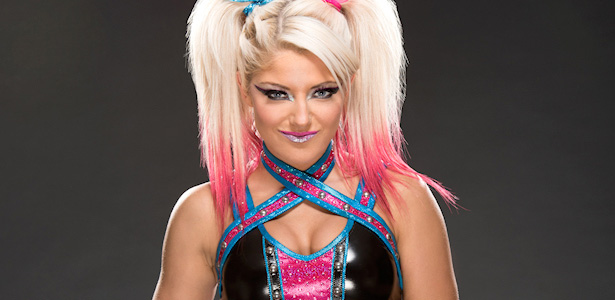 Lexi Bliss: hahahahaha! Yeah Queen B, you shouldn't let her... HUG YOU hahahahahaha!
Charlotte Flair: Is that it? Or do you two actually wanna do something important? Like help me win Rubes. Or are you gonna do what you usually do...NOTHING!
(Ruby and Charlotte go nose to nose)
Ruby Riot: yeah we'll do something Daddy's girl...we'll be ringside watching you cause this is your chance to prove why you're the best and all that other crap. You said you've earned this, so you can win it yourself Charlotte, cause apparently, you don't need us. The people who helped save your career cause you didn't win a match till WE saved your career.
(As the tension in the room can be cut with a knife Charlotte looks Ruby dead in her eyes)
Ruby Riot: we know you already have a lot on your mind but don't forget what we said Queen... don't embarrass the Riot squad tonight... or there will be hell to pay and you won't like the consequences...
(Ruby and Lexi walk out of the locker room as Charlotte stares intently)
Charlotte Flair: I will not lose to Bayley again... I will continue the Flair family name and legacy tonight when I beat her. And I will claim the PWG Women's Championship. Not for the Riot Squad but for ME. Bayley, I hope you bring all you got sister... cause I damn sure am.
(Charlotte puts her robe on and walks out of the locker room)
---
Women's Fortune Qualifier #1
Lexi Bliss vs Trish Stratus
Match Result wrote:




click to reveal winner:
---
Carmella is seen walking down a hallway in the direction of Trish Stratus' locker room. She is carrying two iced coffees in one arm as she talks on her cellphone with the other.

[bgcolor=#000]Carmella: Tonight is going to be the biggest night of my career when I beat Peyton Royce and qualify for the women's ladder match. That Aussie won't know what hit her. Many people don't acknowledge that I'm a second generation wrestler and up til now I've been distracted with this lifestyle, but this sport is in my blood and it's finally time to show the world what The Princess of Staten Island can do in that ring. I have been underestimated for far too long by everyone! Oh sorry, I didn't realize I was screaming. Hey, by the way, I was given a free coffee with my order so I'm bringing you one.[/bgcolor]

Carmella ends the call as she walks up to a producer who has a bouquet of roses in his hands. He opens the door to Trish's locker room and sets the flowers off to the side before leaving the two superstars.

Both women take a seat on the couch to further enjoy their time together. Trish takes a sip from her cup as she stares down at Carmella's pants which have a rather large stain running down the right leg. All the legend can do is laugh and shake her head since she knows how clumsy Carmella can be.

[bgcolor=#000]Carmella: Trish I wouldn't be in this position if it wasn't for you. Before I met you I was seriously doubting my ability in the ring and I was actually about to make a call to Stephanie that very night. You've given me the confidence to go all in and so I wanted to get you something. [/bgcolor]

Carmella hands the bouquet of roses to Trish Stratus.

[bgcolor=#000]Carmella: Oh I have one more surprise for you. Close your eyes. [/bgcolor]

Trish complies with the request and closes her eyes. During this split second Carmella steals a quick kiss. The Princess of Staten Island smiles at Trish.
---
The New Day Debut Against the Champs!
The New Day vs Breezango
Match Result wrote:




click to reveal winner:
---
As PWG returns from an advertisement promoting Emergence, we're taken backstage to a tightly zoomed in shot of a woman's eyes. They pierce our souls and emit a level of intensity you don't often see. Soon we begin to pan out and see that those eyes belong to none other than The Irresistible Force herself, Nia Jax.
we can only begin to wonder where she's heading, what she's up to as she stomps through the halls, not because she's angry, but simply because she's not your average Female Superstar. Her height is imposing, and her power is truly a sight to behold. She starts to turn a corner but suddenly stops in her tracks, an annoyed look appearing on her face as the camera reveals what stopped her. It's none other than an interviewer, Nia just walks by.
Nia Jax
Just because I'm a beautiful monster doesn't mean I'm stupid,  You're a selfish little girl. The only reason you'd be here is because you want something, so spit it out. "Nvm" by.
Nia Jax
The truth of the matter is that my past, is my past. It made me into the woman I am today and that woman is walking into PWG to dominate.
Nia Jax, walk's away for the Scene after giving a look of disgust to the interview person Jax then turn's around with a fabulous smile on her face while she enter's her locker room.
---
Women's Fortune Qualifier #2
Peyton Royce vs Carmella
Match Result wrote:




click to reveal winner: