The general manager of Revolt's music blasts through the titantron. The ecstatic crowd roars with cheers at the sight of the Game, Triple H, making his way out to the ring. He comes out with a vintage fresh suit, walking down the ramp with his head up high and huge smirk planted on his face.
Mauro Ranallo - Ladies and Gentleman, it's the man who is arguably the pioneer of Thursday Night Revolt!! He is a man who is an entrepreneur of sorts as well and he said last week that the we haven't seen anything yet!! So MAMA MIA I am excited for tonight and things to come in general!!
Byron Saxton - I gotta agree Mauro!! It's always a pleasure to the see the game out here! He's always looking to propel this company and it's talent to higher heights and it's a privilege to be working under his vision!!
Tom Philips - Yeah but here's something to be just as privileged and excited to be a part of and that's that next week will be our FIRST ever joint Paper Per View!! Origin of Champions will be something that will truly lay a mark in wrestling as a whole!! With our tournaments coming to a close we will have the debut of multiple championships and then things will get really interesting!!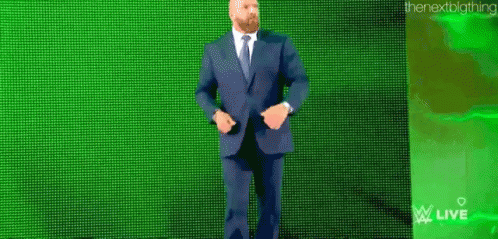 Triple H makes his way into the ring and through the ropes finding his way to a microphone. The Game paces around the ring for a while with the microphone at hand. He waits a moment for the crowd to die down a bit before speaking.
Triple H - WELCOME TO THE THIRD SUCCESSFUL WEEK OF THURSDAY NIGHT REVOLT!! Tonight the results will be solidified and we will get an idea of which superstars will be fighting for what championships. Now, we've been hearing your feedback each and every week whether via social media or with your loud and proud voices here on Revolt. So I have to say thank you for your support. Thank you for voicing your opinions and thank you for promoting your predictions on who you think will be going one on one for the PWG World Championship.  My ears have been truly opened as  well as my mind and a lot of people are saying that it just might come down too... to The Viper vs The Samoan Destroyer.  
The PWG Universe roars with mixed reactions chanting "RKO!!! JOE, JOE, JOE, RKO!!! JOE, JOE, JOE."
Triple H - And then let's not forget that there still will be two other championship matches! One Fatal Four Way to find out who will be the first EVER Intercontinental Champion and we will watch either Mickie James or Tamina go face to face with Fury's Exclusive Superstar Sasha Banks!!! Now, I have full faith in our woman here in Revolt and full faith that we will be leaving Origins with a big win over Fury!! Origin will be the night that champions will be born and legacies will find themselves a foundation and a cornerstone to be built on. Origin will separate the men and woman from the boys and girls... and I will be watching very closely to see which superstars put there money where there mouth is. I personally am looking for the next big thing's whether it be man or woman. I am looking to invest my time and money into the person or people who are ready to grab the brass ring not just in the ring with wins or losses but ON this DAMN MICROPHONE TOO. I'm looking for the in ring veterans in the making, the mic masters in the making, the technical ones, the showmans, the powerhouses, the good guys, the bad guys and the ones in the middle. I'm looking for RAW unkempt talent... and i'm looking to nurture, shape and grow it. I'm looking to make the next legends of tomorrow and that doesn't have to start at Origins.. no. That starts TONIGHT. So without further or do we got some work to do here tonight. You have some matches to enjoy and I got some scouting to participate in. So I just have one question for all of you... Are You Ready..? NO... I SAID ARE YOU READY!!!
The PWG Universe roars with cheers!
Triple H - BECAUSE IF YOU'RE NOT DOWN WITH US, I GOT TWO WORDS FOR YA!!
The Revolt Universe roars in unison! "SUCK IT!"
The crowd jump to their feet as the theme of the Demon hits, despite his unfortunate start to his PWG career.  
Tom Philips: This is a very interesting development. Finn Balor's start here in the PWG has not been the greatest.
Finn Balor finally walks out, unusually a smirk on his lips, something that fans are accustomed to seeing from the man.
Byron Saxton: That's interesting... Finn Balor has a very mischevious look on his face. Very unusual for Finn if I say so myself.
In his hand, Finn has a mic and his patent leather jacket on as he begins to walk to the center stage after giving the fans a bit of his attention, having walked to one side of the stage, to the other. He stares at Triple H who's stood in the middle of the ring, looking back at the Irish Superstar.
Finn Balor:
Let me be the first to clarify what everyone has been tinkin'. Yes, I have not been at my greatest in recent weeks. I'm not going to come out here and make excuses for my losses. I'm here to make a statement however. All that ends tonight when I beat Drew McIntyre, 1....2...3.
Finn Balor starts to raise his palm up towards The Game who is stood in the middle of the ring, wondering what everyone else was wondering. Who would come out and interrupt what some would assume a short and sweet statement by the game.
Finn Balor:
Triple H... Hunter Hearst Helmsley. The one of the greatest to ever do it and a legend in many peoples eyes. See, I do respect ya, Triple H. Everything you did for this business. We are very much alike in the way that we worked harder than anyone. You may disagree with me and say that I've never reached your level of work ethic when you were still runnin' around, but that's a conversation for another day, Hunter. I gotta be honest with ya, tho.
Tom Philips: Hopefully Finn doesn't do anything to anger the General Manager.
The crowd is up on their feet, all eyes on Finn Balor as he takes a step down the ramp, raising the mic to his lips.
Finn Balor:
I wasn't even planning on comin' out here until you decided you were goin' to do a bit of scouting. You are lookin' for the next big thing.
Yet I get a feeling you aren't goin' to stick your word. See, how are we goin' to believe you aren't just goin' to give opportunities to certain superstars whilst others work their asses off and don't even get to taste what opportunity tastes like? Believe me, I hope ya do stick to your word but judging by your history, you haven't really proven to be a trustworthy guy, have ya? But who am I to judge? I'm in no place to be makin' accusations towards a legend. The General Manager of Revolt. The King of Kings...
The grin has begun to plaster itself onto Finn's face once again as he tilts his head ever so slightly,
Finn Balor:
But just in case I am right with everything I have said, Hunter
Finn begins to raise his fist towards Triple H, his thumb sticking up and his index finger sticking out towards Triple H, a warning whilst the crowd is torn whether to cheer for Finn or to just remain silent.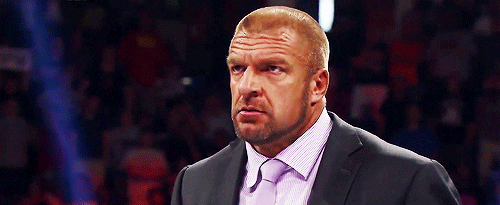 The hot headed Triple H tries to compose himself from the urge to pedigree this young man. The game smirks nodding his head and looks out to the crowd before addressing Finn Balor.
Triple H - Ahhhh, well if isn't the leader of the "Balor Club." Finn it's good to see you buddy. You know I'm glad you came out here to keep me accountable after all you've wrestled all of the world just like many my superstars backstage. So, I respect you and I respect the fact that you've probably been in other companies and leagues before where their was piss pour management and I can understand that. But what I can't understand is why your sticking your gun shaped hand at me as if you're going to shoot me. I mean if you're trying to threaten me Finn let me remind you who the hell I am. I am the game, the cerebral assassin, the king of kings and the general manager of this show. You want to come out here and talk about superstars working there asses of an others getting rewarded? Well I hope you're not including yourself in that bunch because up until now what did you cut like one promo? And on top of that you're barely making it in terms of tournament wins. So why should I look at you and invest in you? I mean don't get me wrong. You're good, you're damn good it's why I offered you a contract on MY damn show. But young Finnard you're not giving me a lot to work with. Now I can see you potentially being something on the show and being the next GUY of my brand but as of right now you are in no position to talk about who deserves what!
The PWG Universe is seen roaring with OOOOOHH's as Triple H continues to speak.
Triple H - So, quiet honestly unless something changes and a fire is lit under your ass I don't feel like you'll make it in this business because as of right now all I see is a arrogant, prideful, young and hungry SOB and that would be fine if you had something to show for it but as of right now the truth is that you don't. You want me to believe in you? Make me believe in you. Make me believe in Finn Balor! You want to talk about people getting opportunities well let's face the facts guys like Roman Reigns, AJ Styles, Chris Jericho, Samoa Joe, Brock Lesnar, Mick Foley and Jinder Mahal are killing it each week on the microphone and in this ring so yes they will keep getting opportunity after opportunity. Finn, do you really think you're ready to fight in the dog house? Do you think you're ready to make an impact!? You see, I get why you're out here but I don't give free Willy Wonka Golden tickets to the promised land. I only reward hard work. I water the plants that are growing. Where I see progress and determination I cultivate those superstars. You want to be the face of Revolt? I have no problem "putting you on" or dare I say over but first you have to make a believer out of me and these people. Anyone can come out here and get a cheap pop but not everyone has what it takes to adapt and persevere. But until then you're nothing but an edgy indie darling and believe me I already have enough of those as it is. So do me a favor the next time you approach me, fix up your resume and portfolio or else i'll just keep cutting you right back down to damn size!
The Revolt universe roars with cheers as Finn Balor clutches his fist trying to hold himself back from punching the General Manager square in the face. Triple H gets in Finn Balor's face and taunts him to do something as the crowd goes berserk. After an intense stare down Triple H tosses the microphone and walks out the ring leaving Finn Balor alone to himself. Balor stares at Triple H walking up the ramp with a look of frustration as the camera's pan to the next segment.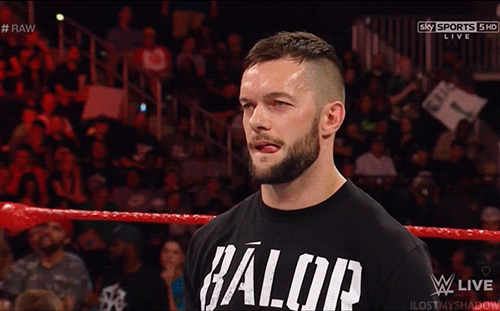 ---
*As Revolt rolls on we're taking backstage to Charly Caruso for and interview*
Charly Caruso:Ladies and gentlemen my guest at this time Chris Jericho
(Jericho walks into frame with a stern look on his face)
Chris Jericho:Lets hurry this up Charles I hear Pinocchio is making an announcement tonight and I'm pretty sure its that Chris Jericho will be crowned Revolt's first world champion at Origin....the PPV of Jericho drink it in maaaaaaaaaaaaaan.
(As Jericho goes to extend his arms he's intterupted by Charly)
Charly:Um Chris I don't know how to tell you this but...Triple H already made his announcement
Chris Jericho:What that impossible Charles your telling me I missed the announcement of Jericho....BUT I'M THE WINNER OF THE TOURNAMENT OF JERICHO THE J1 I'M THE GOAT THE GREATEST SUPERSTAR IN PWG HISTORY....Speaking of history tickets are still available for the Cruise of Jericho CRUISE IT IN MAAAAAAAAAAAAAAAAAAN (Jericho smiles)
Charly:Chris you haven't won a match yet in PWG...You lost to AJ Styles and you Lost to Roman Reigns (You can hear faint cheers of the female PWG fans in attendance) last week and i'm afraid tonight your run in the "group of death" heads to Suplex City as you take on Brock Lesnar.
Chris Jericho:First of all you STUPID IDIOT Charles Its not "the group of death" (Jericho mimic's Charly's voice) ITS THE GROUP OF JERICHO AND I'M GONNA WIN MAAAAAAAAAAAAAAAAAAAAAAAAAAAAAAAAN. But you just reminded me of something.....ROMAN REIGNS you know what happens...FORGET THE STICK YOU JUST MADE THE LIST (Jericho scribbles Roman Reigns name on the list) YEAH BELIEVE THAT BABY OIL WARRIOR. And as for you Paul Heyman's lap dog tonight your gonna get...........IT!!!!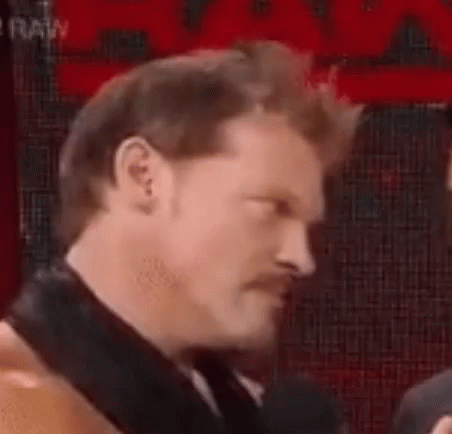 (Jericho storms out of the interview)
RANOLLO:WILL MY FELLOW CANADIAN BRETHREN GET BACK ON THE WINNING WAYS OF JERICHO TONIGHT OR WILL BROCK LESNAR THE BEAST INCARNATE TAKE THE SELF PRO CLAIMED BEST IN THE WORLD AT WHAT HE DOES TO SUPLEX CITY. FIND OUT NEXT ON REVOLT!
---
Genesis Tourney Round 3!
Chris Jericho vs Brock Lesnar
Match Result wrote:





click to reveal winner:
---
We are taking backstage Renee Young is standing in front of the camera
Renee: Ladies and Gentlemen my guest at this time The Viper - Randy Orton.
Renee: Randy you are carving your way through this tournament undefeated so far. Is there anybody in the tournament that you think could defeat you.
Randy Orton: Well Renee I don't think there's anybody in this tournament that can beat me every opponent I have faced so far it's been a joke Finn Balor one RKO Drew McIntyre one RKO moral of the story it only takes one I don't care about match quality of your pay-per-view buyrates, I'm here to win plain and simple. This interview is over I have to go prepare for another 5-minute match.
Randy Orton turns and walks away from Renee Young
Renee: well ladies and Gentlemen there you have it very confident words from the Viper Randy Orton.
---
Genesis Tourney Round 3!
Mick Foley vs Goldust
Thursday Night Revolt returns from a previously aired match to the familiar site of Charly Caruso in what appears to be the parking lot area. Magnetic yet robotic at the same time, she sports a solemn expression upon her face before parting her tiers to speak once Roman Reigns comes into display. He is donned in a leather jacket and currently carries his luggage behind him. He's just arrived at the arena!
Charly Caruso: Roman, a word with you?
Roman Reigns ceases his ambling, the sound of his luggage rolling upon the concrete stopping, as nods his head as if giving her permission to speak.
Charly Caruso: Roman, you've been having a hell of a run since debuting on the show. You've been the only one undefeated in the now titled  "Group of Death." You've defeated Brock Lesnar and Chris Jericho but now you face a man with an impressive record overseas, AJ Styles. What are your thoughts on your opponent and tonight?  
Roman Reigns: What do I think about AJ Styles? He is an overall great competitor in and outside of the ring, one with a reputation that is known by the fans. He's also had a fair amount of accolades outside of company so I'll give him his credit when it's due…  But even though he's great and all, he ain't Roman Reigns. Like I told Brock Lesnar and Paul Heyman, this ain't New Japan or that other show... What was the name of it again? Xtreme something... No, this is the big leagues. Our match may blow the roof off of the stadium but the one who's going to stand tall, not only tonight but at Origins, will be me. Unlike the other wrestlers in the roster, that title is going on none other than yours truly… me.
This may be the self-proclaimed house that AJ Styles built but he built it on my yard, I own it and when I win the title, everyone on Revolt and even Fury will know who owns the show. They'll know who the top dog around here is. Don't matter if you're Brock Lesnar, Chris Jericho, AJ Styles, Samoa Joe, Randy Orton, or anyone else... Cause at the end of the day I'm coming for the top spot. Believe that, sweetheart.
Roman Reigns disappears from the camera's view, leaving Charly Caruso to her own devices before the cameras eventually fade to black.
[bgcolor=#000]
:: Ranallo ::
The modern day maharaja, with his followers Sunil and Sumir close behind, is headed on out here.
:: Phillips ::
Jinder doesn't look like he enjoyed, Joe's comments about bad cuisine.
:: Saxton ::
That's putting it lightly tom, he looks absolutely livid to me!
Samoa joe awaits them, wearing a sly grin upon his visage, the kind of look of a man, knowing he has touched a nerve and he really gets off on touching nerves.
Jinder gets to ringside and stares angrily at Joe.
He strongly urges sunil and samir to get in the ring to get joe.
They don't seem to keen on doing so, with further urging and a growing temper from Jinder has them reluctantly make separate way around to opposite sides of the revolt ring.
Joe is looking side to side beckoning them in, sunil and sumir tentatively climb onto the apron holding onto the ropes.
Jinder gets a mic.
:: Jinder ::
Get in there and get him!
He mocked our cuisine  and insulted our culture!
For the billions we must make this savage pay!
This samoan joe is just a few generations removed from jungle dwelling heathens.
Not a representative like me of one of the fastest growing super power nations on the earth today.
Now get in there, before I throw you in there myself.
Jinder throws down the mic then takes off his turban.
Sunil and sumir breathe heavily then enter expecting the worse.
Joe has other ideas and runs full steam towards the ropes and dives between them hitting jinder with a shoulder first body block, which solidly knocks jinder back to the ramp's edge.
Joe looks down at jinder for a short moment, then slides back into the ring to eyeball sunil and sumir, who quickly exit in obvious fear for their safety.
They come to the maharaja's aid looking up at joe throwing up his signature loose island hand sign.
The crowd cheers for joe much to the chigrin of Jinder who scowls with disdain at The man he will face in the last round of his pool D next.
:: Saxton ::
Wow I don't think this went the way the maharaja wanted.
:: Ranallo ::
Joe showing no fear, that's why Joe is the man to beat going into the last round of this pool D undefeated.
:: Phillips ::
We'll find out for now, stay tuned we'll be right back after this message from our sponsor.
[/bgcolor]