Thursday Night REVOLT
JANUARY 10th, 2019
Mexico City, Mexico
Mexico City Arena
Show Name: Crash or BurnGenesis 2:2; Group D & EVO Championship Match
EC3 vs Dream (c) vs Roderick Stong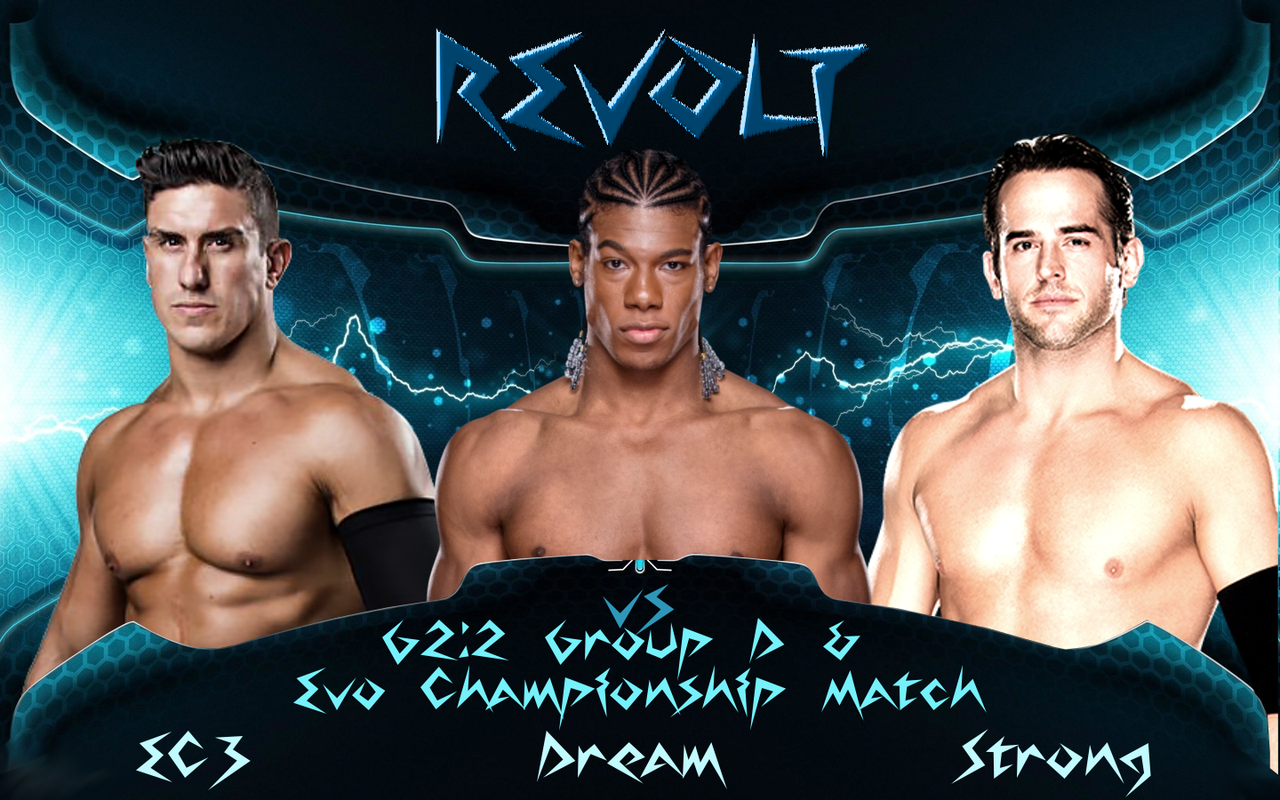 Quote :






click to reveal winner:



---
After another boring advert break, we are met not by a ring or even the backstage area, but by a massive airfield complete with control towers and other various building that dominate the landscape. The camera pans over to a commercial aircraft that sits still as the humming of it's engine slowly grows silent.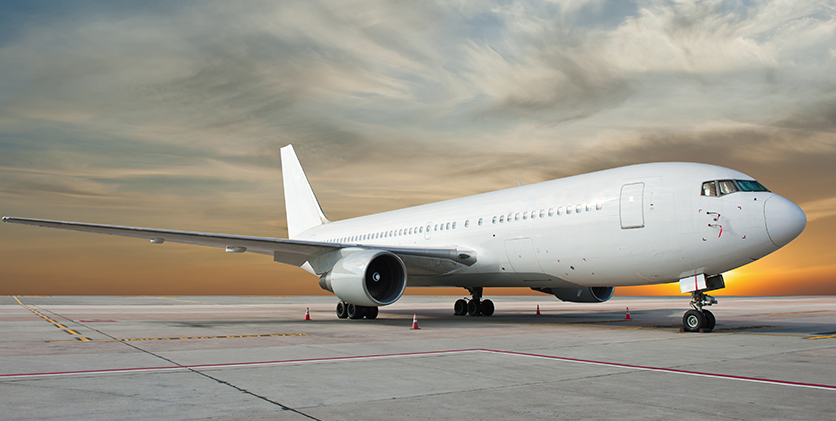 The Air-stairs are rushed over by a group of workers in high-vis jackets as they position by the airplane door. PWG Interviewer Charly Caruso is on the airfield awaiting it's doors to open and release a sea of passengers. She doesn't wait long as the doors open and people rush out, but not in the sense she expected. Various murmurs are picked up as passengers in panicked voices are heard saying things like "Did you see who was on that plane?" and "Mamma who was that scary man?"

Charly Caruso waits for the line to thin, but not without scanning everyones face to make sure she doesn't miss who she came for. Eventually the line thins out and disappears altogether leaving Charly confused, She couldn't have missed him could she? Her eyes suddenly light up though as she spots someone else in the planes doorway. He stands at the top of the air stairs, his face covered by a pair of aviator sunglasses that scans his surroundings carefully. He walks his bulking frame down the stairs until he takes his first step onto Mexican soil.

Charly Caruso is heard saying to the camera "That's him! Follow me" She rushes over to the man with purpose before finding...  
Samoa Joe slowly removes his sunglasses, placing them carefully into his pockets. He looks around as Charly stands right in front of him, It's clear that he did not arrive for her. Charly Caruso
Joe! You're back! How does it fee-
Samoa Joe quickly brings his finger to her lip, she looks shocked and visibly offended but Joe does not care in the slightest. He leans down to her hand held microphone it picks up his heavy breathing as he holds the mic in place. Charly looks terrified like she wants to escape her own skin and run from JoeSamoa Joe
*Heavy Beathing*
Eventually Joe licks his own lips before finally speaking, but not in the loud and thunderous tone we grew accustomed to, in a much quieter, more calculated tone that somehow carries more rage then ever Samoa Joe
They attacked my Uncle. They put him in the hospital, a good honest man making a living has been punished for the things that I did not do in time. The Chief told me what I needed. He told me that it would give me direction.
If I had done it sooner then I'd have known they'd be in Samoa. I'd know that my Uncle was in their firing range. And I'd have killed them. Killed them before they scurry off to wherever rats like them come from. Cause that's what you do to filthy Rats, they deserve to be exterminated.
Charly reaches her breaking point and tries to move away, she is desperate to be anywhere but there. Joe Puts a forceful hand on her shoulder, he is not done yet. He can be seen clenching his other hand in a fist as he tries to not explode on the poor interviewer Samoa Joe
Oh my apologies, did I miss the part where I said that I was finished with you yet? Little miss messenger, I'd like to give you a task. See, I'll be at that arena once I'm finished with some... business. Yeah let's call it that. Business. So what I want you to do is simple.  
Joe's hand is still placed firmly on her shoulder, he starts to squeeze forcefully causing the interviewers face to wince in pain as she tries desperately to pry Joe's hand and escape. Samoa Joe
I assume a simple task is no issue for you.
Joe squeezes even harder, his hand seen going red from the force he's applying. Charly Caruso
AHHH! PLEASE JOE! PLEASE LET ME GO! PLEASE!  
Samoa Joe
Shhhhh now Miss Caruso. I asked you a question. Would you like me to repeat it?
A terrified Charly nods her head, she'll do anything to escape the death grip Joe has on her shoulder Charly Caruso
WHATEVER YOU WANT! JUST LET GO! PLEASE!  
Joe loosens the grip and a look of relief slowly appears on Charlys face as she quietly says the words "Thank you" to Joe under her breath. Samoa Joe
Good. Compliance is appreciated Miss Caruso. Now for your task. I want you to go ahead to the arena, sound the horn! Tell anyone that'll listen. Joe is coming. He is coming tonight. He is coming for blood. I want those brotherhood boys prepared and ready as can be. So make sure they in particular know, Charly. Find them and say these exact words...
Joe... is gonna kill you.
Samoa Joe releases his grip, Charly is on the brink of tears and in fact, her fear is likely the only reason she doesn't cry. She quickly scurries away as Joe watches her run to the airport in search for the nearest exit.

The camera then turns to Joe who focuses his gaze at the man behind the lens. Joe ever so slowly walks toward the camera causing the poor guy to shout "Aw f#ck that!". The Camera then drops to the ground with a loud blunt thud as the floored lenses just picks up the cameraman running away from Joe, who picks up the camera before saying to himself "hmmm Useful. He then starts reaching for the off button and sends the screen into darkness.  
---
Genesis 2:2; Group E
Naomi vs Paige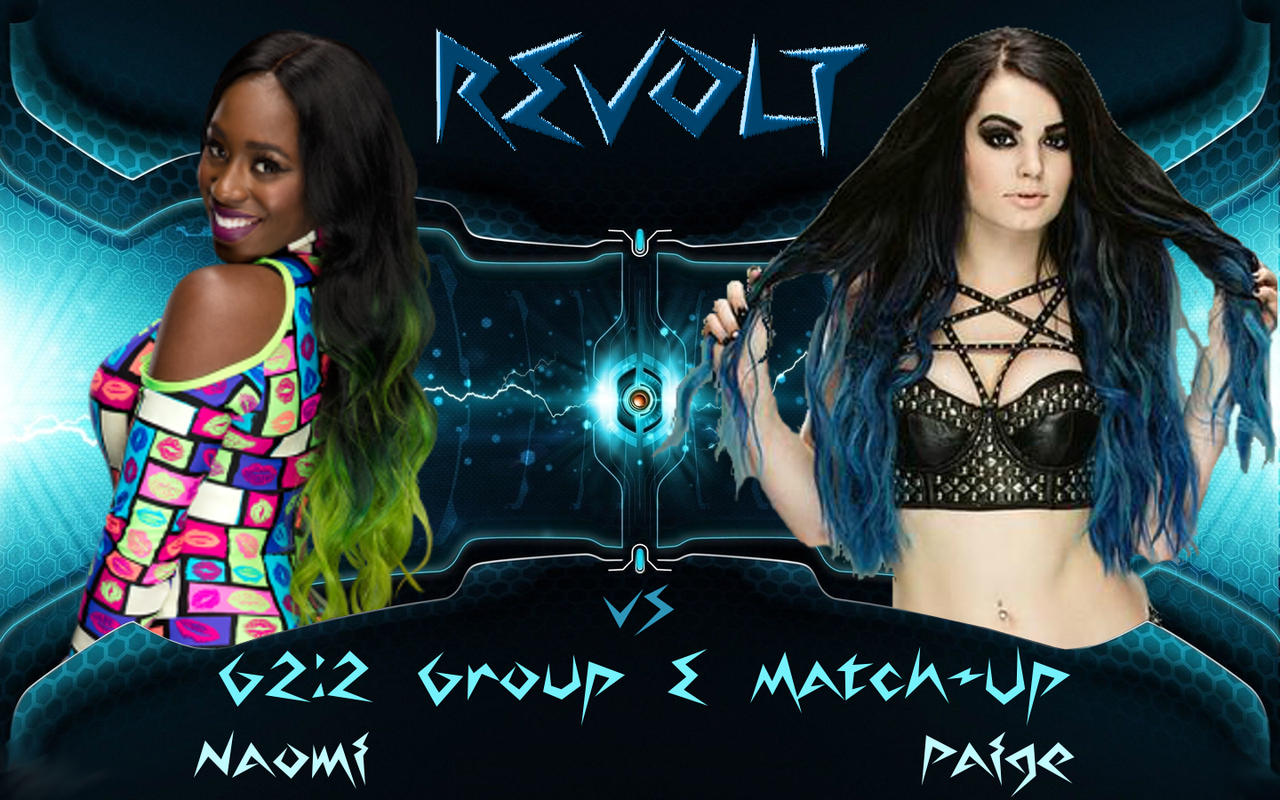 Quote :






click to reveal winner:



---
Shayna Baszler walks through the curtain and stands on top of the entrance ramp throwing up her spade hand sign. This pops the PWG Universe showing love to one of Revolt's breakout talents. The Queen Of Spades walks down towards the ring with confidence feeling there isn't anyone who can touch her. She's wearing her usual badass attire that consist of a leather jacket, shades, and ripped jeans. Some fans are even shown in the front row wearing similar clothing trying to be like Baszler. She lifts her shades on her head and gives a wink to the fans acknowledging them before stepping through the ropes and entering the ring where she is handed a microphone. Shayna decides to allow her fans to continue their chants. Even bumping her head to the chants of "Let's Go Shayna!" before raising the microphone to speak.
Shayna Baszler: I've been hearing a lot chatter and rumbling backstage on why I've been so silent for the past few weeks. Things like "She's frighten of Paige" or "Shanya can't cut a decent promo to save her life" when in reality, I try to let my actions speak for itself. I'm still undefeated in singles competition. Hell, I would've won that chamber, but those women knew I was a threat. Every time I got something going, someone else came out and attacked me from behind. And if i'm going to be honest here, I don't blame them. It was simply the smart thing to do with a skilled combat fighter like myself. I regret nothing that happened that night. Actually... that's not true. I regret allowing Paige to slither away like the snake she is still the PWG Women's champion. I'm actually blessed she retained because I don't want any excuses when I beat her ass for that title one on one. I'm all in on the G2 tournament and I will be going to Grand Stand mark my words!
The fans in attendance go crazy at the idea of Shayna headlining the biggest pay per view of the year. Shayna tries to hide it, but can't help but smile. The crowd dies down as she continues to speak.
Shayna Baszler: I have to hand it to Carmella after last week. For someone who runs her mouth so often, I never really took her seriously. All doubt was removed once she caught me right across the chin with that superkick. So props, princess. Wouldn't mind giving you a rematch somewhere down the line. Tonight, I was told I'll be facing Alicia Fox in the second round of G2 match ups. I hear that girl has a few screws loose. Shouldn't be anything I can't handle. Maybe one well timed strike will knock some sense into her. If I face Fox this week... that can only mean one thing. The only person left to face is Ronda Rousey! (crowd pops) Yeah I knew you guys would like that one. Ronda is my best friend in this world. I've known her for year, I even got ordained to officiate her wedding. But listen when I say this. There isn't anything stopping me from winning this whole thing. Not even years of friendship. I just hope there won't be any hard feelings when I advance and eventually win. Let's just leave it all in the ring. I'll tell you what, if you're listening, Ronda, you're the only one invited to my championship celebration.
Shayna then drops the microphone and taunts once more before going to exit the ring.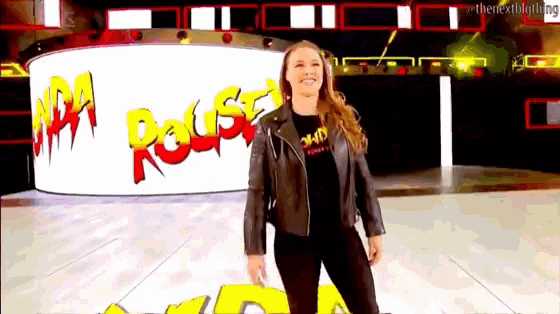 The crowd pops as the other half of the MMA Horsewomen makes an appearance. Baszler has an expression across her face that gives away the fact she wasn't expecting Ronda out here, but nonetheless is glad to see her friend. The 2018 Miss Fortune makes her way down the ramp and joins Baszler in the ring. The pair give each other a 'dap' before Ronda asks for Shayna's microphone, to which she is obliged.
ROUSEY
Well, Shayna, it just so happened I was listening and... I couldn't agree more. See, you and I aren't going to wrestle each other for management's entertainment. Stephanie McMahon really thought she pulled one over on us last month when she made Paige the Special Enforcer in our match.. well we were the last ones laughing when we beat that Casper champ down instead.. But with the G2 Finals at stake, with the Main Event of GrandStand at stake, now that's worth us beating the brakes off each other!
Ronda smirks at Shayna and pats her once on the shoulder before continuing.
ROUSEY
And I know you wouldn't have it any other way. We are both Combat Athletes and we both always bet on ourselves. That competition and drive made us the close friends we are today. Unlike Trash-o-lution who try to plot there way around fighting each other at every turn, you and I always prefer to go head on. So that's why I came out here. After you handle Alicia Fox and I defeat Carmella, our Singles match next week will be for all the marbles..
The crowd cheers in anticipation of such a high profile bout.
ROUSEY
Whoever wins advances to the Semi-Finals and I wouldn't have it any other way; cause I know whoever makes it to the Semi-Finals will be battle-tested and prepared to win the whole DAMN THING! So like ya said girl - no hard feelings and let's leave it all out in the ring. The only thing that'll be bittersweet - is we both can't beat down Paige or Maryse at Origins.
The two share a laugh before Ronda extends her hand out. Her good friend Shayna wastes no time extending her own for a handshake before the pair raise their hands together causing cheers from the crowd as they circle the ring.
PHILLIPS
Ah yes it's all sunshine and rainbows right now, but I don't trust either of these women. They'll dig the knife in each other's back soon as they see an opportunity to advance in this tournament. Just wait, just waaaait til next week and one of them is on their back for the 3-count. Lets see the smiles and handshake then!
Ronda & Shayna exit the ring together as Phillips wraps up his last thought before Revolt goes to a commercial break.
---
Tag Team Triple Threat Taster
R-Truth vs Bobby Fish vs Fandango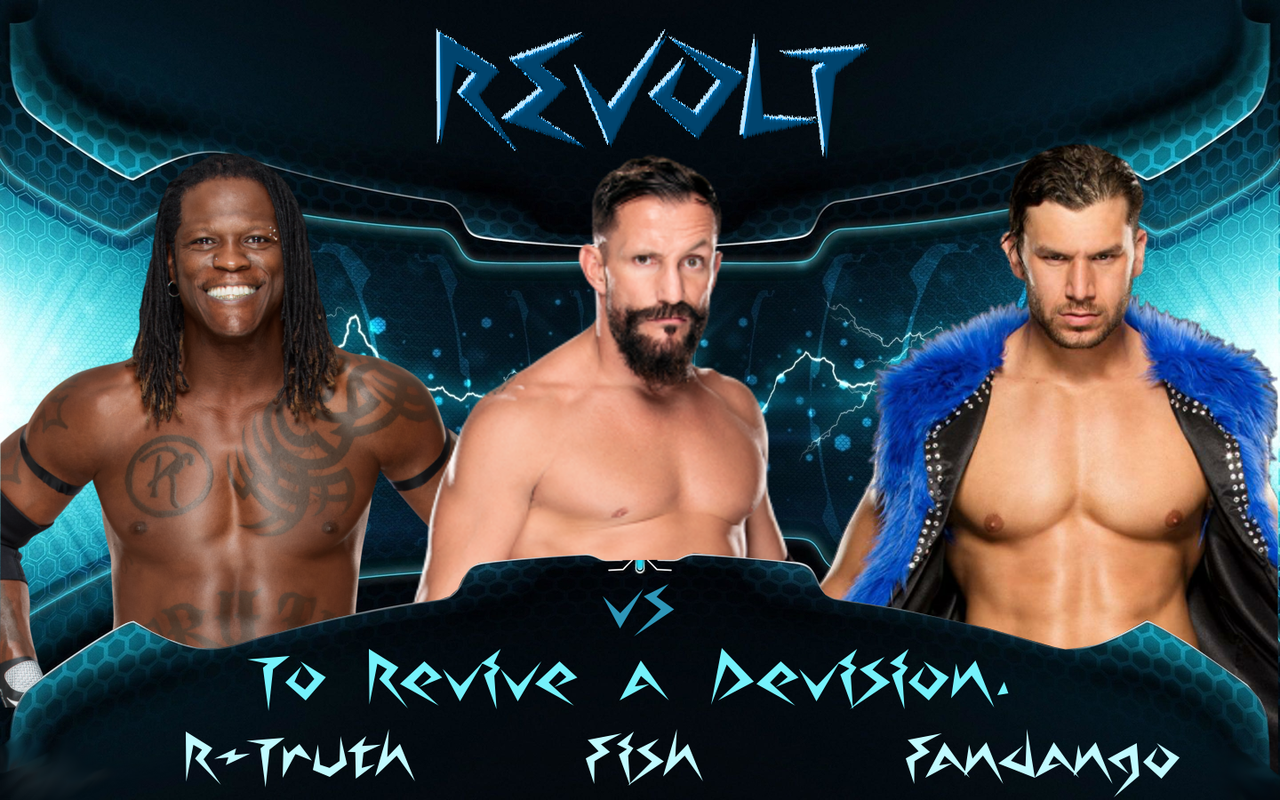 Quote :






click to reveal winner:



---
After a commercial break, Crews is seen sitting in the ring with a microphone in hand
Apollo Crews: Last week Triple H and Stephanie came out here to open the show. They do the same thing as usual, but something caught my attention.
Apollo Crews: The so called "The Great One" vacated the I.C. Championship.
Apollo gets a mixed reaction from the fans
Apollo Crews: Apparently he got another movie role and he had to leave everyone again. The fact is Dwayne you don't care about PWG. This is just one of your little side projects to promote your movies.
The crowd boos angrily at Apollo's statement about The Rock
Apollo Crews: But now let me talk about the McMahons. They said The I.C. Title match would be contested in a triple threat between three G2 Tournament Competitors with the most points but didn't make the finals.
Apollo Crews: I'm confused because your giving to Superstars who weren't good enough to win the tournament. Superstars who are losers.
Apollo tries to continue ranting but is interrupted by....
Dillinger comes out to a huge pop from the PWG Universe who haven't forgotten about 'The Perfect Ten'. He walks from behind the curtain throwing up ten fingers while the crowd chants "TEN" each time. He then fist bumps some fans on his way down to the ring before sliding in and standing face to face with Apollo. There's a stare down for a few moments until Tye walks past him to request a microphone. Once he's handed one by the ring crew, Tye Dillinger wastes no time letting Cruz know how he really feels raising the microphone and beginning to speak.
Tye Dillinger: I think it's funny how you think you can walk out here and disrespect the hard working talent in the back on your first day. Are you serious, my man?! Where do you get off calling anyone a loser when you haven't even won a single match here in Pro Wrestling Genesis? See there isn't any handouts here. That isn't how we do things. I've been sitting in the back for months just waiting for an opportunity that never came. Not only am I going to put you in your place, but I'm going to steal that spotlight! So let's get a referee down and do this thing.
Tye drops the microphone right by Cruz's feet as the two get in each other's face. A referee comes dashing down to the ring. After he manages to separate the two and get them in their respective corners, he calls for the bell starting the match.
---
PWG Rookie Debuts
Apollo Crews vs Tye Dillenger
Quote :






click to reveal winner:



---
Mauro Ranallo: Welcome back to Thursday Night Revolt, next up is another G2 tournament match between Alicia Fox and Shayna Baszler!.
---
Genesis 2:2; Group D
Alicia Fox vs Shayna Baszler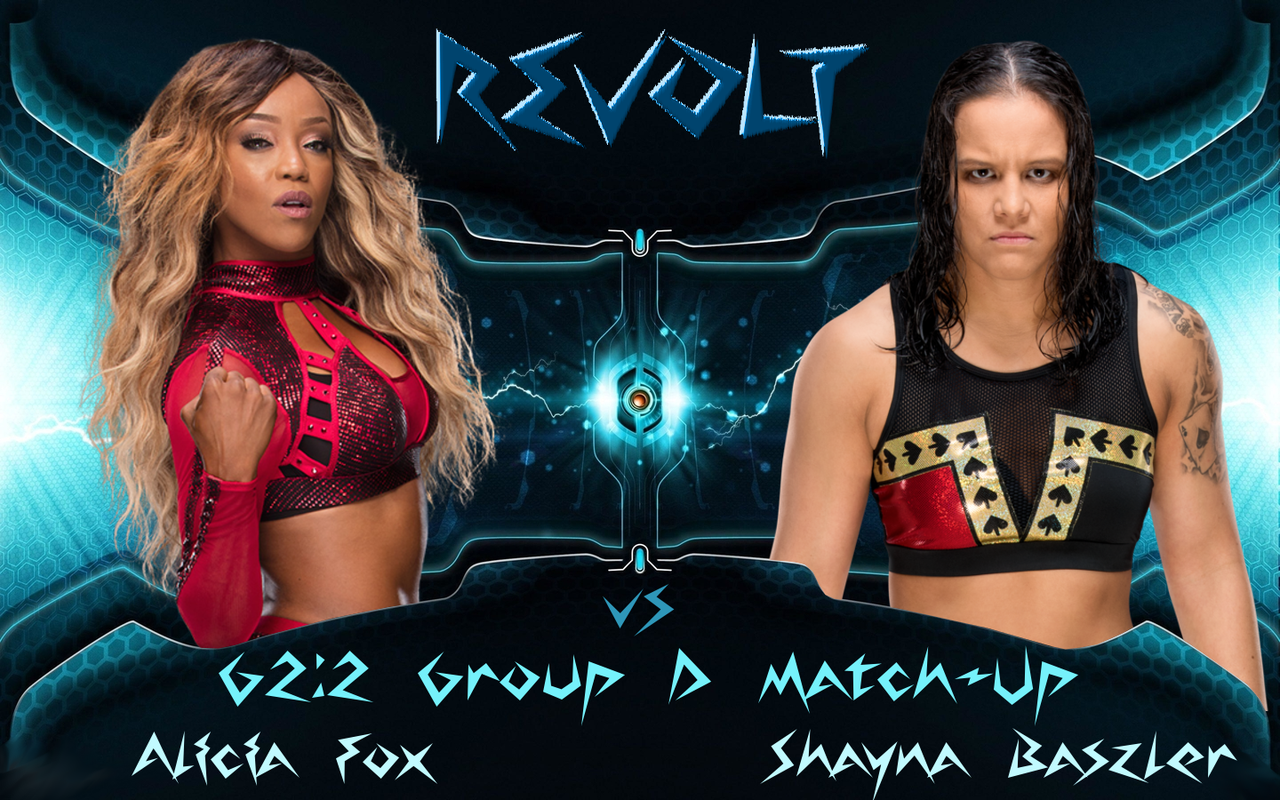 Quote :






click to reveal winner:



---
We go backstage to find The Brotherhood lounging around talking amongst themselves. Despite airing their despicable act on live television, they're all smiles. In fact, they're proud of what they did. They show no concern of retaliation laughing it up. This is when the camera is able to pick up what The Brotherhood are talking about.    
Kyle O'Reilly: So then I said to the guy "look man, if you don't give me this parking space, i'm breaking your fingers and you'll never drive again."
Bobby Fish: What did the guy do?
Kyle O'Reilly: He got up in my face puffing his chest all out. I mean this guy was heated. His wife yelling trying to pull him back tugging on the arm. She was all like "It's not worth it, Gerald! The kids are scared." Had me dying the whole time.
Roderick Strong: And what did you do?
Kyle O'Reilly: I did what any rational person would do. I kicked him right across the face. Wham! Bam! Sent him flying right over the hood of the car. The craziest part was the kids weren't even rooting for their dad. Apparently, they're big Brotherhood fans! The mom was super hot too. Busty blonde milf type. To make a long story short, I took her home and I now have two step kids.
Bobby Fish: Maybe our kids could have a play date sometime.
Kyle O'Reilly: I wouldn't count on it.
Bobby Fish shrugs off that last comment. Before anymore nonsense can be spoken, a woman can be heard shouting in the distance. The trio can't quite make out whats being said or who is saying it. The shouts then become more clear as they see Charly Caruso running towards them in the distance. She runs towards them shouting "JOE IS COMING!" repeatedly. The young interviewer finally reaches them gassed and out of breathe, but somehow continues her warning about Joe as if he were some sort of monster. The Brotherhood manage to clam her down before speaking.
Bobby Fish: Calm down for just a second. You don't have to get yourself all worked up over some overweight guy from Samoa. We're not worried about him at all. Take a quick look at my head. Do you see a single strand grey hair anywhere? He's exactly where we want him. It's a very busy night for all of us, but we'll still find time to address him out in that ring later tonight. I know the real reason you're here. You are here trying to flirt with the hottest group in pro wrestling today. Sorry, but I'm a happily married man. Same with Strong over here. Usually, Kyle is all for the groupies. I think you missed out on him by a few hours. Nice try though. Now go take a hike, toots.
Charly Caruso's look of concern turns to one of disgust after the remarks made by Fish and The Brotherhood. She then quickly fires back...
Charly Caruso: I hope Joe tears all three of your heads off!
She proceeds to slap Fish before he catches her hand and shoves her to the ground. Caruso sits on the floor at the verge of tears embarrassed while The Brotherhood all mock her. They walk off laughing like a pack of hyenas leaving the woman on the floor. Much to her surprise, an arm is then extended helping her up. The camera doesn't show who it is but Caruso thanks the man while still somewhat puzzled of this man's unusual kindness.
---
Match of the Night
Genesis 2:2; Group D
Carmella vs Ronda Rousey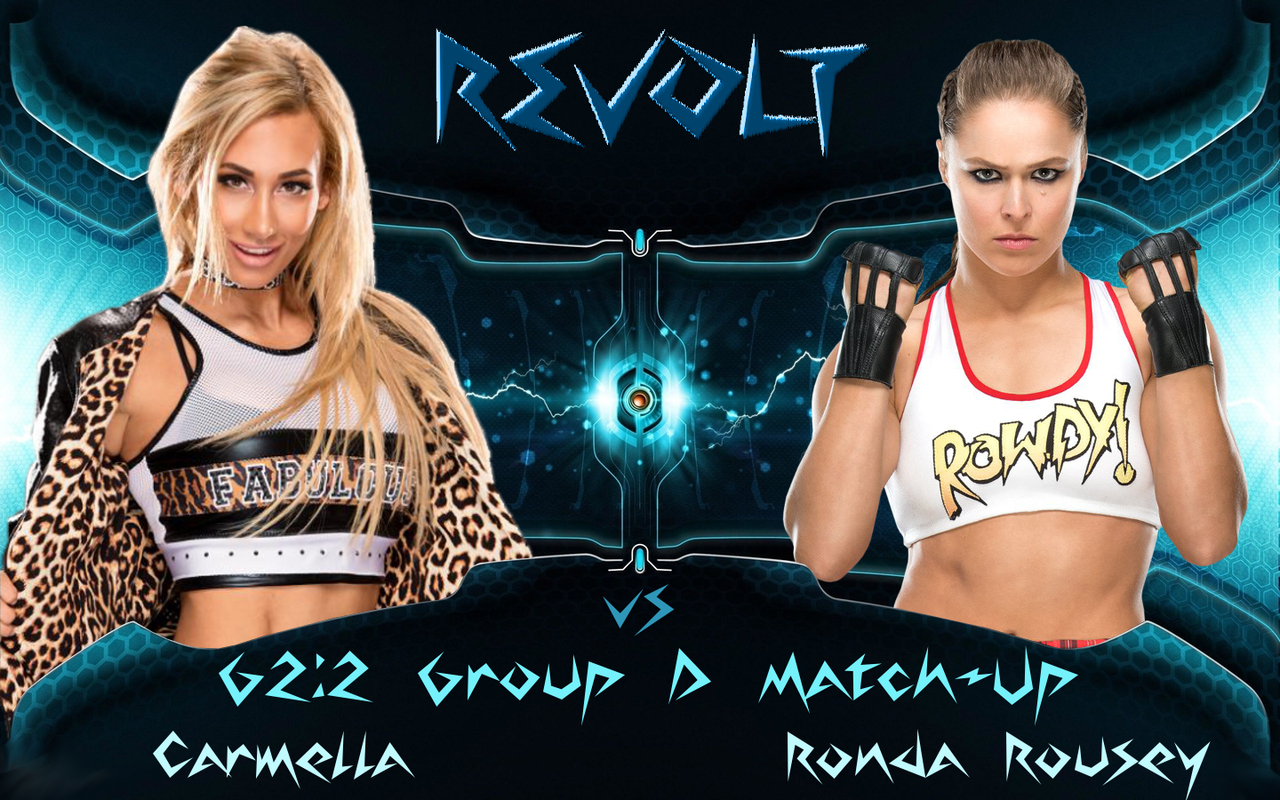 Quote :









.....1!

.....2!

....KICKOUT!

After 2 Superkicks from Carmella & what feels like 6 Rowdy Busters, this G2 matchup continues!

Carmella yells at Rousey to "get up!" as she aims to deliver another Superkick to put the match away.. Rousey staggers to her feet and Carmella unleashes a swift kick! But Rousey sidesteps causing the Superkick to connect to the unsuspecting referee!!!

Mella is shocked, allowing Rousey to recover and hit her with one more last ditched effort Rowdy Buster! Rousey slowly crawls towards Mella for an exhausted cover.. that is until ABSOLUTION makes their presence known!

Maryse & Sonya ground-and-pound on Ronda at the behest of the World Women's Champion Paige. This mugging occurs roughly for 15 seconds until they lift the limp Rousey off the mat allowing Paige to blast her across her head with the Women's Championship!

The crowd boos pile on but Absolution doesn't appear done yet. Paige then orders Sonya & Maryse to pick up Carmella, before also blasting her with the Women's Championship!

Absolution proceeds to drag Mella onto Ronda and shake the ref awake to make the count.

.....1!

.....2!

.....3!



click to reveal winner: