[big][big][big]Monday Night FURY
APRIL 2nd, 2018
Nashville, Tennessee
Bridgestone Arena[/big][/big][/big]
[big][big]SHOW NAME: Spring Fury [/big][/big]
TTC Tournament
The Revival VS The Hardy Boyz
Match Result wrote:

winner via MS - The Revival
---
The cameras cut backstage as random interviewer C is standing by with The Iconic Duo, whom appear to be in a good mood.
INTERVIEWER
Peyton, after your monumental win over the best women Fury has to offer, you earned a PWG Women's title shot at the grandest stage of them all - GrandStand! You must feel grateful to have such an opportunity so early in your wrestling career.
The good mood of Iconic swiftly changes at the phrasing of his question.
[big]
PEYTON
[/big]
Grateful? Tha only one who should be grateful is tha awful 80's ponytail joke of a champ Bayley. Grateful that Sasha somehow escaped tha beating of her lyfe wit a victory over me preventing tha Broken Promises title match becoming a Triple-Threat. Cause we all know Bayley would-ah nev'ah sniffed tha title with me in tha ring! Now I
earned
this opportunity by going through 2 oth'ah horsewomen and the 'Empress of Tomorrow'. Well, Asuka n tha rest of tha woman on Fury are goin' to be waitin' a whole lot longer than
tomorrow
tah become PWG Women's Champion after I'm victorious at GrandStand!
[big]
BILLIE
[/big]
Bayley equals transitional champ; how
NOT
Iconic!
INTERVIEWER
This is a lot of confidence from you Peyton, considering Bayley has already defeated you once before in Singles competition during the inaugural Women's Tournament.
Billie Kay gets defensive about her partner in crime.
[big]
BILLIE
[/big]
Are ya as blind as ya are daft!? How many times does she haft tah replay tha footage! Tha ref botched tha pin count hard'ah than Fergie singin' at tha NBA All-Star Game! Juss look!
Those in attendance who've heard Fergie sing The U.S. National Anthem laugh at the pop-culture reference while the camera is transitioning to the footage of Bayley vs Peyton Royce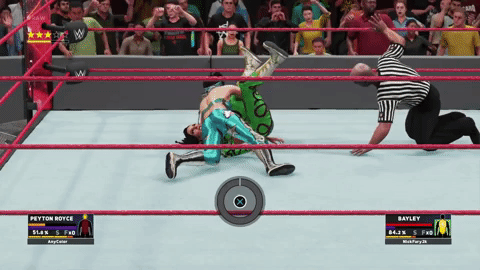 [big]
BOOKER T
[/big]
...How many times dis bitch gonna play this!?
[big]
GRAVES
[/big]
As long as it takes for you haters to admit Peyton kicked out! Now shut up, Book, the future PWG Womens Champ is speaking!
[big]
PEYTON
[/big]
I aim tah get Bayley 1-on-1 some point in our tag match tonight. Juss tah give our viewers a little sneak peek of whats in store in 3 weeks...and, well, it's always fun beatin' up Sasha Skanks.
[big]
BILLIE
[/big]
Now
THAT'S
Iconic!
The Iconic Duo laugh in amusement for only a few moments before being interrupted by their Tag-Team opponents.
The camera pans over as Bayley walks into frame smiling as she seems like her old giddy self again. The Iconic Duo is clearly not feeling her as they scowl at the Women's Champion.
Bayley
Hey gang what's going on y'all!!! I'm so excited to step into that ring tonight against both of you! Oh wait you know what????
Bayley gives Peyton a huge hug and starts to whip her around as she starts shouting.....
Bayley
We're gonna wrestle at Grand Stand! We're gonna wrestle at Grand Stand!
Bayley continues to do this until Peyton is able to slip out of her hug and mean mugs Bayley. Bayley's enthusiasm is clearly pissing the two off as Billy almost jumps at Bayley but Peyton restrains her. Bayley jumps back as this happens as she bumps into someone out of cameras view....
Sasha walks into the frame with a look of determination on her face as she stops in her tracks but before she can speak she's cut off by.
Bayley : Sasha how are you!!? I just wanted to say ummm I...
Bayley goes to hug Sasha as the "Boss sticks out a finger in protest"
Sasha : Don't touch me...  
Bayley looks disappointed at Sasha, and in response, Sasha almost shows remorse but continues.
Sasha : What you two little girls need to learn is no matter what happens this is still my show.
Bayley looks puzzled at Sasha as she speaks up.
Bayley :But Sasha... I'm the champ so doesn't that mean this is my show?
Sasha looks almost hostile but immediately shifts her expression and almost agrees.
Sasha :You know what our Show because the Boss and the Hugger run Fury and as long as this stays between us... That statement stands!  
Peyton rolls her eyes as she laughs.
Peyton : So sad Sasha Skanks so young and already a has been. Let's go Billie...
The Iconic Duo smirk and leave the frame as Sasha looks almost defeated as Bayley tries to lift her spirits.
Bayley : Look Sasha I don't think your a has been... And I know these people agree!
The fans begin chanting "Sasha" as Sasha nods her head.
Sasha : Don't worry about me... I'll be fine what you need to worry about is making Grand Stand and I'm here to make sure that you do. Come hell or high water, Iconic Duo or Becky Lynch, your having your GrandStand moment! Let's go Bae!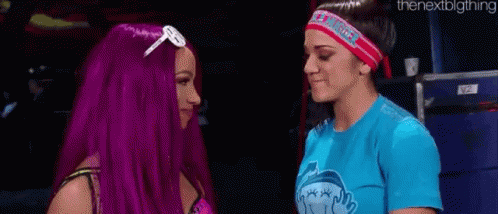 Bayley almost nods her head as the two hug the scene fades to commercial break.
---
Ember Rises to the Challenge
Maryse VS Ember Moon
Match Result wrote:

Both women are going at it with Ember taking the lead early on the match. She delivers various suplexes and other moves that leave Maryse unable to retaliate. The match looks to be ending soon until Paige's theme music kicks in. Out comes Paige with a grin upon her lips, distracting Ember who receives a skull crush kick to the back of her head. Falling neck first into the ropes and then the floor, Maryse pins her

1… 2…. Ember Kicks Out!

The match continues with Maryse mostly on top. Just as she's about to deliver French Kiss, Ember Moon pushes her to the turnbuckle. She backs up and does her signature which sends Maryse lifeless onto the ground. The crowd gets hype as she points towards the top turn buckle. She climbs up and beckons for Maryse to get up. While doing so Paige attempts to distract her on the apron, she quickly kicks her off sending her to the floor. The distraction proved enough for Maryse quickly joins her on the top rope and delivers a NEVER BEFORE SEEN FRENCH KISS FROM THE TOP ROPE. WITH A SICKENING THUD IT CONNECTS. BUT IT APPEARS EMBER LANDED AWKWARDLY ON HER NECK, BLOOD SPURTING FROM HER MOUTH BUT MARYSE DOESN'T CARE.

1…2…3….

BY GAWD MARYSE WINS BUT… WHAT OF EMBER?!

Ambulance comes in and checks up on Ember, hoisting her on a stretcher and the self-proclaimed True women of PWG  celebrate their victory.




click to reveal winner:
---
*Fury comes back from commercial and the camera pans around the arena showing off the packed crowd that showed up for the show tonight.*
*The camera finally focuses in on the commentators table.*
Michael Cole:
Welcome back everyone. As you may have noticed over the past couple of weeks there have been a missing pair of superstars, but I'm being told that Sheamus is on Skype right now to explain The Bars absence at Broken Promises. Let's hear what he has to say.
*The cameras change and the frame now focuses on the titatron which is now illuminated with Sheamus and his tag partner in the back of an SUV.*
Sheamus:
I know you fans miss having us around, but this fella and I decided since we have had such a dominant run here on PWG that we would go on a lil bit of a holiday whilst the rest of the so called "Tag Division" battles amongst each udder. You see, Cesaro and I are the epitome of what a tag team should be. I mean c'mon, we've shown week in and week out that we are the best tag team just like the last time we stepped inta that ring we dismantled the Hardys with ease and by the end of this tournament my brodder and I WILL be crowned the NEW PWG Tag Team Champions.
---
A Mid Card Clash
Shinsuke Nakamura & Kurt Angle VS Kevin Nash & Bray Wyatt
Match Result wrote:




winner via SIM:
---
Cena comes running down the ramp as the fans go nuts. Cena slides into the ring and grabs a mic from ringside staff.
Cena: Last week Triple H said that if I go to Revolt he would Pedigree me and have me arrested? Dude, it's your head stuck between Stephanie's tits! I mean, damn, did I light the fire in the GM of Revolt so badly that he also wants me part of his roster? Which is it Hunter? Well, I got a news flash for you homie, you ain't going hitting no Pedigree on me!
Cena laughs.
Cena: Let me ask all you fans something. Do you all want to see me fight AJ Styles one last time before GrandStand? (the arena fills with chants of "YES!") Well, looks like Triple H's punk ass doesn't want to see his superstar fall twice cause I know I can beat AJ twice if had the chance. These fans want to see the best match possible happen again cause when AJ and I locked horns the first time, it was amazing, the energy was off the roof, and if it happens twice it'll be even better!!!
Cena gets out of the ring. hops the barricade, and drinks a beer with a fan.
Fans chant we want AJ vs Cena one more time, we want aj vs Cena one more time.
Cena: If these people charts don't matter to you then I don't know what Hunter or JBL are doing here as GMs! I will be the guy that kicks Revolt in the ass cause this war has only just started.
Cena gets back in the ring and takes off his hat and his shirt as he is becoming more intense.
Cena: Triple H, you want pedigree me on your show? Well Just Bring It... Cause I won't stop till these fans get the match they want again, even If that means I gotta kick your old ass to do it!
Cena drops the mic.
---
Two Egos Collide
John Cena VS Dean Ambrose
Match Result wrote:




click to reveal winner: