[big][big][big]Monday Night FURY
January 15th 2018
Manhattan, New York.
Madison Square Garden. [/big][/big][/big]
[big][big]GRAND OPENING:[/big][/big]
The scene fades in showcasing the New York City skyline with snow gently falling down upon the "City That Never Sleeps." The camera slowly zooms in on the skyline until focusing on Madison Square Garden - the location of the first ever PWG Monday Night FURY!
Inside the arena, the sold-out crowd is packed up to the rafters. There is a mixture of intrigue and suspense as they, just like the millions watching at home, are eager to see what this new promotion that has created quite a buzz in the media is all about. Who owns Pro Wrestling Genesis? What kind of talent will they be able to acquire? How will it fair against promotions such as WWE, NJPW, and top Independent Promotions?
The New York crowd is suddenly sent into a frenzy at the sounds of an all familiar tune...
Chants of "HOLY-SHIT!" break out through the pandemonium as Vincent Kennedy McMahon appears on stage gloating. Did he sabotage the competition before it could even get off the ground? One with as much business savvy as Vince makes sense. Or is he even legally allowed to be out here? Dozens of questions and scenarios go through the heads of the audience as they try to figure out WHAT is exactly going. Meanwhile, Vince struts down to the ring in amusement of the buzz and chaos he's created.
Now in the ring, with a microphone in hand, one of the best in the industry parts his lips to address all those he has in the palms of his hand.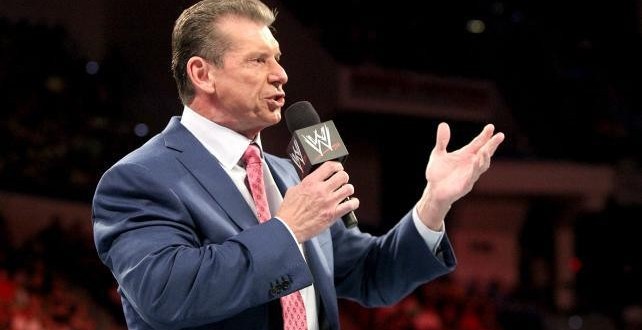 [big]VINCE[/big]
HA-HA-HAAAH gotcha! Now, I'm sure all of you are wondering just what the hell is going on here. And that's because it's exactly how I planned it. But don't feel so betrayed! Because I left
everyone
but my family in the dark about my newest business venture! Especially those GOD DAMN Board of Directors and "vested" shareholders of WWE! They thought they would be able to pull one over on "old man" and take MY COMPANY away from me! But being the business mastermind I am; well I beat them at their own game!
Vince laughs for a moment before equiping a fresh smirk.
[big]VINCE[/big]
Because there IS NO World Wrestling Entertainment any longer! You'd think Vincent Kennedy McMahon would let my brainchild become a publicly traded company WITHOUT AN OUT!?
A little stock manipulation and insider secrets allowed me to trade WWE stock for other stocks pennies on the dollar! Then? Then I bankrupted the damn place! My wealth intact, I started this new PRIVATE federation as my new crown jewel because there are a million wrestling promotions.. But only ONE Vince McMahon HA-HAAA!
Now I hear the rumblings from you armchair lawyers out there. "But-but Vince that's illegal! And you just admitted to criminal actions!" Well, when your best buds with President Trump you get to do what ya damn well please!
The man practically wrote the book on filing bankruptcy for businesses. And he grabs people where he damn pleases! Just like Vince McMahon does what he pleases! The rich get richer and live above society's laws - now THAT'S American!
The New York crowd boos in response to the dubious comments of Vince.
[big]VINCE[/big]
So from here on out the legacy of my WWE is erased! It doesn't exist! It NEVER existed!
Parallel Universe! Alternate Reality! Retconned! I don't care what you call it to wrap your minds around that fact!
All that wrestle in this promotion have a CLEAN SLATE. Blank canvases to paint as they wish... Long as they make me DAMN MONEY! I don't care what you've done in the past. Whether you worked for me or not. All Superstars are on equal footing here.
How far will you all go? Well, that's up to you and how bad you want that brass ring! Because it's time to go back to the roots of wrestling. Hard hitting action. Real, unscripted promos...
The PG Era is dead. The reboot button is hit. This is ground zero. This is the GENESIS of pro wrestling. THIS IS PWG!
Many in attendance buy into the hype of a new promotion to change the landscape of the industry headed by the revolutionary Vince McMahon.
[big]::VINCE::[/big]
Now, as the owner of Pro Wrestling Genesis, I will reside as the Chairman of the two aptly named brands of PWG - Monday Night FURY and Thursday Night REVOLT! The emotion of the former, lead to the action of the latter. These two brands will be heading by General Managers of MY choosing. Why? Because I want some god damn competition in this place! Because competition breeds greatness! They will scratch and claw to sign the best talent in the industry. The Superstars will leave it all out in the ring for their respective brands to leave MY audience satisfied. FURY and REVOLT will go head-to-head for brand dominance! And I will be reaping all the profits in the process HA-HAA!
Vince McMahon takes a few moments to enjoy his brilliance of orchestrating the concept of PWG before settling down.
[big]VINCE[/big]
So now it's time for my next BIG reveal! My hand picked General Manager of Monday Night FURY!
Vince turns towards the stage with his free arm outstretched as the now PWG fans eagerly await the reveal...
Michael Cole: Oh my, who it could it be?
Corey Graves: I don't know but the silence is killing me!
Anticipation is instilled within both the audience members and the masses watching at home. None have a clear idea of who this possibly hand-picked general manager is; it could be anyone—but who? Suddenly a porcelain limousine with bull horns pulls out from the side of the stage, gradually making its presence known to the camera crew. Older audience members recognize it and react immediately with faint cheers.  
Michael Cole: Could it… Could it be?!
The car door opens and out comes none other than the Wrestling God, John Bradshaw Layfield, with his music kicking in.
Booker T: Is that my nig-
Michael Cole: It is! It's JBL!
Corey Graves: The Wrestling Gawd has made his presence to us mere mortals and he's our general manager!
A concoction of theme music and rambunctious cheers permeate Madison Square Garden, as John Bradshaw Layfield makes his way down the ramp. He waves to the crowd occasionally, shaking hands with a few fans before entering the ring. He immediately approaches Vince as the two shake hands and exchange pleasantries. None of what they're saying is heard but both embrace each other for one last hug before Vince leaves the ring and disappears backstage, leaving JBL with microphone in hand to tend to his new show.
[big]
JBL:
[/big]
Welcome to Monday Night Fury! (the crowd cheers) Haha! I love it! This crowd is simply electric tonight! Did you guys miss me? The Wrestling Gaaaaaaaaaaaaawd!? (the crowd gives a resounding yes) When I heard Vince say he was going to do something monumental in New York City, I had to be here to witness it myself. But when he approached me saying he needed a general manager for Monday Night Fury and he personally handpicked me first to get the job done? I couldn't pass up on the opportunity to do so and boy... do we have a show for you tonight.
For those who don't know who I am, I am John Bradshaw Layfield. I've been in this business for a very long time, I know what the people want to see, I know how to work a crowd, and I know how to give fair opportunities to those angsty superstars just waiting in the back. As long as I'm here and as long as there are hard working people in this company, there will be no corruption, no cancer-like individuals, no breaking of the rules, and only fair opportunities for those who work hard and want to be something on this elite show! I guaran-damn-tee it! Cause you see, this show will be the show to watch unlike Revolt! But we're not here to talk about Thursday nights or myself, we're here to talk about tonight! Ya'll came here to see some good ol' fashion wrasslin', huh?  Well we're going to open up the show with a bang! We're going to have our first ever G1 Tournament to crown our first ever PWG Champion at our first ever pay per view …   We're calling it 'Origin... of Champions.' What's a G1 Tournament? Well we're going to have three groups of four here on Fury. It's a point system ya' see but the two men with the most points from our three groups will go on the pay-per-view to decide who becomes our first ever champion. The runners up and the next three with the most points will be tossed in a fatal four way for our United States Championship! I'm all about Amurica!  
John pauses yet again, letting the crowd fill the room with cheers. Even the commentators seem elated, clapping hands and nodding their heads.
[big]JBL:[/big]

And don't think we forgot about the women's title! After speaking with Vince, we'll be holding a joint tournament with the other show to crown our first ever women's title. There aren't any divas around anymore only women but unlike Revolt, Fury has the meanest and toughest woman that'll give even the toughest male superstar a run for their money.... We're comin' home with the title and we're going to win big! There's tons of surprises, super stars old &new, and plenty of announcements but coming up next is a man I think you'll be all excited to see... A man I've had many fights with and lived to tell the tale...  Enjoy the freakin' show!
John exits to ring to his theme music, heading backstage as the masses cheer yet again and await for this surprise superstar to open up the show. Who could it be?
---
[bgcolor=black]
[A mysterious voice comes over the PA system...]
"THE FUTURE IS UNCERTAIN, BUT THE END IS ALWAYS NEAR..."
[big][big]
"EVIL HAS RISEN"
[/big][/big] [flashes across the titantron.]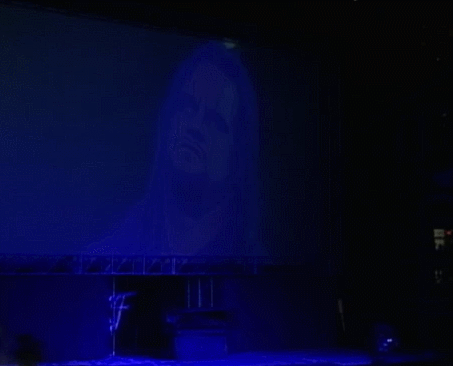 [Lightning strikes the ramp as the lights go out and Undertakers bell gongs throughout the arena. A purple glow brightens up the area and smoke begins to fill the entrance way. The Undertaker appears from the fog and slowly walks down the ramp.]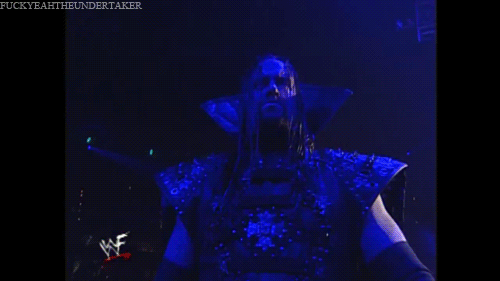 Michael Cole: Here we go Corey! The Phenom, The legendary Undertaker is here on Monday Night Fury!
Corey Graves: Can you feel that?? There's an eery feeling in the air, Cole!
[The Undertaker walks up the stairs and stands at the ring post. Thunder cracks as he lifts his arms up and the lights come back on. He gets into the ring and grabs a microphone. His music stops.]
Undertaker:
Poor wretched souls, I have returned to finish something I started a long, long time ago. The Deadman has risen and He's got some unfinished business to attend to. Understand this, Im not here to grab brass rings, or to teach the younger guys in the back a thing or two. I'm here for one reason, and my soul purpose is to bury any man in PWG that stands in front of the Undertaker.

When your in this ring, There's one thing you need to realize. It's a privlege to step into the ring with me, and I have the unfortunate event of crushing your hopes and dreams. What you are doing is playing a deadly game. A game for which you can not win. Understand, You've chosen a bad time to cross into the valley of the dead. I've got Monday Night Fury in the palm of my hand. This is my yard, Your resting place. This is the devils playground. And the harder you knock on the devils door, the deeper your grave begins to get. The reaper of souls is back...

Rest assure, Johnny Gargano. Before this fateful night is over, You will understand why you can not kill what doesnt wish to parish. What doesn't wish to die, can and will, live forever. Bear witness. Creatures of the night, The Lord of Darkness will once again claim his rightful spot on the throne. And like always, the non-believers will....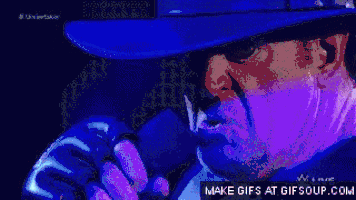 [big][big]REST...IN...PEACE![/big][/big]
[/bgcolor]
Genesis 1:1
Undertaker vs Johnny Gargano
Match Result wrote:




click to reveal winner:
---
Cena's music hits and the fans are on their feet as Cena makes his way to the ring.
Cena grabs a mic.
Cena: It's time kick off this new company called PWG with the guy who is the face wherever he goes... John Cena! I see a lot of great talent here. Some faces I know and some I don't, but it's time kick off Fury with the Genesis 1 Tournament! Who is John Cena facing? Well it doesn't matter who I face because I'll knock them all down to their feet.
Fans chant "Let's go Cena! let's go Cena!"
Cena: I'm feeling the PWG Universe there's so much love here! See I plan to walk out PWG Champion... I don't care if you're 'no man gains', Seth 'freaking' Rollins, some red neck named AJ Styles, or some guy who pretends he's from India when really he's Canadian... PWG will be the house John Cena built and ain't no man going to stop me, and I mean no man...
Cena smirks.
Cena: Listening to this fine wine of ladies and gentlemen tonight, I gotta good feeling PWG is the place to be. Why? Cause it has electricity running in the whole damn building. I'm looking forward to things to come in PWG so with that said, let's get this show started!
Cena leaves the ring with cheers from the crowd.
We are taken backstage.
Renee Young : Ladies and Gentlemen, My guest at this time... The "Boss" Sasha Banks....
Sasha walks into frame with the usual swagger in her step as Renee continues.
Renee : Now Sasha being one of the many woman apart of this tournament what separates you from the competition.
Sasha glances at Renee almost confused with her question as she laughs it off and puts a hand to her face to make her stop.
Sasha : My Drive for one... There isn't a person in this company who's more driven than me, My heart there isn't a person in this company with more heart than yours truly, and third my attitude cause there damn sure isn't a person on this show more confident than me.
Sasha flicks her hair out of her face as Renee cuts in.
Renee : So you believe your going to win here tonight against Lita?
Sasha : Honey... I'm saying I'm going to win the entire tournament, I know PWG has assembled the best talent money can afford but at the end of the day it doesn't matter who's in this tournament....
Renee again cuts in
Renee : Even with your group the "Four Horse Woman" competing?
After this statement Sasha seems to drop her arrogance and changes tones.
Sasha : Yea it's no secret I respect Bayley,Becky,and even Charlotte... But there's a big difference between them and me...
Sasha's arrogance returns as she continues.
Sasha : There's a lot of "Underdogs" or "Huggers"in this world.. There's quite a few woman who claim to kick "ass" oh excuse me "Lass"... And there is definitely quite a few men and women who rode their family name to stardom... But let me make one thing clear.
Sasha begins staring at her hand and the word  "Boss" before continuing.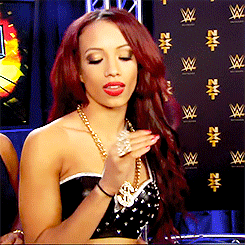 Sasha : There is only one... Boss of PWG and make no mistake about it I'm giving these people a champion to believe in... You can Bank on that...
As Sasha Banks goes to walk away Becky Lynch comes up from behind and puts her arm around her shoulder. As Sasha stares at Becky Lynch with a look of disgust Becky removes her arm from Sasha's shoulder.
Becky lynch: So Sasha would you like to repeat all that garbage you just said while I'm here now.No that's what I thought because after I take Payton Royce's arm tonight. I'm going to go through the rest of my bracket even if that means going through you. That is if you get that far legit boss.
After Becky Lynchs comments the too of them lock eyes in a intense staredown
???: Arrête de pleurer. Did I just hear that correctly or did you two delusional brats just say you were going to win the tournament? I didn't know Fury was filled with comedians!  
Interrupting the bickering women was none other than the French Canadian, Maryse—one of many Fury's signees. The crowd gives a mixed reaction at her sudden appearance, most deriving from casual fans just content to see her after so many years. Donned in what appears to be an in-ring attire, she stands there watching with an amused expression upon her countenance.
Maryse: No offense to you two girls but Fury needs a
real
woman as its leading champion. Not some orange haired troll, not a ratty little girl with a chain around her neck calling herself 'The Boss', not some goth chick experimenting with hooker make-up, and surely not a delusional little four year old going around hugging strangers as a way of getting attention. No, what PWG needs is a woman of sophistication, of class, beauty... Someone extravagant for these people to worship. Someone like… me. So while the both of you bicker like children, I'll be heading up the brackets and into the PPV as your women's… cha-
Before she could finish her sentence she interrupted by...
Maryse is stopped as she is tapped on the shoulder. The camera pans over as Bayley is seen standing next to Maryse with a teddy bear in hand with a small Bayley shirt on it. The crowd explodes as Bayley begins to speak.
Bayley: Hey Maryse! I was walking around trying to find you to wish you luck in our match here tonight! As a token of our newly found friendship I wanted you to have this.
Bayley then hands Maryse the teddy bear and looks eagerly towards other two horsewomen.
Bayley: Oh hi guys!! I can't believe all of us are on the same show. I hope I get to wrestle both of you in the tournament soon! Well I have to get ready for my match here in a little bit so I'll see you two later and I'll see you in the ring Maryse!
As Bayley begins to walk away she turns around and jumps on Maryse and surprises her with a huge hug! Bayley then does the same to Sasha and Becky as she begins to walk away.
[bgcolor=#000]Just then someone else appears on the scene.
:: Lita ::
Hey now newbies and madam maryse ....
Is this a open invitation gathering?
Or will the lovely lita have to force myself, into this girl on girl spectacle?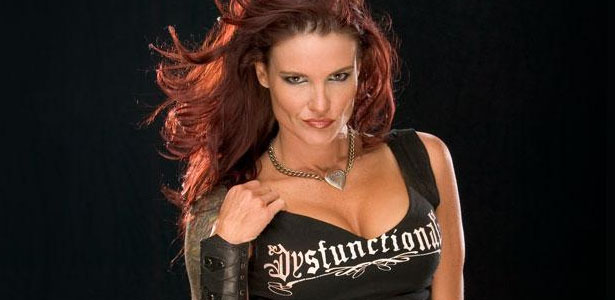 The five women look her way, Becky scrunches up her upper lip to her nose, with a sideways squint with one eye.
Renee checks her earpiece as this segment seems to be filling up with unscheduled appearances.
Sasha adjusts her chains and boss hand plate.
Maryse looks Lita up and down, rolls her eyes and slightly tosses back her platinum blond hair.
Bayley shrugs her shoulders, then goes in for a welcoming hug.
During said hug with bayley, lita takes ahold of her pony tail and takes it close to her face slowly taking in it's smell.
:: Lita ::
Hmm smells like fruity bubble gum, just like I imagined it would.
Sasha pulls bayley back while pushing lita back at the same time.
Bayley complains to sasha, as her hair gets pulled by her abrupt intervention.
Lita releases the hair.
:: Lita ::
Woah did I cross some sort of line?
I sense hostility or should I say horsetility.
Mayryse snickers at lita's mocking of the so called horse women.
:: Lita ::
I'm sorry.... Are you two like an item?
Unless perhaps instead banksy..
Would you like me to smell what a boss like fragrence isss
The awkward sexual stares from lita toward sasha, who stares back in disinterest, creates uneasy tension.
The surrounding air becomes almost charged.
Renee changes the topic.
:: Renee ::
Uhh Lita..tonight on Monday night fury you will in fact face sasha banks in the first round of the Inaugral womans championship tournament.
:: Lita ::
Hmmm I can't wait for the chance to bump sweaty bodies with the ( lita makes bunny ears with her fingers ) " Boss Bitch "
Lita strays her finger with a wavy randomly twirling motion
Or any one of you fine, fine, embodiment's of womanhood... Frenchy.. Lassie...Bubble gum bayley.
One at a time or all at once we can party, just know that means going hard core all night long, because.... lita parties like a rockstar
After that proclamation, Lita allows sasha or anybody a chance at getting a word in, after her Interesting style of self promotion at this moment. [/bgcolor]
[bgcolor=#000]
The crowd erupts in cheers as Sasha steps forward to look Maryse first in the eye than second Lita as Bayley moves up to stands awkwardly next to Sasha with a confused look on her face as Sasha begins.
Sasha :  Maryse I am not some ratty little girl I don't know who you think you're talking to, but I am arguably the greatest wrestler in the world today.... The most charismatic wrestler, the most technically sound wrestler..... But than again back when you wrestled all those years ago I think the closest you got to technically sound was a reverse hair pull so miss me with that.
Sasha slips on her jacket and pops her collar as Bayley begins to look confused next to Sasha and begins to whisper.
Bayley : Um Sasha she's actually really good....
Sasha just glares at her and moves over toward Lita as Bayley follows in response Maryse simply rolls her eyes behind them as she continues.
Sasha : Now as for you number one me and Bayley, we aren't an item.....
Bayley : Yea!!!!
Sasha : I mean I'm straight as an arrow honey but even if I wasn't give me a little more credit than... Her...
Bayley : Yea!!! Wait what? What do you mean?
Sasha ignores her as Bayley looks puzzled as she continues.
Sasha : Number two I am not a....
As Sasha mocks her bunny handsigns.
Sasha : "Newbie" I am what you said a Boss... Bitch
As Sasha slips on her glasses Bayley nods her head next to her as she try's to rest her arm on Sasha's shoulder, Sasha shrugs off her and looks at the room.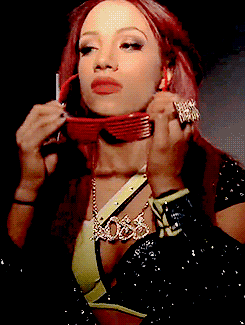 Sasha : I don't care who I gotta get through here to claim that Woman's Championship but make no mistake I'll go through each and everyone one of you even someone from that B show Revolt, So yes Becky I will make it "that far" and yes Bayley that includes you.
Bayley : What me?! But we're friends!
Sasha flips her hair as she walks away leaving a confused Bayley to walk in front of the other three woman.
Bayley : Sasha wait!
---
Women's Championship Tournament Round 1
Bayley vs Maryse
[/bgcolor]
Match Result wrote:




click to reveal winner:
---
The camera pans over as our commentators welcome us back from commercial break.
Michael Cole : And we are back ladies and gentlemen on the first edition of Fury and I....
Just as he says that a familiar theme cues up to an eruption of cheers.
Michael Cole : Oh my god, that's Dean Ambrose! Ambrose is on Fury!!
Corey Graves : Security! Stop this man he's not contracted here in PWG! Wait is he?! Oh god dont tell me....
As Ambrose emerges from behind the curtain he begins to make his way to the ring. He hops in and is handed a microphone but before he can speak the crowd begin to chant.
Crowd : Ambrose! Ambrose! Ambrose!
Dean : How you doin New York City!!!!!
The crowd cheers as Dean nods his head soaking it in he continues.
Dean : Seems the buzz was right I've been hearing through whispers about a little company by the name of PWG kicking off their inaugural edition of Fury, So I dropped on by the Gm's office signed on the dotted line and now Dean Ambrose is signed baby!!!!
The crowd cheers as Dean pulls a contract out of his leather jacket and hold it toward the stage much to the dismay of Graves.
Corey Graves : Why?! Why?! This show was going so well I think Revolt needs a new superstar is it to late to trade?!
Dean cricks his neck as he continues.
Dean Ambrose : And what that means is this show is changing.... For those of you who don't know me...
Dean drops his smile as he looks dead into the camera.
Dean : Get ready to forget what you think you know about pro wrestling.... This ain't about headlocks,flashy entrances, or catchphrases... What this is about is buckets and buckets of blood, sweat and never any tears!!! Because I didn't come here to fit in to anyone's mold and I didn't come here to make friends! I'm here to Takeover!!!
Dean heavily breathes as the crowd cheers and he points to the stage.
Dean : Now there seems to be a little tournament going on and I seem to have been placed into some sort of group? Regardless who I have to face, who I have to get through there's only one path for a guy like me.... Standing amongst the carnage that I leave laying,before me holding that PWG TITLE AND GIVING THESE PEOPLE A CHAMPION TO BE PROUD OF!!!!!
Dean holds the microphone to the air as the cheers and a "PWG" Chant erupts he than lowers the microphone back to himself in a crazed manner as he continues.
Dean : There isn't a person in this world like me.. There is no one in that locker room who knows what their getting into... Fury is going to be a show of Chaos, Anarchy, and....
Just as he says that he's cut off by...
From out of no where, the theme song of one of the most anticipated superstars in sports entertainment punches through the speakers. The PWG universe roars with cheers as Seth Rollins makes his way out to arena. He stares out into the Fury Audience with a smirk and then extends his arms to absorb as much of the positive energy as possible. Seth Rollins begins making his way down the ring, high fiving a few lucky fans on his way down before making his way fully into the ring. Rollins requests a microphone and paces around Dean Ambrose before having a mini stare down. The music dies down and all that's heard is the sound of the PWG Universe roaring "Let's Go Rollins, Let's Go Ambrose, Let's Go Rollins, Let's Go Ambrose!"
Seth Rollins - Ah, I finally get to meet the Lunatic Fring face to face and honestly you truly are something special, no doubt. However, I don't think that messed up head of yours has realized the fact that you aren't the only one who is salivating for that championship. Dean Ambrose i'm just as hungry, just as vile and just as cruel as you think you are... only i'm ready to put my money where my mouth is. You won't be winning the PWG Championship on my watch because that championship is mine for the taking. I will be the one to win that championship, not you and I will become the FACE of Monday Night Fury. I will be taking this brand to a level no one ever thought it could go. A level that a lunatic like yourself will never be able to take it but only an architect like myself can take it. Don't get me wrong I respect you Ambrose but at the same time... I'm not afraid to put you down if that's what it takes to become THE guy around here. I'm going to be the first thing that pops into people's head when they think of Monday Night Fury. I'm going to be the guy that everyone respects but also the guy who sets the bar for this brand. I will become the first ever PWG Champion and i'm going to do it the RIGHT way.  So Dean with all due respect I suggest you step aside before you become a casualty of war.....
The PWG Universe seems to be split right down the middle between these two "tweener's" of sorts. Rollins lets the PWG Universe roar with mixed reactions before speaking again.
Seth Rollins -I'm not asking you Dean, i'm telling you too. It' s for your own good, quit while you're still healthy and good. Because there's no way in hell you're getting that championship before me. Over my damn dead body!
The crowd erupts in cheers as Dean can be seen almost trying to calm himself down until he steps up and gets right in Seth's face as he speaks up.
Dean Ambrose : I'm impressed, I agree with almost nothing you just said.... Where as you've made a career out of, jaw dropping flips and death defying maneuvers... I've made a career out of having buzz saws drilled into my head! Glass pricked into my body, barbed wire slicing into my skin. You  have no idea how vile, cruel and damn sure how hungry I am to be here on the big stage right now!!!!
Dean smirks a bit as he continues.
Dean : Your good Seth,but I'm better... I'm everything you just claimed to be and more... But one thing I'm not is "good" or "healthy" in fact screw a tournament let's go right now!!!!
Dean rips off his jacket as Seth raises his fists in response the crowd explodes in cheers one half for Ambrose the other for Rollins.
Booker : Are we gonna see dis right now?!
As Dean looks at his contract and frowns
Dean : However... It's in the shows best interest in all fairness if I wait to see you in the finals... You know ppv buy rates, ticket sales I mean it's the right thing to do, I mean it's "best for business"
The crowd boos a bit at that statement as Dean drops his microphone and goes to exit the ring, Seth looking almost frustrated turns around to speak to the fans.
Booker : What duh hail?!
Corey : Good seems that Lunatic has some class you know what maybe I was wro.....
Before Corey can finish his comment Dean renters the ring and before Rollins can react spins him around and nails a quick Dirty Deeds!!!!! To a mixed reaction from those in attendance as Dean sits next to Seth picking up his microphone.
Dean : You were right about one thing Seth you're gonna be the talk of Fury this week... Welcome to my show Seth....
As Dean drops the microphone next to Rollins as his theme returns to a disgruntled Corey Graves and a trademark Booker laugh.
Corey : What a disgrace!
Booker : Are you crazy Corey this dog Dean is ruthless! I think he's cracking onto my fave five....
Corey : You think an architect like Seth is going to take this lying down?! Just wait till this "Lunatic" gets what's coming to him.
Michael Cole : Nevertheless two incredible athletes making their presence heard here on Fury, and your right about one thing Corey I doubt this is the last we see of these two...
The last shot you see before heading to commercial break is Rollins attempting to use the ropes to stand as we fade out to commercial break.
---
Genesis 1:1
Bray Wyatt vs Apollo Crews
[/center][/font]
Match Result wrote:




click to reveal winner:




As the bell rings Bray Wyatt gives a sickly smile as he once again picks up Apollo Crews and hits another Sister Abilgail!

Cole: Well this is just SICK we were treated to a great match with these two surprise entrants into the Genesis Tournament THAT MAN has a match next week!

*As Wyatt exits the ring to his music, Apollo has not moved since the additional finishing move, as emt's stetcher Crews out commentary presses on*

Graves: you touched on this earlier Cole, Apollo hasn't moved! He has two more matches in the next two weeks! If hes to compete for ANY title Bray Wyatt may have just ruined that opportunity!

Booker: The man Wyatt maybe be crazy BUT he just maid a statement dawg!

Cole: We will keep you updated as we get more news but the show must go on, as we've received word OF TWO TWO SIGNEES, we will find out who they are, NEXT!
---
The inaugural episode of Fury returns from commercial break and the current frame is focused on the titantron and stage. the lights throughout the arena fade out quickly and after a moment passes a spotlight shines on a man standing ready with a violin in position.
Song begins to play throughout the arena and the man is seen playing with the song, just then lighting on the stage begin to flash in and out quickly. another man wearing red leather jacket and pants is seen crouched over behind the violinist.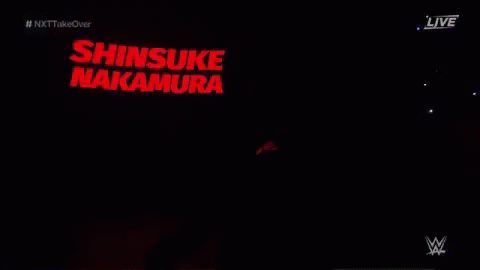 Corey Graves
Cole do you know who that is? (Cole responds with a "no i don't Corey")THAT MAN RIGHT THERE IS SHINSUKE NAKAMURA!! THE KING OF STRONG STYLE!! a former IWGP champion.
Booker T
MAN I LOVE THIS CAT, the guy is a guy you build a brand with, This cat Shinsuke nakamura been around the world fought many people.
Michael Cole
Looks like he has come to PWG, not only is this the start of this company Graves but we have seen so many top talent from all over making their presence felt here tonight.
Meanwhile Nakamura is making his way to the ring feeling the crowd's energy while flailing his arms about it the usual manner Nakamura does.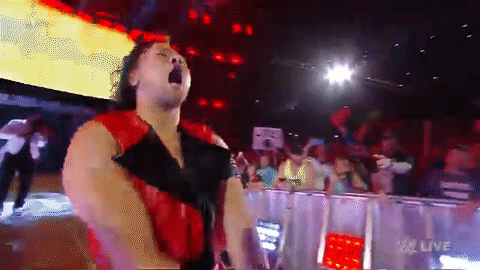 Nakamura then climbs the steps and enters the ring followed by him flailing his arms playing to the crowd
Booker T
Shinsuke nakamura, always carries himself with such flamboyance and style that can't be overlooked.
Corey Graves
Anyone with a functioning brain shouldn't overlook anything about the king of strong style and in case you've been living under a rock or watch floundering promotions like XGW then i advise you not to change the channel.
His theme song fades away but the tune is continued by the sea of fans in attendance still singing his song. Nakamura makes an attempt to speak but the fans are persistant.
the fans begin to cease and Nakamura takes a bow to show gratitude to the audience afterwards Shinsuke Nakamura begins to speak.
Shinsuke Nakamura
[big]私の名前は中村信介です。強いスタイルの王が到着しました。うん、PWGは私の新しい家で、どこにいなければならないの?私が持つことができるすべてのマッチアップは素晴らしいです、そして、私はあなたに強いスタイルが何であるかを見せてくれることを楽しみにしています。
After speaking to his fans back at home, Nakamura begins to speak in English.
PWG my home, King of strong style has arrived. thank you.
どこから来ても、最強のものが競争に来る場所ですが、私はそれを生きていきたいと思っています。私は新しい相手と新しい場所が必要でした。そして、中村真介が見たことのない人のために自分のスキルを紹介します。 PWGは私の未来です。
New faces, new challenge... PWG is da future for Shinsuke Nakamura YEAHOH.[/big]
Just then, new and unfamiliar music begins to play throughout the arena. Unbeknownst to Nakamura the music plays a little more as Nakamura looks on.