Thursday Night REVOLT
September 20, 2018
Philadelphia, Pennsylvania
Wells Fargo Center
A Switch of Direction :
The PWG Universe is seen chattering among themselves until suddenly a familiar theme song plays through the titantron. As the sound of the Games theme song plays the crowd gives a huge positive reaction. The General Manager of Revolt comes out with a fresh suit equipped as he looks out to the PWG Universe. He makes his way into the ring with a serious face grabbing a microphone on his way down.
Triple H - Ladies and Gentleman WELCOME TO THURSDAY NIGHT REVOLT!! The place where only the cream of the crop are, The place where dreams are made a reality and the place opportunity awaits for those who crave it. Now a lot of you might have been asking, "Triple H where have you been!?!" The reality is in a place like Revolt I know I don't have to babysit anyone here or micromanage because for the most part these superstars and you people get it. I don't need to be in the lime light because this show isn't about me - it's about all of you and the future of the business. Now, i'm glad that a week from now we will be entering our first interactive paper view at "Viewers Choice", where all of you will be able to vote on the match up's that you would like to see!! Matches like Bobby Roode vs Brock Lesnar! Matches like Kilian Dain vs The Rock! Matches like our very own Drew McIntyre going up against Fury's Undertaker! Matches like Ruby Riot vs a Contender of your choosing! Everything will be left in your hands, the people and I wouldn't have it any other way for one night only!!
The crowd roars with cheers at the sound of this information
Triple H - But that's in a week and this is now!! So tonight, you will all be in for a treat because we will have matches like the Newly Crowned Evo - Champ Kevin Owens goes one on one the World Heavy Weight Champion Brock Lesnar!! But what will be even more exciting is that for the first time since his title victory THE ROCK will be returning to action TONIGHT! And SO ...  if you're not down with all of that, then I have two words for YOU!
The crowd yells in unison "SUCK IT!"
The sound of the unified roaring crowd obnoxiously screaming "Suck It!" is quickly silenced as the theme of the Beast is heard throughout the arena. The crowds lively positiveness rapidly turns into an onslaught of ear piercing disrespect for the Heel Champion.
Lesnar saunters out onto the stage with a smirk smeared across his features. The Game looks slightly surprised by The Beasts sudden appearance. He soaks in all the hatred and screams,
"I'm the fucken champ!"
before walking down the ramp with the world title belt wrapped around his waist. Lesnar circles the squared circle and grabs a mic from the petrified ringside staff before addressing Revolts General Manager.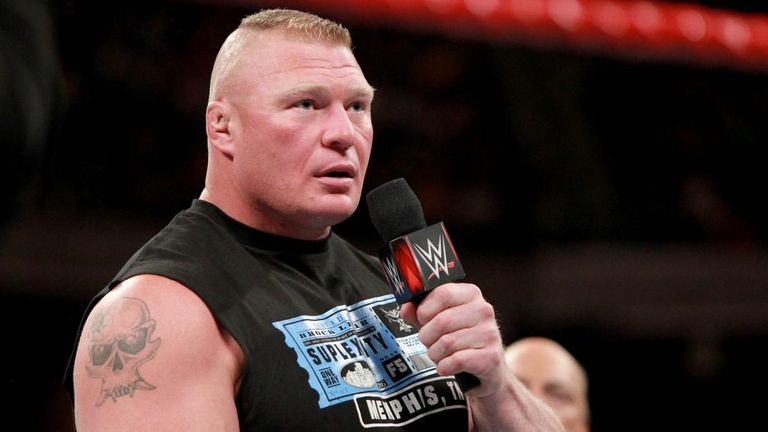 ::Brock Lesnar::
Hunter, id just like to say that you did a good job in giving me that slight assist at whatever the hell that PPV was called. But now me being partially grateful is where it all stops because you can come out here and promote your show to be the best and put me in a pointless match against an out of shape jobber, but lets face it your show is out of damn control and you haven't done a thing about it. Now we may be "business partners", but as of these past weeks it doesn't seem like that. How bout I refresh your damned memory, Heyman was assaulted by that fucking piece a shit Bobby and somehow you think staging an arrest is a way to appease me, after all that fuckboy Roode has done to me hes lucky I don't end his life. Heres how it is in this business, you need me more than I need you and somehow you think awarding Bob with a shot at my title will make things better. Its only going to make things worse and at the end of the day the blood will be on your hands when I leave Roode beaten, bruised and at the brink of death. Once I've removed Roode from the picture you better start coughing up more money for all the fucking shit I've had to deal with, or maybe i'll take this title and my main event draw somewhere else.
Triple H looks confused and almost disgusted at the words coming out of Lesnars mouth as the fans continue to boo Lesnar. Triple H looks like hes ready to retort to this unexpected mouthful that The Beast has provided him but before he can he is cut off by a theme....
Brock Lesnar and Triple H don't waste a second turning around and giving their full attention to the entrance ramp the moment they hear that theme they're all too familiar with. The entire live audience cheers for one of the most beloved faces on Revolt. Roode walks through the curtain already with a microphone in hand. He comes off as intense, but passionate at the same time as he raises the microphone towards his lips to speak.
Bobby Roode: Is this who you really want as your World Heavyweight Champion, Hunter? This is the man you tried to put me away to protect? Brock Lesnar isn't proud to be your World Champion. Brock Lesnar isn't even proud to be a professional wrestler. This is his hobby whenever the UFC suspends him over illegal substances. He can't even remember the name of last months pay per view. That goes to show you how much your "champion" respects pro wrestling.
Roode slowly begins to walk towards the ring as he continues to speak.
Bobby Roode: I LOVE PRO WRESTLING AND I LOVE BEING A PROFESSIONAL WRESTLER DAMMIT! I refuse to let Brock Lesnar make a mockery of our sport. I'll admit it, I let Brock take me to some dark places. Maybe madness even. Made me a man unhinged. I went beyond places i'd never thought I go. All while you stand there with that smug smirk on your face. With Viewers Choice right around the corner, there's a few ways are final encounter could reach its conclusion. We can battle until someone mentally and physically cannot continue in a last man standing match. The Beast can get locked in a cage with a convict in a no escape steel cage match! Or we can really see who the better man is between you and I in a two out of three falls match. I don't care what match the fans vote… I'm putting your ass down for good.
Triple H has seem to reach his boiling point after everything Roode has said. He begins to speak while Roode steps between the ropes and enters the ring.
Triple H: That is ENOUGH, Roode. Brock may not be the most compassionate, but that's not what it takes to make a dominant champion. Brock is a draw people fly from across the world to see. Nobody is going pockets out to see some nut from Canada (crowd boos). See even all these people here are booing you. There was a time where you could've been "the guy". You blew it letting all your peer take what could've been yours. You just need to accept it's Brock's time. Also as a little insurance policy, I went and got a little paperwork done. It states if you lay a finger on Brock or myself, you forfeit your championship opportunity at Viewers Choice. Now I'd suggest you go backstage and get ready for your match.
The sold out crowd shower Triple H with boos as he tries to dismiss The Glorious One. Before Bobby leaves the ring he says one last thing.
Bobby Roode: Don't worry... you'll both get yours.
This amuses Brock as he taunts Roode by  waving goodbye. Triple H pats Lesnar on the back as Bobby Roode walks back through the curtain. They both wait till Roode has left before exiting the ring and going to the back.
---
Ranello:
AND THE RIOT ROLLS ON THE FINAL EPISODE OF REVOLT BEFORE VIEWERS CHOICE!
Phillips:
Great! You know we still haven't seen the TRUE champion in Peyton Royce since that VICIOUS attack at BlockBuster.
Saxton:
Oh great this again?! You know what Tom, I'm more concerned with the well being of our CURRENT PWG Women's Champion. Shes not well!
Phillips:
Yea... SHES NUTS, CRAZY, BONKERS... she makes Nikki Cross look TAME!
Ranello:
NEVERTHELESS, RUBY RIOT AND HER PARTNER IN CRIME LEXI BLISS ARE IN THE RING!
*The crowd have a mixed reaction to the pairing, between booing Lexi, and just being curios on what's going on in the head of the champion.*
Bliss:
Now listen here yuuh dweebs. Your leaduh AND mine the NEW PWG Women's Champion the national trea-zuh is gonna grace us with a few words straight from her noggin. So shut ya pie holes next person who says a word... it'll be to my bat, at lemme tell you it'll be a short convo.
*Lexi goes from a stern voice to a bubbly one*
GOOD! Here ya go Red!
*Ruby goes to accept the microphone, but looks concerned at Lexi, she assures the champ as Ruby grabs the microphone*
Riot:
Your loyalty won't go unnoticed Lexi.
*Lexi smiles like a school girl and leans into Riot*
Riot:
So we see that all of a sudden everyone is starting to care about us now that we're champion.
How come she talks to herself?...
Is Ruby trapped?...
Are Roman and Ruby cursed?...
*Riot laughs*
Trust us... I am a force much more feared, and despised then whatever the hell Roman THINKS he is.
*Bliss pats Riot on the back as she continues*
What happened to US is of no concern to ANY of you lessers. NONE of you DESERVE TO KNOW. Now...haha... now you're having me fight Charlotte at Viewers Choice... YOU MORONIC FOOLS...
WHAT DO YOU THINK MY ONLY FRIEND CAN BEAT SOME SENSE INTO ME... WE WILL NEVER LEAVE THIS BOD...
*Bliss shakes Riot a bit... Ruby looks at Lexi... concerned and scared. Lexi nods and takes the mic*
Bliss:
Look Red... has gone a bit bonkers... but that's what I like bout her! Look fugget about Chartlotte... we're gonna prove dat the Squad is stronger than all. So if any POSERS wanna crack at Red and I... step up and try us!
*Ruby looks into her belt, shakes her head and with hair in her face, raises the belt and gives out a war cry, to the approval of Lexi. The Riot squad await their challengers.*
---
The Riot Squad Open Challenge
Riot Squad vs ???
Quote :






click to reveal winner:



---
Coming back from a commercial break, AoP is standing inside the squared circle waiting for their opponents 'Rusev Day.
A loud humming is heard from the PA System and the humming appears to come from none other than Aiden English.
English: "HmmHmmHmmHmmmmmmmm!"
Fans cheer once hearing the humming as today is Rusev Day! Aiden steps out of the curtain with mic in hand coming out to a sea of cheers. He holds his hand into the air silencing the crowd and lifts the mic to his mouth.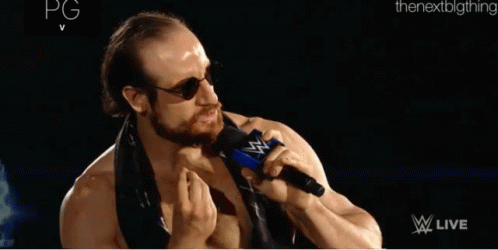 English: "Ladies and Gentlemen Boys and Girlssss, it is time for a day like none other, a day of victory and prideeeee, but before I announce that day I have something to say, AoP it is time for your demise, and the whole PWG Universe shall see me and Rusev rise, and when we rise to the top, our prize will be the Tag Team Championships, and that day will come on...(fans chant Rusev Day) RUSEV DAYYYYYYYYYY!"
After Aiden finishes his song of sorts the Bulgarian Brute Rusevs theme is heard as he comes out to the curtain and does his pose onto the entrance ramp. Then Aiden and Rusev approach the AoP ready for their revenge on Akam and Rezar.
---
Rusev Day takes on the Authors of Pain
Rusev Day vs A.O.P.
Quote :




As the bell sounds, the starting members consist of Rezar and Rusev, the two brutes charge at each other and start trading blows. Their respective team mates eagerly look on with invested interest as these two men in the ring pummel each other. Suddenly Rezar gets the upper hand and attempts for a big boot which misses and then Rusev dishes out a free flow superkick that grounds the big man. Rusev then tags in a fresh Aiden who seems to have a clean smirk on his countenance as he eyes up the exhausted Rezar. He picks him up and foolishly attempts a suplex, the size difference comes into play and Rezar knocks him to the floor with a big right hand.

As the match continues Rezar tags in Akam. He starts to dish out vicious strikes to the skull of the grounded English. A hungry Akam starts pulling out an array of moves from his arsenal. He then picks up English and drills him with a violent power-bomb. He takes the cover....

1!

2!

Before the refs hand can smack the mat for a third time Rusev is able to dodge an incoming Rezar and break up the pin. Rezar tries to attack Rusev but gets a big kick in the head for his troubles. Akam looks distracted as he gets hit down by Aiden. He then tags in Rusev who looks to end the match with another massive super kick.  A groggy Akam looks for his partner who is no where to be found. Ellering who has been silent til now starts to yell at Akam to dodge the incoming kick. His screams of danger go unheard as Akam takes the superkick to the mouth, he crumbles to the floor as Rusev falls into the pin.

1!

2!

Before we hear the third count shocking unexpected events occur. Aiden breaks up the pin and starts to beat the hell out of Rusev with hard strikes to the head, the crowd looks on in disgust. English looks pissed off as he continues his ground and pound. Once hes done enough he leaves a broken Rusev to be the prey of the Authors of Pain. This apparent turn of alignment comes as a surprise to everyone as Aiden leaves the ring giving no apparent reason for his actions.

The Authors of Pain pick up a lifeless Rusev and drill him with their emphatic finisher the Final Chapter! The legal Akam takes the cover...

1!

2!

3!

AOP has their hands raised in victory after some controversial actions by English. They start to walk off with a pleased Ellering as the screen fades to black.




click to reveal winner:



---
The camera pans backstage as we see Randy Orton making his way to the ring.
Renee Young runs up next to Randy Orton.
Renee Young: Randy Randy Randy.
Randy Orton stops walked and looks at Renee Young.
Randy Orton: What do you want can't you see I have better things to do the talk to you.
Renee Young: Well Randy some would say you don't care about PWG and are just hear to collect a paycheck.
Randy Orton: Well those people are exactly right I don't care now do you have any other stupid questions for me or can I move on with my day?
Renee Young: I do have on last question Randy what is your plan for 2019 or are you going to Coast through next year as well?
Randy Orton: YOU THINK I'M COSTING SO NOT ONLY DO YOU INTERRUPT ME YOU INSULT ME YOU HAVE SOME NERVE DUMB BITCH WATCHING TONIGHT AND TELL ME IF YOU THINK IM COASTING!
Randy Orton  Storms off.
---
*We cut to the parking lot area where Shane Thorne is lurking
*
Renee: Shane... If I can get a word...
Shane:...sigh...
Renee: Shane, I understand that you must be frustrated after the last few weeks, and I understand if you don't want to answer right now but I have got to ask.... What has been going on with you lately?
Shane: Renee... I have been frustrated, I have let myself get inside my head ever since Blockbuster. I've gone from over my head, to... underselling myself. I thought, that I finally had it worked out. I thought that what I needed was to drop the gesturing, and become more vicious in the ring. Well, fat lot of good that did me in the elimination match last week...
Renee: Well, in some good news, not only are you one of the three options to face Kevin Owens for the EVO championship at Viewers Choice but you are currently ahead in the votes over Chris Jericho and Randy Orton!
Shane: ..Hm, I can't lie Renee, it's a little surprising to me that the fans still have faith in me, maybe I have been looking at things the wrong way... but assuming that I do end up in that match I can promise you, I can promise the fans and...
*There is a decent pause*
Shane:... I can promise MYSELF, that I will not kneel to Kevin Owens!!
*The crowd can be heard chanting "Shane, Shane Shane!" *
Renee: Well that is great to hear, do you have anything else to add?
Shane: Oh yeah, there is one thing that's been bothering me...
Renee: What's that?
Shane:...Why does Byron Saxton still work here? You'd make for a much better commentator.
*Renee let's out a smirk**Shane heads for the locker rooms, pumped up and focused*
Tom Phillips: Finally! Something I can agree with Thorne on!
Byron: Well that's just mean...
---
Match of the Night
The Viper vs The IC #1 Contender
Randy Orton vs Kilian Dain
Quote :






click to reveal winner:



---
(As Revolt rolls on we are taken backstage to Mike Rome)
Mike Rome: Ladies and gentlemen my guest at this time Chris Jericho
(A disgusted Chris Jericho appears in the frame)
Mike Rome: well tonight Chris after another disappointing loss last week how can you rebound this week against one half of Breezango?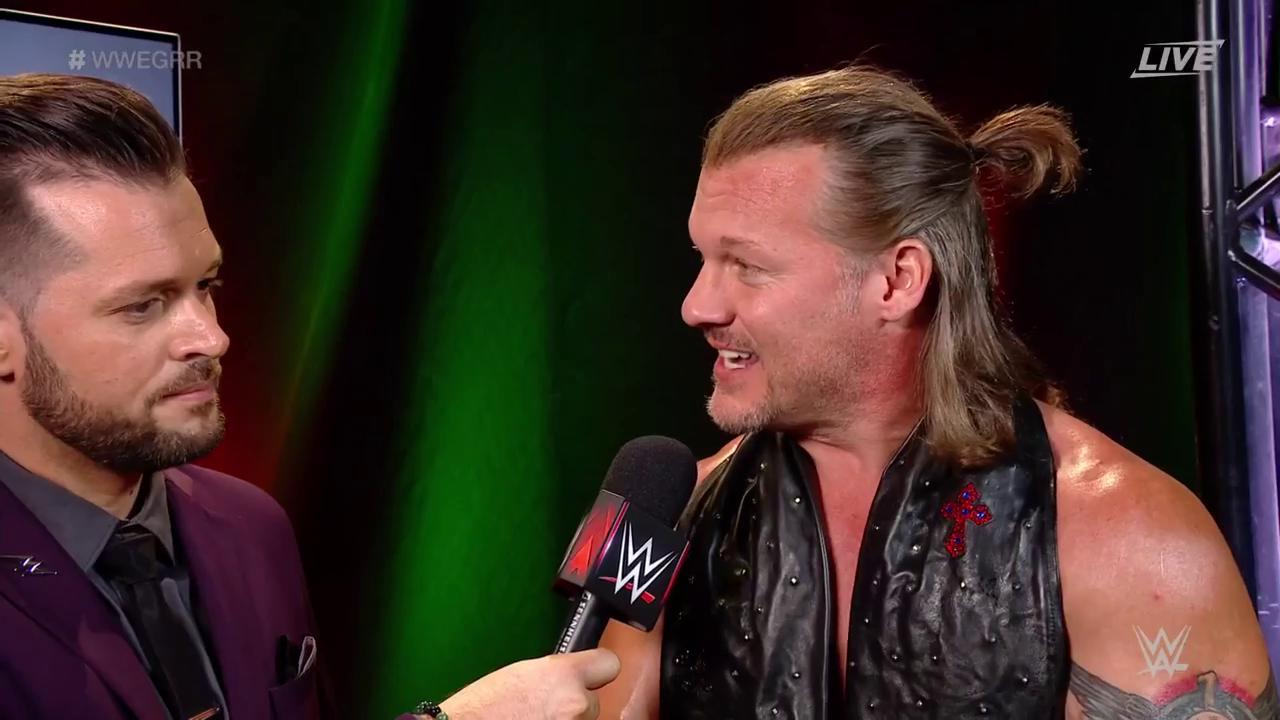 Chris Jericho: Dan shut the hell up, "how are you gonna bounce back against Breezango," it's BREEZANGO what the hell kind of question is that. I hope that Fandango accepts on be half of his sorry ass team. So I can embarrass him and make him look like more of a joke then he already is. Fashion files will be canceled, Fandango will be canceled. And at Viewers Choice Kevin Owens will be canceled.
Mike Rome: Well there's a problem with that last statement Chris, Kevin Owens' match was announced for Viewers Choice.
Chris Jericho: And Dave what's the problem?
Mike Rome: Well it's a poll to decide who faces Kevin Owens, with yourself
Chris Jericho: of course
Mike Rome: Shane Thorne and Randy Orton.
Chris Jericho: pffft The irrelevant Shane Thorne I embarrassed him last week and pinned him so he's canceled too. And what the hell has Randy Orton done this year besides 1 get pinned and 2 get pinned of his own finishing maneuver? I have this in the bag I'm better than both of these losers and I'll finally get my revenge on that fat son of a bitch Owens.
Mike Rome: Well that's where the other problem lies Chris, your losing the poll to Shane Thorne.
Chris Jericho: WHAT!!! Shane Thorne doesn't deserve that match up I pinned his ass last week.....NO NO NO this is ridiculous, of course leave it too the idiots of chant AJ V Cena 3 multiple times to rob me of my match. Typical but you no what Jake, I don't care who wins that stupid fan poll but I can tell you this those entitle swine know as the PWG Universe will not cost me my match at Viewers Choice.
(Chris Jericho pauses and looks in the camera)
Chris Jericho: And as for Fandildo and Tyler Breeze I don't which one of you fights me tonight because i gonna kick both of your f****g asses tonight. And at Viewers Choice Kevin Owens will get.......IT!!!
(A frustrated Jericho walks off but then comes back and jumps Mike Rome and busts his nose)
Chris Jericho: Back to you jackasses and Mauro ringside, learn how to do your job John.
(Jericho stomps on Rome one more time then walks off as the camera fades to black)