The camera pans to the ring as JBL can be seen holding his jaw with a sense of arrogance and anger about him as he speaks.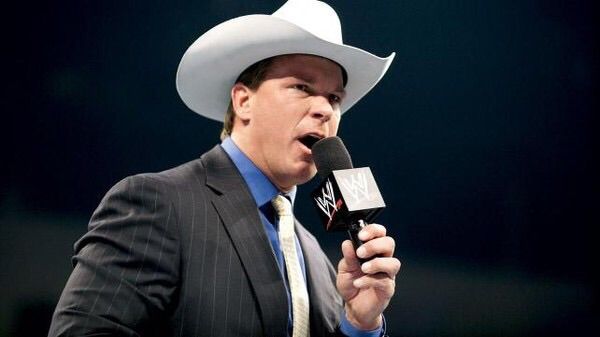 Jbl : Now ladies and gentlemen.. Welcome to Monday Night Fury!
The crowd cheers as JBL almost cuts them off almost instantly as he rubs his jaw.
JBL : Now between that punch in the face last week from that bitc....I mean great talent Sasha Banks... And yours truly gonna beat some respect into John Cena this comin Sunday! We have the contract signing for the... "A" Show and the championship! Mr.Fortune Johnny Gargano!
The crowd cheers for their underdog hero! As Johnny holds the case high for the crowd hopping to the top rope and staring both men down after soaking in the cheers he hops down.
Jbl : The Lunatic Fringe And Fury proud since day one... Dean Ambrose!!!!
The crowd boos the sick sadistic man standing in front of them.As Ambrose looks them over from the corner of his eye but simply returns his gaze to the PWG Championship almost ignoring Johnny.
Jbl : And the champ who runs the camp!!! Your PWG Champion A...J... Styles!!!
AJ holds the title high to another eruption of cheers for the odds on favorite! As Johnny and Dean both stare into it, almost lost in a trance.
JBL : Now a few statements and warnings for these men...The contract in front of you is for the Main Event, of the inaugural Viewers Choice! A night where not only your Wrestling Gawd steps back into the ring, but Fury's finest duke it out for that! The company belt... Now the match your signing for could be one of three...
JBL is cut of by a tapping sound. Once...Twice...Three times till the crowd falls silent as Ambrose clears his throat.
Dean : AJ... Something seems to be lost in translation... I don't wanna harm your family... In fact I pity them... They seem like good people it's a shame they will pay the price...
AJ stares Dean down as PWG's Lunatic continues.
Dean : Now I'm a different kind of man than your used too... When most men or women hold a microphone they talk for the sake of talking... When I speak I turn heads and I command attention... All attention is focused on me every time I speak! I'm almost like a sadistic microphone maestro... I don't tell you things to intimidate you... I tell you this to warn you... Ladder, Elimination, Falls Count Anywhere?
The crowd stays silent almost proving Dean's statement correct.
Dean : Place whatever label you want on it, sell as many tickets as you can JBL... Because no one has worked harder or longer for that Championship than me... It's been one year... This January it's a full calendar year... And I still haven't held that Championship!!!!
Dean slams his hands down screaming with a sadistic passion that almost makes you feel for him.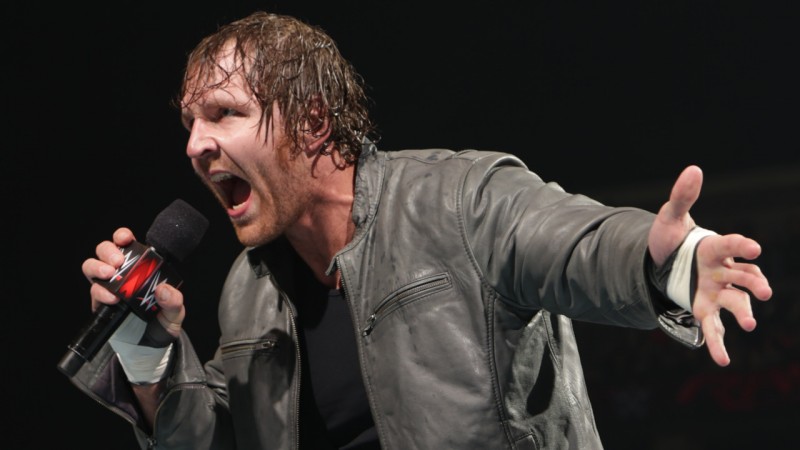 Dean : I've been down and out! Laughed at! And I've bled oh you damn sure believe I've bled... But anyone that's faced me knows the type of pain that I have planned for you...
AJ tries to speak but Dean's screams out and cuts him off.
Dean : You shut your god damn mouth!!! I've played this song and dance for a year now... I don't care how many people think I'm a joke, that I have no chance, that AJ is just checking off another name... Look into my eyes...
Dean stares into the camera with a look we've never seen. Almost like this is his breaking point, almost like he only exists for this match.
Dean : I found this mindset six months ago. I was told there was nothing left by my wife. No reason, no, conscience, no understanding and even the most rudimentary sense of life or death, of good or evil, right or wrong. All I know is glory and that... As long as I have a breath in my body, a pulse, or... Even an ability to think... I promise you Mark my words Dean Ambrose will finally win the big one... And I don't plan on having a lot of accolades when I finally call it a career... That PWG Championship will be my one and only reign, no one or nothing will take it away from me... I have nothing left... That is everything to me...You pray to whatever god you think can save you...
Almost feeling like a one on one for a second, Johnny cuts in and changes that mindset instantly by saying...
Johnny: "Dean...Shut your mouth man! I mean jeez a lil toothpaste or a mint won't hurt that bad you downer"
Some laughter is heard at Johnny's insult as Ambrose steps rights into the face of Gargano for taking his words lightly.
Johnny: "Woah woah woah, easy now. But Dean it seems like you've forgotten that AJ is not the only man you are stepping into that ring with Sunday. You're looking at the FIRST EVER Mr. Fortune. And man I went through literal hell to get that briefcase, just like I'll come straight out of Hell with the PWG Championship at Viewers Choice!
A quick pop is heard as Gargano then turns his attention to AJ, stepping right up into the face of the champion.
Johnny: "AJ...man I hope that this Sunday that you not only have your attention on Dean but also on me. Because you know very damn well from last week what I can do to you. I left you unconscious on the ground and I'm not afraid to do the same thing again. Heh maybe Wendy will be calling me Daddy after Sunday."
The crowd goes wild over what Johnny just said and an angered AJ gets rights into the face of Gargano barking his mouth at Johnny, but Gargano just responds with a laugh. JBL has to step in between the two to stop them from fighting.
Johnny: "I promise that this Sunday, that Johnny Wrestling will be walking out not as Mr. Fortune, but as PWG Champion. Now JBL, where do I sign?"
JBL points to the dotted line as Johnny writes down his signature on the contract making his cash in official.
AJ Styles is still staring straight daggers through Johnny Gargano for his offhanded disrespect of his wife and mother of his children. The Phenomenal One then switches his gaze to The Lunatic Fringe.
STYLES
You make all the damn promises you want, Dean, hell your lost mind actually believes them. But you want this championship for all the WRONG reasons... and that's why you'll never get it. Cause make no mistake about it Dean, the only OPTION is for guys like me to beat guys like you! Guys who'd rather have their woman Fear him than Love him. Guys who do nothing but hurt all their loved ones for their own selfish desires of destruction. Well, I'm going to be the one to make your twisted fantasy a reality. Because why you fight despite those who care about you, I fight FOR each and every damn one who cares about me! My Children, my Wife, the PWG Universe, every kid out there wearing my Gloves - they are who drive me to be the BEST EVER! And being their PWG Champion, that's how I pay them my respect for their support... That's the difference between me and you Dean. You tapped out the the Garga-No-Escape because you have no one to fight for. Why I didn't because I have EVERYTHING TO FIGHT FOR! So take it as the Gospel, that my cold dead fingertips will have to be pryed off this championship before I let a Snake like you represent PWG...
Some "Ohhhhhs" are heard as AJ now takes a step closer to Dean causing the tension in the arena to build even further.
STYLES
You Snaked your way into Broken Promises; you snaked your way into GrandStand - and since you keep mentioning my Family - it's just like you Snaked Renee into a Marriage!
The audience nearly comes unglued at the usually respectful PWG Champion taking a very personal shot at Dean Ambrose; although one has to wonder just how much it affected The Lunatic Fringe given his state of mind. JBL, however, isn't taking any chances and immediately gets between the two men to prevent a brawl from erupting before the original two Superstars in the match could sign the contract. The Champ now decides to turn his attention to Mr. Fortune Johnny Gargano who has a smug expression.
STYLES
And just like you, Johnny, who Snaked your way into the Viewers Choice title match, Oh yeah, you went through Hell to win that Case at Fortune, but you won't be wrestling the Devil at Viewers Choice, cause in this ring between these ropes - I'M GOD! I'M UNTOUCHABLE! I'M THE PHENOMENAL ONE!
A loud pop is heard as the Fans seem to be firmly behind their Champion.
STYLES
But you already know that, Johnny, that's why you never cashed in for that Singles match you kept talking about. But hey, at least you're not stupid; hoping to catch lightning in a bottle once more and win the Big One at the expense of the Sociopath next to us. The only problem is you already showed me your true colors...
AJ now takes a step closer to Johnny 'Wrestling' building the tension higher once again.
STYLES
I respected you Johnny, hell, I've been rooting for you since you got your Second Chance in PWG. But last week, you continued to interfere in my business with Dean. You blind sided me with attacks; you tried to split my damn head open with a Baseball Bat! And now you take cheap shots at my Wife... After you won the case I thought you could be the One to finally take over and be 'The Man' of PWG. Be the one to lead the best promotion on the planet into the next Decade... But I was wrong. You're just as blinded by lust as Dean is for this Championship. Nah, you're just like the rest of them...
AJ takes a step back and looks at both Gargano & Ambrose before finishing his thought.
STYLES
And just like each and every one of them in the past - The Georgia Pitbull will be the one to put you both down! At Viewers Choice I'm going to make you Famous, Johnny, when you become the first Mr. Fortune to fail his cash-in... And Dean, well you're already Famous for coming up short...
AJ sets his microphone down on the table and inks his Signature next to Gargano's, leaving only Ambrose's signature to make the Viewers Choice match official.
Dean stares at AJ almost lost in thought as the crowd continues to chant for AJ Styles, Ambrose closes his eyes almost soaking it in as you hear his gravely voice respond.
Dean : I'm supposed to be labeled a loser... Cause I'm not supposed to win the title this Sunday... Ain't that right JBL?
JBL looks concerned as Ambrose stares him down.
Dean : Well news flash I'm not supposed to be standing here! But I am... Homeless kids aren't supposed to graduate high school but I did...I wasn't supposed to become a successful wrestler, I wasn't supposed to become a champion in every company I've ever stepped into all except this one...
Dean can be seen grabbing something from under the table as AJ steps forward as just than Ambrose connects with a huge bat shot off the eye of AJ Styles! Much to the shock of JBL, Johnny, and the PWG universe.
Johnny attempts to run toward Dean as he too is smacked in the face with the bat! As Dean grabs a stunned Johnny and Powerbombs him through the table! Ambrose slowly looks up toward JBL who escapes and exits the ring before Ambrose scoops up the contract.
Dean : This bad boy is what Johnny attempted to use just last week...
Ambrose dips his finger on the blood streaked across the bat from AJ's face as he slowly wipes it on the contract, before shortly grabbing the pen and signing over the blood to an eruption of boos.
Dean : Never bring up my wife and never call me a joke.... at Viewers Choice... I finally claim the PWG Championship...And you two just made the biggest mistake anyone can make... You made this personal...
Ambrose slams the microphone down as he slowly picks up the PWG Championship and holds it high for the first time in his career over both AJ and Johnny! Ambrose falls into the corner clutching the title and the contract as we head to commercial break...